The start of the new year, and like always, our team at RagingBull is here for you!
Between 9am – 5pm ET, our VIP concierge team will be ready for your call.
They're even giving out $500 credits!
Call now and mention "2019 Account Review" and they'll be ready to walk you through everything!
Phone Number: 833-265-1270
---
Related Articles:
---

Become a Better
Trader in Just 7 Days,
FOR FREE!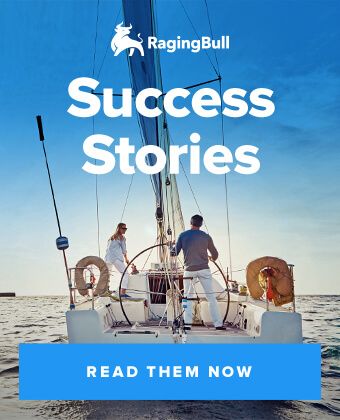 Twitter
Facebook
2019 performance update +$107,537.83 eighteen days into the year. Learn more millionaireroadmap.com ... See MoreSee Less
so where's our free training :)
$20K realized today; not bad for a gym coach www.jasonbondpicks.com $CCCL $APRN $MBOT $KTOV $VHC ... now $87K profit in 2019 just 2-weeks into the year. ... See MoreSee Less
After u pay to join, how much money do u need to start. Thank u
+$80000 realized profit in 2019 just 2-weeks in thanks to $13000 CHEDDAR from Blue Apron $APRN today. Perfect swing trade once again. Learn more at www.jasonbondpicks.com ... See MoreSee Less
Great work !!!!
I screened HDIH then watched it jump over 500% yesterday. Not sure what will happen next. 7.5 beta! Super small market cap though. They may go out of business for all I know. Nice one day swing though.
LOAD MORE
Be a Better
Stock Trader, Starting Today
Get the expert insights, tips and strategies you need to optimize your trading skills and profiles
START NOW
Our Raging Bull Experts have been featured on: