When I hosted our AdTech Explosion training last week…
I was blown away by just how many investors aren't familiar with the rich opportunities in AdTech (advertising technology) startup space, let alone know what it is!
Before I give you a quick run-down though, I have to let you know…
The replay of our exclusive training session is still available, but won't be for much longer.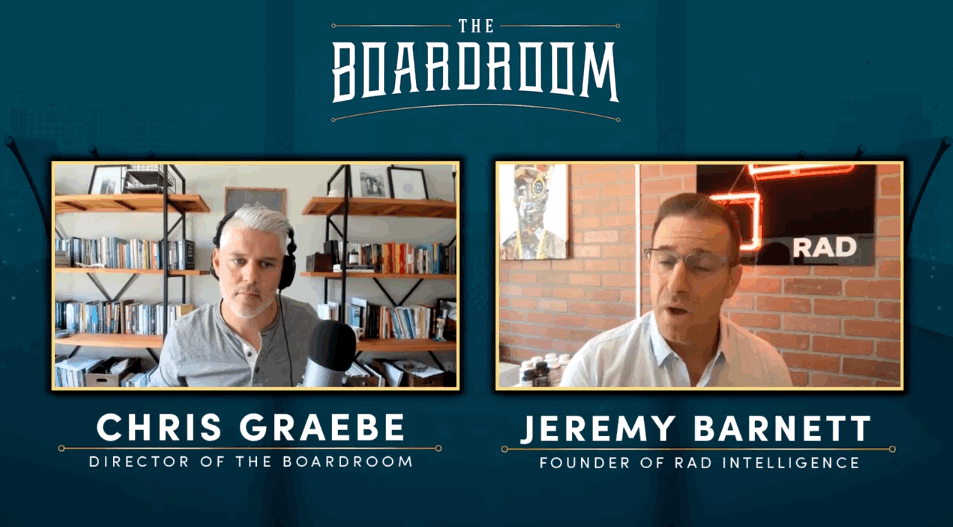 So, what is AdTech?
Its textbook definition is… 
a range of software and tools that brands and agencies use to strategize, set up, and manage their digital advertising activities.
Basically, any products and tools that power digital advertising fall under Adtech.
Think Facebook, TikTok, Twitter, and Snapchat –– these are all AdTech platforms.
And you've likely experienced this if you've ever gone to a companies website… 
Then been followed around the internet by ads for THAT company.
Creepy? Certainly.
Jeremy breaks down the opportunity AdTech holds in this training session, and how you can get started investing in this lucrative space.
Profitable? Without question.
The Rise of Adtech
In the last six months, we have brought eight new companies into The Boardroom, and our members have funded them close to $5 million.
The latest of these is Rad Intelligence — an innovative Adtech company that is changing the influencer marketing game.
Today, we will explore the Adtech space through the lens of Rad. You will get a chance to meet the founder, Jeremy Barnett, and see why his company experienced 400% growth from Q1 to Q2 this year. 
Jeremy is going to teach us about the incredible new demand in Adtech, its place in the New American Economy, and what his company is doing that no one else is.
The founders of The Boardroom and I have already funded $40,000 into this startup. All of our members now have access to this investment opportunity.
And now — for a limited time — you can invest alongside us through this special Boardroom Spotlight.
What is Adtech? 
Advertising technology, or Adtech, is defined as:
"…a range of software and tools that brands and agencies use to strategize, set up, and manage their digital advertising activities."
Products and tools that power any kind of digital advertising fall under Adtech.
Did you know — Facebook, TikTok, Twitter, and Snapchat are all actually Adtech platforms?
But, aren't those Social Media platforms? Where does Adtech come in?
Well, Facebook is driven by advertising revenue — all social media is. 
When you scroll through your feed and see an ad, that isn't randomly chosen. That ad was chosen for you based on data science. There is special technology behind the curtains that decides the right place, right product, and right time to show you that ad.
All of these companies are in the business of understanding users to show them ads. They are first and foremost powered by Adtech. 
Adtech in the COVID-19 Economy
From a humanity standpoint, the pandemic has really sucked. From a business standpoint, things are going pretty well in the Adtech space. 
Actually, things have never been better.
There has been a 77% increase in online usage. Combine that with a 75% increase in eCommerce buying, and it's easy to see why there is a newfound demand for Adtech tools.
These are stats that usually only come on Black Friday, but now it's like this every day.
Rad was already doing great business, but then it found itself in the right place at the right time. 
Adtech Then and Now
Jeremy explained that between 2017 and 2019, Adtech was all about data collection.
How can we get the data? We need more data!
Now, companies have the data, and they are struggling to find objective, trackable ways of leveraging it. 
2020 is all about finding customers and finding out how to continually communicate with them using data.
The breakthrough that has finally made this possible is Artificial intelligence. 
AI is no longer a lip-service or a buzzword to sell a piece of software. AI and machine learning are the keys to unlocking the data-potential that advertisers and publishers have been dreaming of. 
This is how Rad provides "hands-free" influencer marketing.
What Rad Does Differently
From a brand's perspective, advertising is about understanding the customer, and figuring out how to get in front of them.
Rad Intelligence has the solution — internet-celebrity recommendations. 
Now, these aren't Brad Pitt-type celebrities, these are what we call influencers. 
An influencer is someone who has the power to sway customer buying decisions through their authority, popularity, expertise, or relationship with their audience.
The problem with other influencer marketing strategies is how fickle they are. 
Building relationships and content is difficult, and the effectiveness of any ad campaign is hazy at best. Rad, on the other hand, is cutting through this haze with data.
Rad has found out how to remove all of the noise across all of the ways that a brand engages with its audience. 
Rad's Traction
The main reason Q3 2020 looks so bright for Rad Intelligence is its clientele. 
Firstly, the early-adopters of the service have stuck around and have become evergreen supporters. The ones who came to try Rad early have found so much value that they decided to keep using it again and again.
On top of this, some new, high-profile clients have joined the party.
Nikola Motors, Toyota, the American Lung Association, and the City of Las Vegas have all started using Rad Intelligence marketing campaigns.
Q&A with Founder Jeremy Barnett
Members of The Boardroom grilled Jeremy during our live chat. Having the opportunity to invest in this startup, many members dug deeper with pressing questions.
Right now, you too can invest in Rad through this special Boardroom Spotlight. 
Q: Does Rad have a product for small business owners with limited budgets?
A: Yes. These are the types of businesses where we "cut our teeth". These small to medium-sized businesses (SMBs) are the heartbeat of Rad.
Starting out, we worked mostly with SMBs. Compared to traditional advertising agencies, Rad can offer trackable ROI for a fraction of the price which attracted many such clients.
SMBs can't afford a PR department or a marketing department — they can't afford to waste thousands of dollars a month on something that has questionable results.
Rad eliminates all of the resistance associated with selecting influencers, crafting new content for them, optimizing the campaign, etc. Once the client sets things up and tells us their goals, our technology does the rest. 
This is why we call it "hands-free" influencer marketing.
Q: On your website, it says "guaranteed performance". That is a big statement in the marketing world. What exactly are you guaranteeing and how?
A: We can make that guarantee because of the way Rad works. When a client comes to us, they set the CPC (cost-per-click) of the campaign. 
Let's say RagingBull decides it will pay $2.80 for each unique visitor. Keep in mind — each unique visitor only counts if it fits criteria that RagingBull chose based on its "perfect customer". 
So, RagingBull only pays for the unique clicks, from their perfect customer, at its perfect price.
Rad's clients only get what they pay for and decide on their own metrics for success. All Rad needs to do is deliver. 
Q: How are you differentiating yourself from other Adtech companies?
A: The key difference between Rad and other Adtech companies is that we aren't looking to make any new assets or content. The brands we work with can use pre-existing content to run their campaign, they don't need to create new content tailored to specific influencer audiences.
The other big thing — because Rad is a marketplace that the brand is actually in control of, the brand can decide on its own cost of customer acquisition. Other Adtech platforms don't do this. 
On Facebook, for example, the value of the traffic is set by the demand — which is some secret algorithm that dictates how much all brands pay for an impression.