Earlier this week… 
I hosted an exclusive Q&A session with the founder of The Boardroom's latest investment.
It's a job matching platform like no other –– fully automated, powered by AI and machine learning technology, and eliminates 500+ hiring biases (read: an HR managers dream).
And what Angela shared during that call about the job market really flexed the power and capabilities of her AI-powered job matching platform.
But before I get to that, I have to let you know…
We've made it possible for anyone to invest in this very Startup through something called Boardroom Spotlight.
I tell you this because the round is filling quickly and the early-bird tranche will likely close this weekend.
If you'd like to invest with us, now is the time. Waiting on the sidelines is a surefire way to miss this opportunity.
So, what did she share on this call?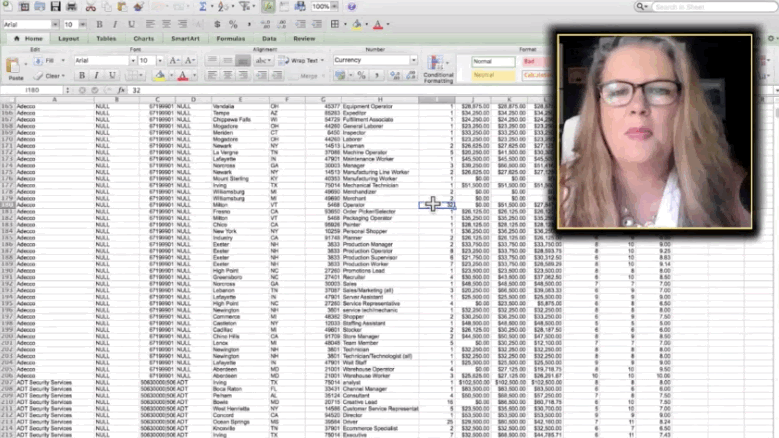 Proprietary job market data that she's able to access before it's ever released publicly.
It's data that's gathered from her network of 3,000+ partners.
In fact, this is the kind of information you won't ever hear the news reporting on…
And I've compiled the contents of this entire call for you in a short investor's summary.
AI-Powered Recruiting Platform
This startup matches people to jobs, instantly, and without bias.
The technology is useful across all industries. Any company that needs to hire employees, especially large ones, will see huge ROI, increased efficiency, and improved PR.
Everything is hosted in the cloud and delivered via a SaaS model. Because it is 100% automated, they can pull in a 93% margin.
Customer demand has grown 1400% in the last 30 days giving the company a $19 million sales pipeline.
When I spoke to the founder of this startup, she gave me never before seen data on how her platform works. We will see the idea behind the startup, its massive potential, and give insights taken from our Q&A with the founder.
Zero-Bias Hiring and Diversity
The difference with this platform is that it focuses on eliminating bias from the hiring process. 
The businesses of today and tomorrow will need to be able to hire and maintain a diverse workforce and show that they hire without bias. This diversity relates to race, gender, age, veteran status, and more. 
The future of business is socially conscious, and this tool helps businesses achieve diversity at any scale.
COVID-19 Creating Demand
Why now? Well with the massive economic setbacks caused by COVID-19, the workforce has been devastated. 
Q – How many people lost their jobs?
A – It depends on what number you're looking at. We believe it's around 45 million. These are people who were laid off completely, they were furloughed, they had their hours significantly reduced, or they had to take a lower-end job.
With all of the layoffs and with so many people planning on changing jobs, businesses will go through hell trying to rehire the numbers they need. Post-COVID-19, there will be a rehiring process like we have never seen before. 
How will companies make it work? With tools like this. 
This platform can do in two seconds what a recruiter can do in a week.
Q – Where do you source applicants from?
A – Partners. We have over 3000 partners. For example, we partner with veterans, we have 13.5 million veterans in our platform. Through the 3000 partners, we have a network of individuals. We have grown from 168 million to 179 million in the last 45 days and we will continue to grow that.  
A "Right Now" Kind of Startup
This startup is very "right now". It solves the big problems we face today. Right before our eyes, this technology has become in-demand and essential. 
The unemployment problem is huge and it seems like no one is looking at the next step, which is the rehiring that will follow. 
As investors, we love the cutting edge, breaking news, big solution kind of startups, and this job matching platform is that kind of startup.
The situation is so fast-moving that it can be hard to keep up. Each week Angela's platform has something new to show. So I wanted to ask the founder what the latest developments were.
Q – What are some updates that have happened in your company?
A – Apart from winning "HR Tech Innovation of the Year" we launched our SalesForce app. This isn't easy to get, it took a lot of security review, a lot of technical review, and a lot of partnership. Through the pandemic, demand for our product has been growing. It really made our company. I think everyone identified the value of being able to put people back to work, instantly, as soon as that job becomes available, and do so without bias. That was the game-changer for us as a company. 
New Pitch Deck and Data
The founder gave us a brand new exhibition, breaking down real-time data and metrics about our economy today using her proprietary data. 
Millions of positions need to be filled, people are changing jobs, and there are entirely new jobs being created. 
The startup can tell exactly which companies are hiring before the public finds out. 
For example, Providence Healthcare, a market leader, isn't hiring anyone right now. Hiring has fallen off a cliff, it's zero. 
Meanwhile, Change Healthcare, 11th in the market, is hiring. 
Why is that? What contract did they sign that they can be making moves like that? 
They can tell that something big just happened before anyone. They see that Change needs X number of employees for positions Y and Z.
This doesn't just help candidates and companies. It means that this startup can predict what is happening economically before it hits the news.
Interpreting the Data
Being ahead of the news is this startup's job, and because their data and network give major insights, they can offer people jobs before they are available to anyone else. 
Through data collection, the startup can see the 60,000 new jobs that went live this week, while the rest of the world is complaining, "There are just no jobs right now!"
We got to see real data from the job matching platform to see what info the startup has access to. 
They can see which companies need which employees — how many and for what level of pay — across the country. 
And the best part? The matching is done without any of the common pitfalls. 
The software doesn't look at names, titles, or anything like that. Workers are simply matched to keywords in job descriptions, without any preconceived notions. This means people end up applying and hiring in ways that they would never think to on their own. 
Breaking Expectations and Opening Doors with Data
Many of us have heard that Amazon is hiring like crazy right now. With the rise in e-commerce, the world's number one e-com company is positioned to grow and needs more workers. 
Amazon is probably hiring more than anyone right now… Right?
Not quite. A little company that most of us have never heard of, CyberCoders, is hiring twice as many people as Amazon right now. 
CyberCoders is looking for almost every kind of technologist and they have even dropped the requirement of a college degree in Computer Science. And yet, no one knows about this.
With the tools, network, and experience built by this startup, workers can find incredible opportunities even during times where "no one is hiring". 
New Mobile Apps
Now, on Android and iOS, the startup has a mobile application aimed at candidates. This "career companion" allows the company to cover the entire U.S. job market. Each new user gets real value, seeing jobs selected just for them, no spam or advertising involved. 
And what people find, is that not everything is about Amazon and Walmart. 
There are tons of jobs out there that people would love to apply to — they just don't know about them.
This app runs on raw data, not popular opinion. This is why it can match candidates to great jobs even when the big guys aren't hiring. 
Each candidate can use this technology to better themselves, even during these tough economic times. Meanwhile, the apps grow the startup's candidate network, creating more value for companies looking to hire. 
Q – Can job seekers post their applications on your site?
A – Yes they can. If they go to our website, up at the top it says, "Looking for a job?". From there you can type in what you want, drop in your Linkedin profile, and drop in your resume. Then, what we do is send out a link to the mobile apps.
Related Articles: