You're probably thinking…
Well duh, what doesn't Amazon have their hands in? 
And while that's true, it's not necessarily a bad thing.
Think of it this way, if you're a startup investor and you see Amazon piloting drone delivery technology…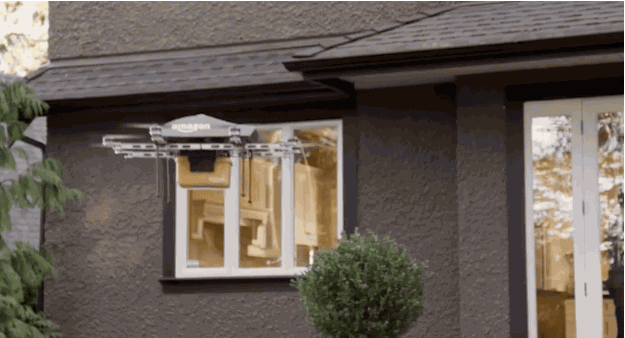 They're probably onto something and you'd be smart to start paying attention.
So when I saw what this startup is doing to bring delivery by drone to small retailers, restaurants, and grocers… I was blown away.
They're addressing a costly problem in the delivery of goods––that final leg (last mile) of the delivery. It represents more than half of the total delivery expense to a retailer.
Detailed information about this startup (including the link to invest) is on the Angel Investing Insider dashboard for members right now – click here to join.
Their investing round will close on September 21.
Drone technology has come a long way since Amazon made its first successful delivery flight in 2016.
Just a Trend Or a Major Opportunity?
While drones aren't a part of our daily lives quite yet and some may be unfamiliar with their value, I'm here to tell you that this technology is growing rapidly and is here to stay.
A staple of military technology for years, over the next decade, global military spending on drones is predicted to balloon to an incredible $98 billion.
Meanwhile, the commercial market is growing rapidly. New uses are popping up and private investment is rolling in steadily.
One of the most promising areas here is drone delivery. Retailers are rolling out drone delivery programs that tackle the tricky "last-mile delivery" problem and allow them to compete with Amazon. Meanwhile, Amazon has been playing with its drone delivery systems.
Legally and technologically speaking — drone delivery is ready, it's here, and it's coming right to your doorstep. And we happen to have one of the top drone delivery startups on our deal flow right now (until Sept. 21, 2020).
Today I'm going to share with you some major news coming out of the commercial drone industry. Then, we will look at some of the most exciting startups and breaking developments in the space.
FAA Certifies Amazon For Drone Delivery
Just a few weeks ago, the Federal Aviation Administration (FAA) officially granted Amazon approval to start commercial drone deliveries. The same certification has been handed out to UPS and a few other companies.
Amazon already has a subsidiary called Amazon Prime Air. Back in 2016, the first-ever Amazon package was delivered via drone in Cambridge, England. Plans were to bring Prime Air to select cities as of 2019 but this never materialized due to several delays.
As of now, Amazon is running tests to finally complete the project. Amazon has already developed the MK27 drone which will likely be the vehicle of choice for the program.
This is some of the biggest news in the commercial drone space for some time. When drone delivery finally breaks through, there will undoubtedly be a mad dash to get in on the action. Dozens of startups are developing products and systems to be used by the retailers and couriers of tomorrow.
Innovative Drone Startups
FAA approvals are just the tip of the iceberg. There's a world of opportunity here. Drone delivery, satellite communication, aerial photography, and even public safety stand to benefit from the innovations of drone technology startups.
Here are a few of the most promising and unique drone solutions right now.
A Solution For Retail Drone Delivery
An amazing startup on our Angel Insider Deal Flow (until Sept. 21, 2020) has the solution major retailers are looking for. The startup just completed a successful demonstration of its retail package delivery service in front of its retail partners, investors, and local officials.
This was the proof-of-concept for a total delivery system. Key aspects are the ordering app (much like Uber Eats), automated drone flight management system, package management system, and sensor safety systems were put on full display.
As Amazon and UPS have only just received approval and are still testing their drone systems, this young startup may be well ahead of the big guys.
The goal of this startup is to help brick-and-mortar businesses compete with the likes of Amazon. Speedy, same-day delivery is currently impossible for the vast majority of businesses, but with this delivery system, it will become possible.
According to the MIT Center for Transportation & Logistics, stores could save 30% on delivery costs by switching from trucks to drones. On top of this, the most difficult leg of the journey, last-mile delivery, becomes much more efficient.
The startup offers a flexible system, enabling drone shipment from existing stores with existing infrastructure, transforming retail stores into customer fulfillment centers.
While most just assumed the death of brick-and-mortar was inevitable, this startup went out and changed the game. Traditional retail's silver bullet, same-day delivery, just became its secret weapon.
To hear more about this startup, why we see it as a promising opportunity, and how you can invest in it, join Angel Investing Insider, today.
Hurry, because their current investment round closes on September 21, 2020!
Drones Mimic Satellites to Solve Radiofrequency Problems
A Danish startup just broke records by pulling in the largest drone investment in the country's history.
The startup, QuadSAT, just had an incredible seed round. Seraphim Capital, the world's first venture fund dedicated to SpaceTech, and the Danish State Investment Fund, among others, invested  €2 million.
QuadSAT offers an unexpected use for drone technology.
Here's the problem — levels of radiofrequency (RF) interference are increasing each year. If not properly managed, the growing satellite communications industry will drown the radio spectrum in RF interference. This will reduce bandwidth and cause connection breakouts.
The main cause of this problem? Poorly tuned, inaccurate ground antennas. The antenna ground segment isn't keeping up with the rapid development of satellites.
The solution? QuadSAT offers a new, cost-effective, and flexible method of testing these antennas using drones.
A specialized drone acts as a dummy-satellite, flying high in the air to run RF tests. The drone, coupled with proprietary software, allows ground antennas to be tweaked and tested far more efficiently than ever before.
Traditionally, testing antennas meant lugging equipment to special far-field test ranges and chambers. There, through the use of signal generators, spectrum analyzers, probes, high precision and calibrated antenna, anechoic chamber materials, and a bunch of other technical devices could be used to test your signal.
QuadSAT makes all of that testing potential portable, bringing the test range directly to its clients.
A Tethered Drone System For Smarter Public Safety
Axon, the global leader in connected public safety technologies, just announced a partnership with the startup, Fotokite.
Fotokite is a leader in actively tethered Unmanned Aerial Systems and public safety tools.
The partnership builds up the Axon Air program. Now, Axon's law enforcement customers will be able to watch live-streamed footage within its digital evidence management solution, Axon Evidence.
The benefits of the actively tethered drones are that they are safer, no pilot is necessary, and tethered drones are permitted to be used by the FAA without additional wavers or license requirements. Lastly, Fotokite's tethered drone can stay airborne for more than 24 hours and fly in harsh weather conditions, when free-flying drones cannot.
With the Fotokite drone, Fotokite's situational awareness software tools, and the tools needed to view, manage and share video evidence, Axon's law enforcement customers will have groundbreaking tools at their disposal.
More To Come
I think it can safely be said that drone technology is here to stay. As technology advances and new applications for it are uncovered, the DroneTech sector will continue to grow.
Whether you're ready to make your first drone startup investment today or are just curious about the technology at play––this is a space to keep an eye on. I know I will!