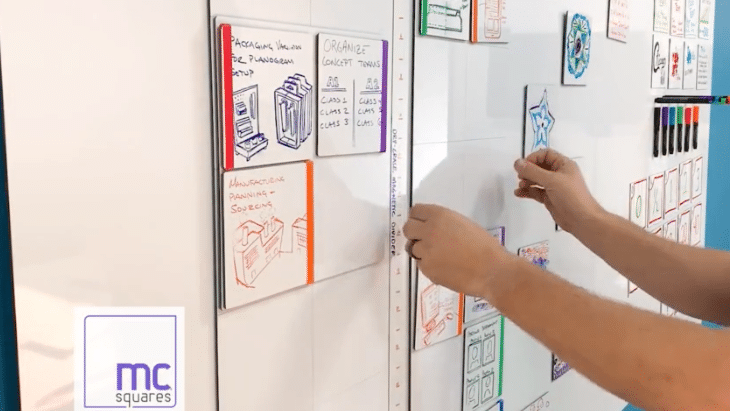 mcSquares Enters The Boardroom
In this Deal Reveal, I want to show you more about mcSquares. This startup has created a new movement in the office and education spaces — Whiteboarding. 
mcSquares designs and manufactures a line of innovative and eco-friendly consumer goods focused on organization and collaboration.
They are killing it right now with impressive growth and software-level gross margins on their physical products.
Here's the thing — The Boardroom and our members got the chance to invest in mcSquares before we found out that it will appear on Shark Tank. This means we got on board before the notorious Shark Tank bump.
After airing on this show, startups always see an insane increase in revenue. 
You too can be a part of this investment opportunity. As soon as the next round of funding opens, members of my Angel Investing Insider service will be alerted.
What is mcSquares?
mcSquares makes dry-erase collaborative products. These products extend and democratize meeting rooms and classrooms and help people engage with one another. 
Right now one of the startup's top product lines is an eco-friendly replacement for Post-it Notes. Stickies, as they're called, are selling like hotcakes and have a gross margin of 90%.
The Founder: A History of Success
Anthony Franco has already built and exited four separate companies before mcSquares. 
Like they say, angel investing is like betting on horses. The horse (product) is essential, but you also need a good jockey (founder). Well, Anthony has already won the Kentucky Derby four times. He's a safe bet to win it again.
His four previous ventures were all in tech. He's a software nerd at heart.
Let's break down Anthony's entrepreneurial success:
20 years of startup leadership in tech

Founder of EffectiveUI, the world's first and leading User Experience consultancy 

$150 million in direct revenue generation

$9 billion in total revenue generated from products managed for clients

Founded 4 successful tech startups, all with lucrative exits
The Boardroom Investment and Shark Tank Bump
The angels of The Boardroom decided to invest in mcSquares. Little did they know, just a short time later Anthony would be set to appear on the hit TV show, Shark Tank. 
This is an incredibly rare circumstance. To get into a company before it appears on the biggest investment show ever is a real home run. 
After appearing on the show, startups experience the famous "Shark Tank Effect", boosting their revenues and notoriety exponentially.
In-house Manufacturing: Being in Control of Growth
Before the big relaunch, mcSquares products were manufactured in China — this just wasn't working for the company.
As Anthony put it, "The manufacturer screwed up and was holding us hostage."
His supply chain seized up and production was no longer in his control. He felt that he didn't own his business, the manufacturer did. This was when Anthony knew he had to take manufacturing into his own hands. 
So, he brought manufacturing to the U.S. before eventually bringing it in-house.
According to Anthony, in-house manufacturing gives mcSquares three big advantages:
Just-in-time Manufacturing

– He doesn't need to fit standardized deals with manufacturers of 10,000 or 100,000 units. Now, he can manufacture 20 units in-house and test them. 

Prototyping and Go to Market

– With in-house manufacturing prototyping is a breeze. This allows the team to iterate products rapidly to respond to the changing market.

Control Over the Supply Chain

– This control allows mcSquares to ramp up or ramp down based on demand. 
mcSquares Product Lines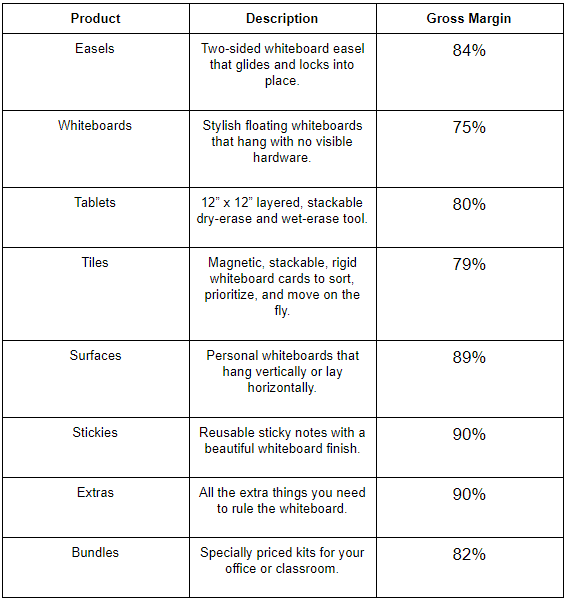 Q&A with Anthony Franco
Q: What Is your current profitability and your future growth projections?
A: I'm currently operating the company at a negative profit. We're operating for growth, not to keep the cash. If I needed to, I could stop growing and be cash-flow positive today. In terms of future growth, it all comes down to our products and their Gross Margins. 
The product that's crushing it right now is our Stickies. The 6-pack of these has a 92% Gross Margin. That's software margins, not physical product margins, all driven by the fact that we can manufacture them.
Our projections do not include any airtime. We are projecting to grow from just under a million last year to over three this year. That's without the bump. The bump (from Shark Tank) changes the game significantly.
Then, we should go from three to eight million the next year, and from eight to fifteen in 2022. That's what our current projections state. 
Q: Can you tell us about barriers to entry for competitors and copiers of your products? You have used the word "proprietary" to describe some products, can you unpack that?
A: We have nine patents we have filed, four have been issued the other five are pending. 
We have an exclusive on the material on the back of Stickies. That's an Aerospace material that's used by large Aerospace companies like Boeing, JPL, and Airbus.
The company that manufactures this material doesn't want to touch it on the consumer space. So we were able to gain world-wide exclusivity on that super unique material.
Really though, the protection for a consumer brand like us is the brand. IP is great, it's a good defensive measure, the trade-secreted material that we use called BubbleBond is also a barrier or unfair advantage for us, but where we see our biggest advantage is our nimbleness and the fact that we are building a brand around what we are calling "Whiteboarding". We are creating a tribe. 
That's what you're investing in. You're investing in the mcSquares brand and the ability to scale and grow new product lines and innovate. IP matters, defensibility matters, but really what matters in the consumer space is brand and we're doing a good job at that.
Q: Can you let us know about the University of Denver study on mxSquares products?
A: We ran a study with the University of Denver. We put our Tablet product in a middle school classroom and did A/B tests with and without the tablets.
The study showed a 340% lift in passing grades when you had an mcSquare classroom and a 40% lift in overall test scores. 
Honestly, I didn't believe it. I kind of called BS on our own study and said, "Run it again!" The results came back the same. Different classrooms, different teachers, different administrators, and it came out the same. 
Q: What is the cost of moving the manufacturing in-house? How does this impact overhead costs and the production of each product?
A: So our costs dropped. Our COGs (cost of goods) dropped when we brought manufacturing in-house. 
We had a huge expense in 2018 in equipment and gear — big machinery expenses. 
We now have figured out how to scale our factory line to get to $50 million with just a few hundred thousand dollars in equipment. 
We can scale right now with the equipment we have to $6 to $9 million in revenue. A single manufacturer in our factory can produce $1 million of retail products a year. So, if you want to get to $10 million, we need 10 people in production. It's a very scalable business.