When I see incredible stories of startups unfolding, I can't help but share them with you.
There's no sales pitch here…
Heck, this startup isn't even open for investment right now.
But what they're doing is extremely interesting and there's a ton that can be learned from what they've done in such a short time.
The startup is called mmhmm (yes, more of a sound than a word).
They remind me a lot of a startup my investing group, The Boardroom, invested in this past April, called Albi.
You see, Albi developed an AI-powered meeting software that would "attend" virtual meetings with you (on platforms like Zoom), send you a detailed overview of the meeting, AND assign action-items to those who attended.
Their time-to-market couldn't have been better –– we were in the middle of the virtual meeting boom that's dominated 2020.
Well, mmhmm's story is much the same.
They bring augmented reality to virtual meetings and presentations in a way I've never seen before.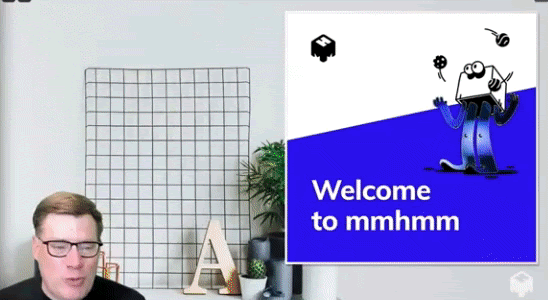 And they have some even bigger plans beyond that.
There's too much to cover here, so I've shared all my thoughts on this startup and what you can learn from them in my latest post.
What is mmhmm?
mmhmm is coming to your next Zoom call. This app plugs into your favorite video conferencing software and enables you to take your live performance to the next level.
The startup is led by Phil Libin, the founder and CEO of Evernote and All Turtles.
His latest project, mmhmm has raised over $30 million since launching in April. As of writing this, the company is in beta testing and already has over 100,000 users banging at the door to use the product.
How it Works
mmhmm lets users make their video conference calls more engaging, dynamic, and fun.
Plug it into Zoom and you can easily do screen-in-screen to show pictures, slides, videos, and even share the screen of your computer or phone.
Your image can be processed to automatically cut out the background. From there, you can select from indoor, outdoor, and animated backgrounds to make an entire scene that takes your conversation to the next level.
You can drag, resize, and make transparent all of the panels in real-time.
Whether this means organizing graphs and data for a clean pitch or just having some fun with friends, the system allows for endless possibilities.
There are also cool features in the works to revolutionize slide decks and presentations. mmhmm will allow users to record interactive presentations called Dynamic Decks.
Next, the Multiplayer feature allows teams to synchronize presentations from across the globe to give the perfect pitch without delays or hiccups.
Phil thinks mmhmm will completely replace boring old PowerPoint presentations.
Not Competing With Zoom, Working With Zoom
When I first heard about mmhmm, I thought it would pan out to be a niche product.
Businesses and individuals have already worked their conferencing software of choice into their tech stacks and daily routines. Would hordes of customers really switch over to mmhmm just for a few added features?
When I found out that this isn't a replacement for Zoom or any other conferencing app, but rather a tool that works with them all—that changed everything.
mmhmm doesn't need to compete with those apps and doesn't need to strike partnership deals either. It's bringing something to the plate that none of them have, that benefits them all.
The Secret to mmhmm's Success: Perfect Timing
The timing was key. While everyone else was just getting a grasp of the new social distancing trends, mmhmm was figuring out how to improve them.
Phil Libin and his team were just one step ahead of the trends. They saw the direction things were heading and had an "aha" moment.
mmhmm is one of those ideas that from the moment you discover it just seems obvious.
This is precisely why investors jumped all over it.
mmhmm has only been around for a few months and it already has Sequoia Capital, Instagram founders Mike Krieger and Kevin Systrom, and Goldman Sachs on board.
Not only did mmhmm find a way to sneak into the Zoom craze, but it's already thinking ahead to the future of augmented experiences that businesses and content creators will demand…
mmhmm's Future Customer Segments
Phil says that improving video conferencing is only the first step. He says, what everyone is dying for today will only be a small portion of what the company does down the road.
The real opportunity will come from helping creators record and stream more interactive content on Youtube, TikTok, Instagram, and the like.
With some of the same tools it already has for its video calls, mmhmm will give content creators the power to augment and entertain in real-time. It's a perfect offshoot for this technology that plays off of the growing market of social media creators.
But, these next-level augmented experiences that Phil is calling "IRL-plus" will also be for businesses.
There isn't much detail on this yet, but he thinks something beyond just improving video conferencing is needed. He described it as "Twitch for people who want to stream PowerPoint slides" and he's thinking it will be a major part of communication and collaboration in the coming months and years.
What You Can Learn From mmhmm
For early-stage investors, I'm sorry to say you already missed the boat on this one.
I'm not talking about mmhmm so you can invest in it, but rather so you can see what it did to become such a massive success.
The truth is, there are dozens of other gems like this out there ready to capitalize on and change social distancing trends and beyond.
When you find great startup deals, don't wait on them. Just look at how fast mmhmm went…
In March, mmhmm didn't exist. By October, it had $30.5 million in funding and a waitlist of 100,000.
Investors who get in at IPO are already too late for the big returns.