Just take a look around you and how EV stocks have been skyrocketing this year.
Electric vehicles are no longer a thing of the future — they're taking over the auto market by storm, and investors are taking notice.
If you missed out on those opportunities, it's okay. There's still a chance to get in on the action.
You see, there's a special "little" niche in the EV industry that's void of big-name brands like Tesla, GM, or Nissan. In other words, there's market share for the taking.
What area in the EV industry am I referring to?
It's the all-electric powersports space.
The broader powersports market, made up of various gas-powered off-road vehicles is already a $30+ Billion market.
It's set to grow at a 6% CAGR through 2026 (Global Market Insights).
Now, there's a company out there that is taking this market by storm with their line-up of totally electric off-road vehicles.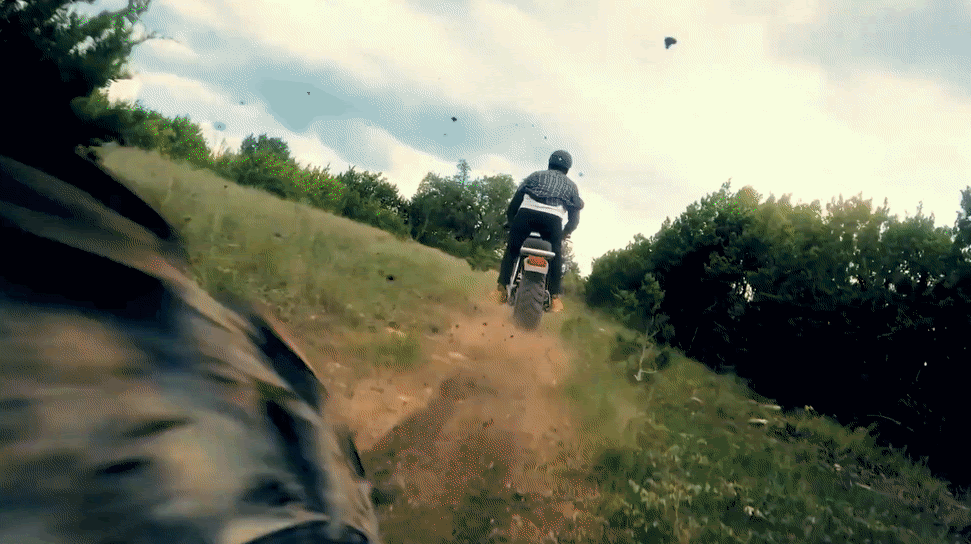 Tonight at 8 PM ET, The Boardroom, my early investing team, is hosting a special live event IPO Mania: EV Edition, featuring our biggest early-stage investment of 2020.
We will reveal the company we invested in, share WHY they secured a $250,000 investment from The Boardroom, and explain how you too can invest in this startup opportunity.
No investment is risk-free and investing in startups is no different.
It's about doing your homework, educating yourself, and learning about the sector you're investing in.
I've broken down the electric powersports space and the opportunity I see in this article.
Since the recession, we have seen fairly flat motorcycle sales, about 1% to 2% growth. Over the same period, we have seen strong double-digit growth from the UTV sector.
UTVs — Utility Terrain Vehicles; some people call them side-by-sides.
Whereas with ATVs, All-Terrain Vehicles, you sit on top of them like a motorcycle, UTVs are small Jeep-like vehicles.
Going into COVID, UTV sales were booming. The general idea was that the pandemic would spell disaster for the industry, but after just a few bad months, UTV sales took off, performing exponentially better than before.
In 2017, UTVs were a $7.7 billion industry, and by 2025, it is expected to reach $14 billion, a compound annual growth rate (CAGR) of 7.8%.
And the electric powersport segment (motorcycles, ATVs, and UTCs) is anticipated to have the highest growth rate, a CAGR of 14.6% through 2025.
Areas of the Powersports Market
The best thing about Powersports is their wide range of uses. Here are the biggest markets for electric Powersports today.
Agriculture
A UTV is perfect for utility-type tasks on a farm or other large property. Electric is well suited for rough outdoor work because of the torque it can offer, its ease of operation, and the fact that there is next to no maintenance required.
Also, they provide exceptional power-to-weight ratios, offering great pulling power even in small utility vehicles or bikes. These vehicles can carry heavy loads across many acres.
Outdoor Recreation
Electric Powersports are the perfect vehicles for hunters, fishers, campers, or anyone going outdoors to explore. They can go places that pickup trucks just can't go, pushing deeper into the woods where the trees are too tight.
Electric vehicles can get closer to an animal than any other type of vehicle because they are extremely quiet.
Sports and Adventure
Enthusiasts who ride motorcycles, dirtbikes, and ATVs now have electric alternatives. This more "extreme" part of the market is fast-growing. These electric Powersports offer unique performance advantages that make them a unique and exciting ride.
Electric Powersports Advantages
There are many things electric bikes, ATVs, and UTCs do better than their gas-guzzling competition. Here are a few areas in which electric Powersports shine.
Performance
The simplicity of an electric engine results in almost no energy lost in friction between moving parts, like what happens in internal combustion engines. Nearly all energy generated by an electric engine ends up transferred to the wheels, propelling the vehicle.
Maintenance
An average offroad, gas motorcycle has 1,200 to 1,500 moving parts between the engine and the transmission that it requires to put power to the wheel. Each part is essentially another potential point of breakage and results in a loss of power to friction. All-electric motorcycles typically have far fewer moving parts. Durability and reliability are built into the platform.
EV bikes have virtually no maintenance requirements. Check the tire pressure and lube the chain.
Ease of Use
For motorcycles, one of the biggest deterrents for this crowd is the clutch and gearbox. Coming from an automatic car to a gear system on a bike is difficult. With EV Powersports, it's one engine, one "gear", you just throttle as hard as you want to go.
The Inevitable Electric Shift
Another thing that electric Powersports have going for them — like it or not, we are moving into a full-electric world. The future of the automotive and transportation industries is electric, and Powersports are no different.
Consumers' environmental concerns and government regulations are accelerating the shift to zero-emission and all-electric vehicles.
We have already seen big, established companies invest in the EV space as well as loads of successful EV startups.
And as EV technology keeps getting better each year, electric Powersports not only become more attractive to the environmentally minded, but also those concerned with performance and efficiency.
Our Next Big Startup Deal: EV Powersports Company
This startup aims to be the leading all-electric Powersports company. As it stands today, it is the only all-electric Powersports company.
This puts them in the top spot by default, but believe me, their competitors would like to claim that position. The fact is, the competition is just years behind.
A bit about the founder — he has been in the Powersports world his whole life. He grew up riding offroad motorcycles with his dad, then graduated to racing motorcycles professionally, and after graduating college, he took his passion into the Powersports industry. And his co-founders have founded successful EV companies before and bring their expertise to the table.
He is a three-term Motorcycle Industry Council board member. He frequently studies the high-level trends and data in the motorcycle industry giving him an insider's view of the industry,
Electric Powersport Products
There are currently three vehicles in the company's lineup, fully designed and ready to begin manufacture in 2021.
All-Electric Off-Road Motorcycle
This is an easy-to-ride, capable bike with a 100-mile range, 60mph top speed, that goes zero to sixty in six seconds. It has hot-swappable batteries for extended range. With no gear system, a low center of gravity, and different driving modes, this bike is usable by children 13 and up. It's even waterproof, able to operate while submerged in water.
Compact UTV
Next, they offer a UTV with the looks and suspension of a sports vehicle with the function and room of a utility vehicle. This is available in two-wheel and four-wheel drive, has a 150-mile range, 70 mph top speed, and goes zero to sixty in five seconds.
Full-Size UTV
Finally, they have a four-person UTV with a pickup-style flatbed. It can be converted into a two-seater making more room in the flatbed for storage. The max range is over 150 miles, top speed 80 mph, and zero to sixty in four and a half seconds.
Reasons We Believe This E-Powersports Startup is Poised for Success
Big players in the industry like Polaris, Arctic Cat, and Textron are investing in EVs, but I'm going to show you why they can't compete with our new startup.
And while acquisition is certainly seen as an option, that's not the goal here.
They want to give their shareholders the most value possible and they are confident in the prospect of an IPO for the company –– targeting a late 2021 IPO (no guarantees here, but that's what they're aiming for).
Here's what they are doing that made us jump at the chance to invest.
Competition
The biggest players in the Powersports market do have EVs on their minds, but they are years away from production. They are currently having too much success with their leading gas-powered vehicles which are enjoying booming sales at high margins.
Their flagship products are selling out, and pivoting to EVs just isn't a short-term goal for them.
Let's look at an example.

Polaris has just announced a partnership with Zero Motorcycles. Zero is the leading on-road electric motorcycle manufacturer.
Despite how huge this news is, the founder of this EV startup says Polaris' president and CEO said this is an early stage partnership and that they don't expect they will deliver vehicles to market for four to five years. Compare that to our next startup investment that will bring its first product to market in Q2 of 2021.
Zero is the front-runner in the electric Powersports market, and they are well behind our company in terms of production. On top of that, Zero doesn't even make off-road vehicles.
The other two big players in the ePowersports space, Arctic Cat and Textron are even further behind than Polaris.
Speed to Market
These vehicles are going on sale in Q2 of 2021. After that, the plan gets aggressive.
They already have manufacturing taken care of with a factory set up to bring them through the first stage of production. For their first product to go to market, the off-road motorcycle, they already have a working prototype.
According to this startup's team, they plan to sell 1,500 vehicles in the first year. Then, in 2022 they will scale up production significantly. The next rounds of funding will be used to build a larger, permanent factory that will help them to scale up to 5,000 to 10,000 units per year.
EV Technology
The electric utility vehicles on the market today are essentially golf carts. These have lead-acid batteries and offer very little in terms of sophistication.
This new brand, on the other hand, is using high-tech lithium-ion batteries and vehicles that offer drive modes accessible on a touch screen.
And with the simplicity of their design, they manage a 50% margin across all of their electric Powersports. Even manufacturing them in the U.S. they can reach those margins.
Sales and Marketing Channels
A select group of Powersports dealers will be able to sell these products.

Vehicles will also be available online, direct-to-consumer.

They plan on partnering with outdoor sports companies like Bass Pro Shops.

Finally, they will be sold through farm equipment suppliers.
The founder has connections into these channels, especially the lucrative outdoor sports and farm equipment companies.
If this doesn't get you excited about the untapped EV market that is powersports, I don't know what will.
---
Tonight (Oct. 27, 2020) at 8PM ET, I'm revealing the EV (electric vehicle) company behind The Boardroom's BIGGEST startup investment this year in a special one-time only LIVE event – IPO Mania: EV Edition.
Click Here To Reserve Your Spot To This Event