This year, the market saw the resurgence of SPACs (Special Purpose Acquisition Companies).
A number of high-profile firms went public via a SPAC. DraftKings (DKNG), Nikola (NKLA), and Virgin Galactic (SPCE) are just a few that come to mind.
The reason for the explosion of SPAC deals?
Well, it can take months for a company to go public. However, some SPAC deals are closing and hitting the market within a matter of weeks.
With these SPACs, my catalyst runup strategy actually works perfectly.
You see, there are specific dates and events that allow me to time my trades to near perfection.
So which three names are on my radar?
Three SPACs On My Watchlist
Gores Metropoulos (GMHI)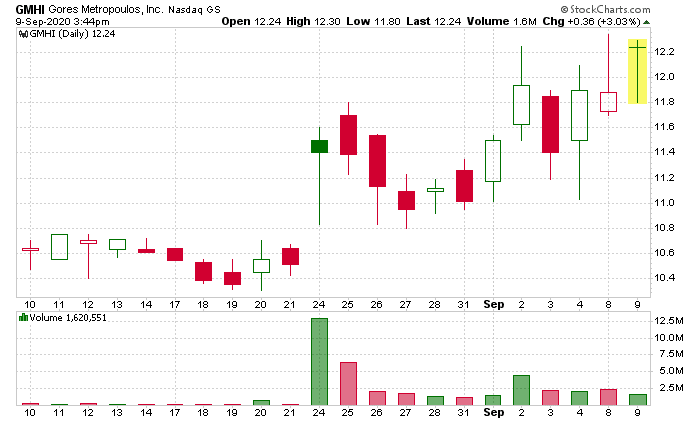 Gores Metropoulos (GMHI)

announced SPAC reverse merger on 8/24; a technology supplier that plans to be a key player in the self-driving revolution.
Reverse merger between Gores Metropoulos and Silicon Valley and Peter Thiel personally backed Luminar – a maker of lidar sensors.
Lidar sensors use lasers to generate 3-D models of the surroundings. They play an integral part in self-driving technology, by allowing autopilots to literally read what's happening outside of the vehicle.

Luminar has been funded and secretly operated by Peter Thiel since 2012.
As early as in the summer of 2019 Luminar was valued at $900 million, after raising $250 million from backers that include Volvo, Peter Thiel and Nick Woodman of GoPro.
Luminar claims to be working with over 50 global partners. The list features some of the biggest and most prominent names in the industry: Volvo, GM, Toyota, NIO to name a few. Volvo plans to start using Luminar technology in commercial vehicles as early as 2022.
Merger will give the new company a $400 million cash injection and a new ticker – LAZR.
Stock closed nearly 10% higher on the day of the announcement and has been consolidating in the new $11-12 range ever since.
Per current plan, the company doesn't expect to be profitable until 2024, plans to make 124M in 2024 and 365M in 2025.
Currently trading at ~1B value, vs 3.4B projected.
Kensington Capital Acquisition Corp. KCAC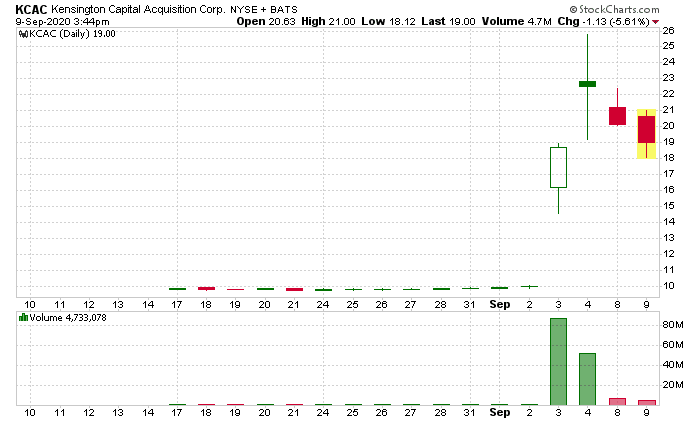 QuantumScape, a developer of solid-state lithium batteries for use in electric vehicles, and Kensington Capital Acquisition Corp. (Ticker: KCAC) agreed to complete a business deal which would allow QuantumScape to go public.
QuantumScape exclusively focuses on developing and commercializing solid-state batteries at a large scale for the auto industry
QuantumScape has a joint venture with Volkswagen AG with funding commitments of $300m

Notable investors in the company also include Bill Gates, VC firm Kleiner Perkins, German car manufacturer Continental AG

On September 22, 2020 Tesla is holding its anticipated Battery Day. With the backing of titans of the industry, QuantumScape is poised to benefit from the investors' attention to the sector.

The news was announced premarket on 9/3/2020. The stock was trading at $9.74 prior to the announcement and rallied to the highs of $25.75 closing the week at $22.8.

The deal is expected to close in the end of 2020 with over $1b in cash and funding commitments resulting in pro forma enterprise value of $3.3b. The company will trade under ticker QS.
FEAC – Flying Eagle Acquisitions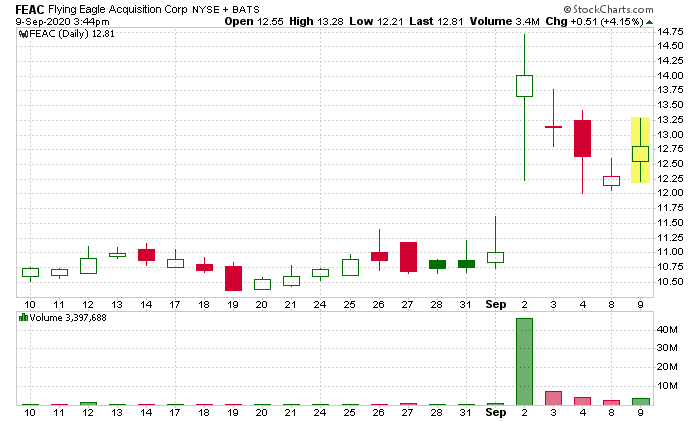 FEAC

will merge with Skillz, a leading mobile esports for competitive tournaments, on Wednesday 9/2. The stock soared to the high of $14.7 on the day of the announcement from the closing price of $11.22 the day prior.
Currently, the gaming industry is larger than movies, music and books with 2.7 billion gamers playing per month. Mobile gaming is the fastest-growing segment of the industry, which according to GlobalData, is expected to increase from $68 billion in 2019 to $150 billion in 2025.
Skillz is a pioneer in the space

with a patented technology for mobile esports tournaments.
It is expected that in 2020, Skillz will have enabled over 2 billion casual esports tournaments and facilitated over $1.6 billion in entry fees for games hosted on its proprietary platform.

The transaction values the company at $3.5 billion which is 6.3 times the estimated revenues of $555 million in 2022.
Staying on top of trends and taking advantage of catalysts is how I was able to make over $3M in trading gains in 2020.*
Now I want to show you how you can start crushing this market too.
Register for my exclusive catalyst training workshop, and find out the power of one of my best strategies.
*Results presented are not typical and may vary from person to person. Please see our Testimonials Disclaimer here: https://ragingbull.com/disclaimer