Since I opened up a discussion with my readers, my inbox is filled with questions. Although I can't answer every one of you individually, I do want to help as many people as I can to make money in the markets.
My team and I diligently sift through all of your questions and find the most common ones. This week, we've seen the same question over and over again…
How did you become a successful trader and turn $15K into more than $7M before the age of 30?
Before I walk you through the necessary steps I took to become a consistently profitable trader, I want to tell you about my journey.
Now, you may think I'm a whizkid who is just a natural at trading the markets… but that couldn't be further from the truth. I was a UCLA college graduate who worked a 9-5 job at a real estate firm (it had nothing to do with what I got my degree in, as I studied biology). 
At the time, I was living out in LA, making just $32K a year. It wasn't easy living off that salary and I knew I couldn't live in that fashion… so I figured out ways to scrape up some extra cash because I knew the stock market was my ticket out.
I was able to save $15,000 and put that into a trading account. Of course, I was scared at first because it was my hard-earned money and I was going to be trading against pros. So I searched for the Holy Grail and tested out a handful of strategies — even ones that weren't proven.
Guess what happened with my account?
I ended up losing half of my money and I even contemplated about stepping away from the game forever. Luckily I didn't because I would've still been struggling to live in LA. Instead, I went back to the drawing board.
I tirelessly looked through all my trades to try to find exactly what I was doing wrong. I knew the market could be beat and all I needed to do was find an advantage over the competition. Of course, I had to look for different ways to get by because I had lost nearly $8,000… so I had to save on meals and get $5 burritos…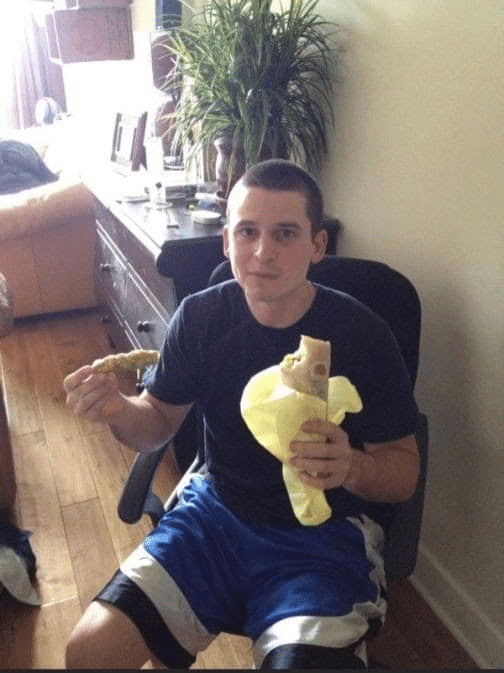 So how did I turn it all around?
Write Down All Your Trades And Review
I found the mistakes from my losers and cut those strategies out real quick. I started to treat trading like a business. I detailed all of my trades… and I quickly realized what was costing me money. After I started to journal and review my trades, that's when things started to take a turn for the better.
Basically, I wrote down everything about the trade:
Date, Time, PnL and Stock Symbol
Thesis

. The reason I was getting into the trade. It's your trade idea and it could be anything from a technical pattern, fundamentals or catalysts. 
Execution

. The entry, stop-loss, target, and exit prices.
It's not enough to just write these details down… if you want to become a successful trader, you need to find patterns in what you're doing right and what you're doing wrong.
I did find a few winners and found a simple and repeatable pattern. Of course, once I figured out what was working, I silenced the noise and focused on my edge. That allowed me to time my entry and exit to near perfection with catalysts.
I couldn't believe how simple trading was after that. With just about $7,000 left in my account — I quickly turned things around and made approximately $44,000 and I was finally a profitable trader.
I was ecstatic I made more than I did at my job at the real estate company. But having a job was safe, so I decided to work full-time and trade whenever I had the time. 
By the second year of my trading career (still working at the real estate company for the most part), I focused on my pattern and made more than $800,000. I thought long and hard about whether I should quit my job and trade full-time. 
I walked over to my childhood friend's cubicle one day (we both worked at the same firm), and I asked him whether he thought it was a good idea to quit my job and start a career as a trader.
I remember it bright as day. He asked me, "How much money do you have saved?"
I told him, "About $840K."
All I could remember was the face he made. He looked at me as if I was crazy… and he just told me, "Quit your job man."
Of course, I did, and I couldn't be more grateful that he gave me the confidence to pursue my career in trading.
A simple AMA prompt can't really explain exactly how I became a trading success… and I decided to give back to the trading community. So you're invited to a full week of training. For 6 straight days, you'll discover EXACTLY how I recovered from losing half of my trading account… and turned it into $838,000 in my first two years of trading.
Click here to claim your seat to my week of crucial lessons and fast track your trading success.
Related Articles: