There's one area that's been hot, and it seems as if everyone and their brother want in on the action.
No, I'm not referring to vaccine- or pandemic-related stocks.
I'm actually referring to Special Purpose Acquisition Companies (SPACs).
You've probably heard of some of the companies that went public via the SPAC route, such as:
Virgin Galactic (

SPCE

)

Lazr Inc. (

LAZR

)

Draftkings (

DKNG

)

QuantmScape (

QS

)
Now, I know what you're wondering, "Kyle, why are you talking about SPACs right now?"
Well, there are actually catalyst dates in them, and I think my catalyst runup strategy has the potential to work well when it comes to these plays.
I've actually got three on my radar, and I want to tell you about them.
3 SPACs That Can Take Off: OPES, FEAC, IPOB
When it comes to SPACs, there are key dates to be wary of. One of the most important dates is the vote date. You see, SPACs are essentially blank check companies, and shareholders vote whether a deal will go through. Thereafter, the target company will become publicly traded.
For example, GMHI was a SPAC but had a deal with LAZR and when the deal went through, LAZR became a publicly-traded company.
Right now, there are three SPACs with upcoming catalyst dates that look interesting to me.
First, there's Opes Acquisition Corp (OPES) and the target company is BurgerFi. The shareholder vote is expected on Dec. 15.
In my opinion, when it comes to these catalyst events, traders get antsy and want to pile in before the event. You can see what's going on here with OPES. To me, it looks like a catalyst runup, and I believe by knowing the catalyst date, I'm in a good position to better time my trades, especially with these SPACs.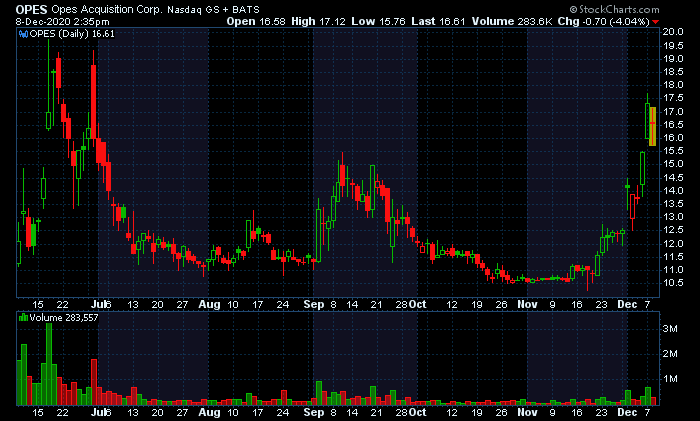 If I do decide to get into OPES, I would play the catalyst run up and have a target, and I think it would make sense to get out, win, lose or draw before the vote date.
Next up, there's Flying Eagle Acquisition Corp. (FEAC) and the target company is Skillz. The vote is expected on Dec. 16.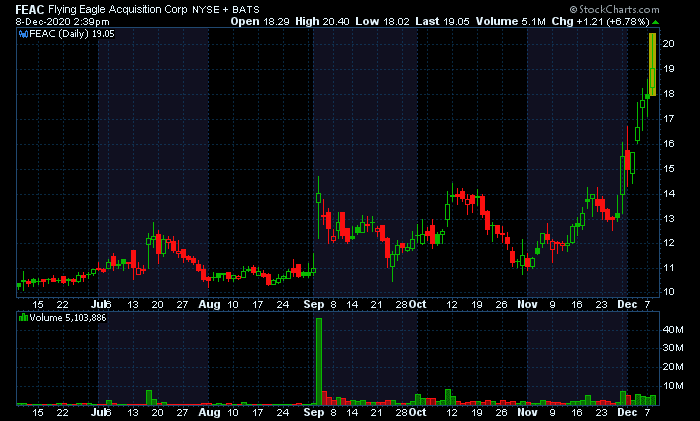 The stock has been running up into the vote for the last two weeks, and I think this is one to keep on the radar.
Last, but not least, there's Social Capital Hedosophia Hldgs II Corp (IPOB) with an expected vote on Dec. 17. The target company here is Opendoor Labs Inc.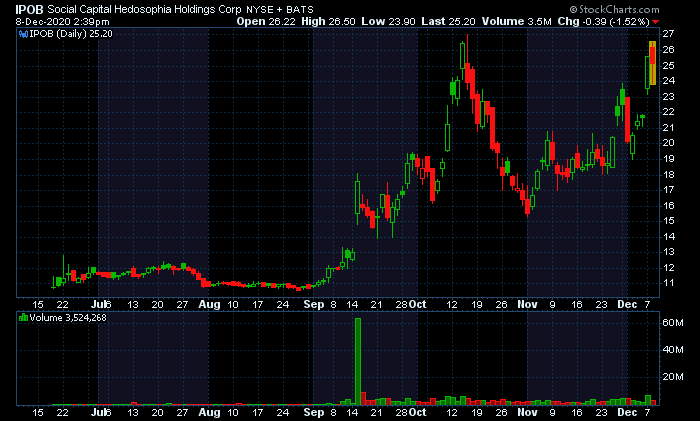 IPOB has been on a wild run and is now near its high around $27. I wouldn't be surprised if this one breaks out and continues higher heading into the catalyst date.
Now, if you think about it, you may realize how important these catalyst dates are.
That's why I put together this special training session, so you can learn more about catalyst trading…
And how to utilize the catalyst dates to better time entries and exits.
WE MAY HOLD SECURITIES DISCUSSED. RagingBull has not been paid directly or indirectly by the issuer of any security mentioned in the Services. However, Ragingbull.com, LLC, its owners, and its employees may purchase, sell, or hold long or short positions in securities of the companies mentioned in this communication.