There's a major catalyst on the table this week, and it may shake up some sectors.
No doubt about it, there will be plenty of traders with eyes on the Pfizer-BioNTech advisory committee meeting on Dec. 10.
When there's a catalyst of this nature, I don't stay on the sidelines… I actually turn to my "insider" activity scanner to try to uncover smart money plays.
You see, these Wall street whales are throwing down some pretty sizable bets…
And my thought process is that chances are no one is placing trades of this magnitude if they're not well-informed.
I'm sure you can probably guess how much easier it is to take the smart money's trade ideas and make them your own, than trying to find plays on your own.
That said, let me show you two names that saw unusual options activity last week.
Last week, I saw the smart money pile into two stocks, and I want to tell you a little bit about them.
Miniso Group (MNSO) is a Chinese company that sells low-cost consumer products (toys, perfumes, home decor, etc.). The company has over 4,200 stores, as well as online sales channels.
Why am I talking about it with you right now?
Because right before the closing bell on Friday, someone came in and bought a BOATLOAD of calls.
At around 3:46 PM ET, a trader came in and bought 400 MNSO Dec $25 Calls.
They paid $1 per contract and spent a total of $40K in premium.
Why does this stand out?
Right before the trade, the spread on the contracts was $0.25 by $1.00.
Generally, if you are an institutional trader and want to slap some size on a trade, you'll contact a broker to "work the order" for you.
However, in this case, the trader wasn't concerned about getting a better price…they just wanted their hands on these calls.
That's what I call an aggressive buy.
And you know what else?
At the time of the trade, shares were trading at $21.91.
In other words, this trader needs to see the stock rise to $26 in less than two weeks, just to BREAK-EVEN.
Shares of the stock closed up 10% yesterday, at $21.96.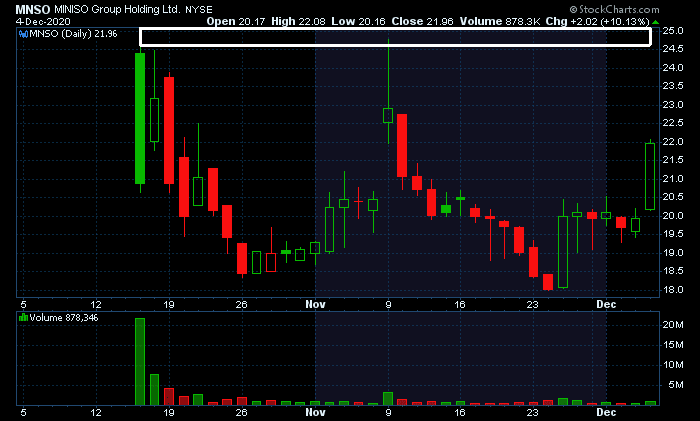 And with just 13 days until these options expire, you'll want to keep this symbol on your radar.
The second smart money trade that stood out was in Penn Virginia Corporate (PVAC).
Penn Virginia Corporation (PVAC) is an independent oil and gas company located in Texas.
It grabbed headlines last month when Juniper Capital made a strategic investment of $188.4M, in an attempt to improve its balance sheet and liquidity position.
PVAC is set to report earnings on February 25th, but one options player believes shares could explode higher before then.
At 3:56 PM ET on Friday, a trader purchased 1000 PVAC Jan21 $12.5 Calls.
They spent $0.70 per contract, which came out to $70K in premium.
Now, PVAC closed at $9.75 on Friday.
That means this trader needs to see the stock rise by 35% just to break-even.
In other words, they are expecting a significantly higher move between now and the next 1.5 months.
And while a $70K bet isn't something to sneeze at, I'll be paying attention to see if there is more action coming this way.
Now, I see bets like that come across my screen almost every single day. If you want to learn how to follow the smart money's moves…
And take their trade ideas and make them your own, then I urge you to attend this important training session.
You'll learn a unique strategy to attack the market, and how to put yourself in a position to trade "alongside" the smart money.