I was trading and training live all week — and attendees flooded the chat with questions. While I couldn't answer every one, my team did collect all the questions they could…
And I'm going to answer them to the best of my ability.
That said, there was one question that caught my attention…
Kyle, when you say "I like the chart set up a lot" can you briefly point out what details you are looking at? thank you.
Well, when it comes to chart setups — I've actually developed a skill set, pattern recognition, and that lets me know a stock has the potential to move to the upside.
Of course, it does take a bit of work to learn how to identify these setups, but I want to help you cut the learning curve and show you some of my favorite setups.
Two Patterns I Love To Utilize To Attack The Market
One of my favorite patterns is the bull flag / pennant setup.
With this setup, I'm really looking for a sharp move higher followed by a period of consolidation. Typically, when I see this pattern, it signals the stock could break out.
Here's a look at a bull flag pattern…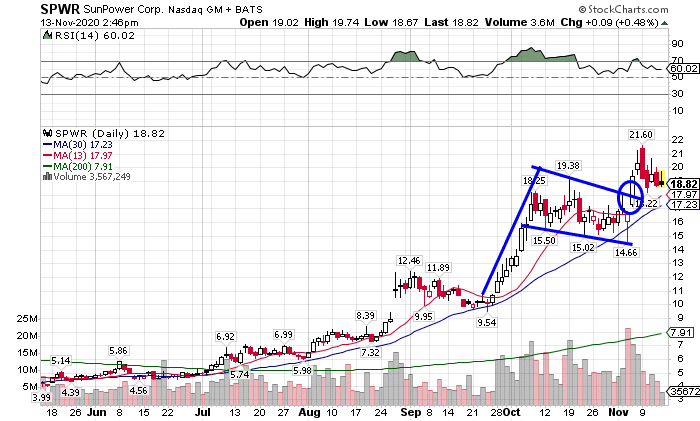 Notice how SunPower Corp. (SPWR) had a strong run-up, followed by a period of consolidation (the flag / pennant). Thereafter, the stock made a move and broke out. So with this setup, I would actually look to enter in the flag / pennant portion of the pattern (the consolidation area).
By doing so, I'm able to anticipate the potential breakout. Not only that, but it allows me to better plan my trades. So to me, this is one type of setup I would like.
Another pattern I love is the Fibonacci retracement.
The Fibonacci retracement is a technical analysis tool and it's widely used by traders. You can probably find this on your broker or charting software.
The key with this setup is to identify the swing highs and lows. Thereafter, the charting software should do the rest. What you'll notice here is there are 5 lines typically.
You'll have your 0%, 38.2%, 50%, 61.8%, and 100% Fibonacci levels.
What I'm focused on here are the 38.2%, 50%, and 61.8%.
Why?
Those tend to be key support levels. So if a stock holds at a key retracement level and starts to run higher, that's a signal there's demand and the stock could continue to rebound.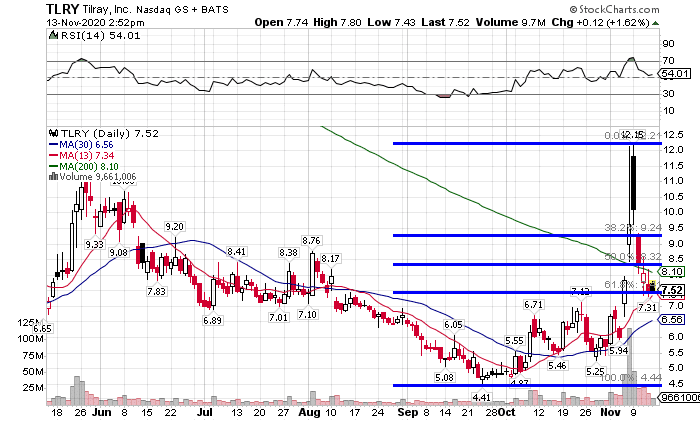 When it comes to chart patterns, I typically pair them with catalysts.
For example, if there's a bull flag setup and an upcoming catalyst event in a specific stock, that strengthens my argument to get in long.
That said, I want to teach you how to pair catalyst events with nearly any style of trading because I truly believe it can help make you a better trader.
Whether your approach is technical, fundamental, or quantitative, it's important to understand how catalysts can affect price action.
Register for my upcoming catalyst training session here.