The presidential election is right around the corner…
Companies are planning to remote work through 2021 due to the pandemic…
Some countries are starting to go back into lockdown due to the uptick in cases…
Hundreds of companies are still set to report earnings…
Those are just some of the catalysts on the table right now. With so much uncertainty, many traders have a tough time getting a read on what the market will do next. 
In this news-driven market, one headline can cause the market to flip real quick — and that's why I want to show you the one key factor that I believe can either make or break you as a trader.
Time is of the essence here because as we all know, the market waits for no one person. 
That said, I want to show you how to utilize this factor to attack the market and trade with an edge.
Remember the environment we saw in March, when the world was in full lockdown and stocks kept dropping?
I didn't panic during that time, and I just focused on catalyst events, the one true factor that moves the market. I was able to lock in $477K in gains in March, mainly from buying stocks.*

Of course, past performance isn't indicative of future performance, but I will continue to utilize my catalyst runup strategy because it's just so darn effective.
To me, catalysts are what drive stocks and price action.
Sure, chart patterns may work for some traders…
But any catalyst that hits a stock or the overall market can break a pattern.
I know what you're probably wondering, "Kyle, what are catalysts… and how can traders use them to their advantage?"
Well, I believe the key is to identify these catalysts ahead of time… plan the trade…
And trade the plan…
My specialty lies in being able to identify the trends and momentum, typically ahead of time… and before these stocks or sectors start to take off.
Let me show you what I mean by that.
There's been an uptick in coronavirus cases and some countries are going back into lockdown.
That's a catalyst right there, so I want to look at work-from-home (WFH) stocks or coronavirus names to attack the market.
For example, this week I traded Logitech (LOGI), the maker of work from home tools, computer products, etc. Now, LOGI actually had great earnings, so there were two catalysts working for it.
So here's what I sent out on Monday.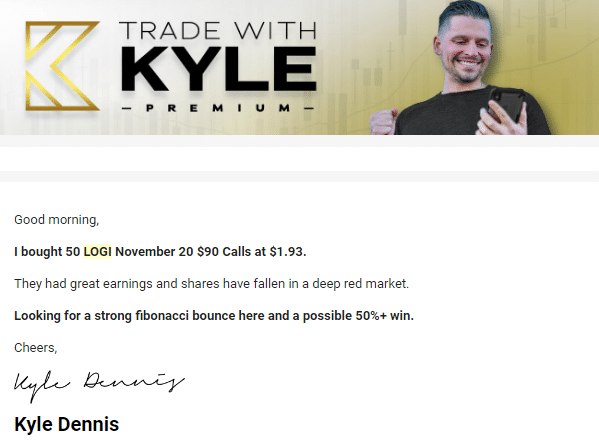 The very next day, those options took off…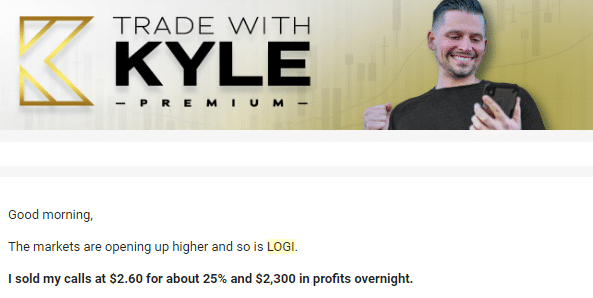 And I locked in my gains. Sure, it didn't hit my profit target. However, with so much uncertainty, I'll take a 25% winner overnight.*
The key here is to focus on catalysts, because it can help to uncover the "hidden" bull market. There are specific sectors that can pop off, and I want to show you where to uncover these opportunities.
I put together this special catalyst training session because I believe it'll help you attack the market right now.
Time is of the essence, so register here for it.
*Results presented are not typical and may vary from person to person. Please see our Testimonials Disclaimer here: https://ragingbull.com/disclaimer