Right now, traders are wondering what the outcome of the election will be — and given the choppiness of today's price action…
I don't think the market has a clue as to who will win. Only time will tell.
Of course, traders are looking for answers — and I received an overwhelming amount of questions from readers asking me, "How are you going to trade this market?"
The short answer…
I'm going to stick to what I've been doing and focus on catalyst events.
After all, my event-driven trading strategy has helped me generate more than $4M in just about 10 months.*



With so many catalysts on the table, I expect to capitalize on them utilizing my number 1 edge in the market.
I want to show you my plans to attack and approach the market after the election.
*Results presented are not typical and may vary from person to person. Please see our full disclaimer here: ragingbull.com/disclaimer
How To Uncover "Hidden" Bull Markets
No doubt about it, after the election — the dust will settle and traders will be on the hunt for opportunities. Many will just randomly buy stocks because they're moving. However, I believe that's the wrong way to approach it.
For me personally, I want to focus on catalyst events, whether they be long- or short-term. I believe there will be "hidden" bull markets in various sectors and industries, regardless of who wins. So I'll be prepared to pounce and will let premium subscribers know about my moves and stocks I'm watching.
Of course, I don't want to leave you hanging.
There's one industry that I believe will be filled with opportunities no matter who wins… and it just so happens to be my favorite area to trade — biotechs.
You see, there are specific stocks in the industry that might not necessarily move with the market post-election (if there's a sell-off). Instead, they'll move based on their own catalysts.
For example, coronavirus stocks are still in the picture as companies are still racing for a treatment and cure. Especially with the winter months, experts expect there can be an exponential rise.
So with that catalyst, I identified some names to keep on my radar.
"Coronavirus Names": AIM, CODX, CEMI, DVAX, FLDM, INO, IBIO, SRNE, OPK, MRNA, GILD, NVAX, VXRT.
Let me show you how I actually would develop a plan to trade biotechs.
Inovio (INO)
Catalyst Dates: Submitting info to FDA, hear back in 30 days to proceed with trial. Maybe we hear progress on November 9th Earnings Call
Buy Zone: $9.75 to $10.20
Profit Zone: $13.00 or higher
Stop Zone: $9.50 or below
Options: INO December 18 $14.00 Calls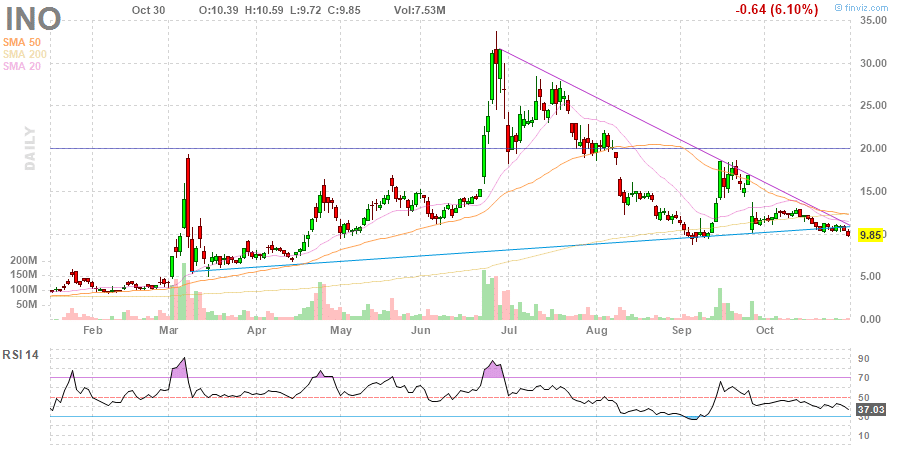 In this market environment, it's important to remain highly selective and catalyst events allow me to do that.
I want to teach you how I uncover catalyst trading opportunities and to better time the market moves.
That's why I put together this special training session so you can discover my number 1 edge in the market, and I expect you'll realize why it's important to utilize this strategy right now.
WE MAY HOLD SECURITIES DISCUSSED. RagingBull has not been paid directly or indirectly by the issuer of any security mentioned in the Services. However, Ragingbull.com, LLC, its owners, and its employees may purchase, sell, or hold long or short positions in securities of the companies mentioned in this communication.