Well, it's Super Bowl Weekend… but before all the festivities start this afternoon, I wanted to get to the queue of questions that many of you have been asking.
This week, I noticed a slew of responses that indicated many are having a hard time trying to trade the markets right now. I don't blame them… especially with all these news headlines and growing fears of the coronavirus hurting the global economy.
Trying to play stocks correlated to the overall market is sure to have you in a daze at least one day out of the trading week.
So how do you actually avoid market risk in times like these?
Simple.
Focus on your A+ setups and manage your risk.
In order to show you exactly how to find these setups, I want to walk you through my most recent Fast 5 Trades winner. That's my 10th win out of 11 trades — a whopping 91% win rate.
Find Your Edge And Plan Your Trades
For the most part, I stick to finding trades with catalysts that won't necessarily move with the overall market. For example, with my Fast 5 trade last week, I wanted to find a stock that could benefit from the coronavirus outbreak.
Why?
Well, anywhere you looked… there were headlines about how the coronavirus could spread. Just by doing that, I was able to narrow my trading universe down to just a handful of stocks… until I found my highest conviction trade idea.
I stumbled across Aethlon Medical (AEMD). The company is a device maker and is in the same sector of stocks that could benefit from the coronavirus outbreak.
The company's hemopurifier therapy captures circulating viruses and it's been successfully tested on Ebola patients in human trials, as well as in vitro studies including avian and swine flu strains, among others.
The thing is, that wasn't the only thing going on for AEMD. The stock recently completed a secondary offering, so I suspected a catalyst could hit the wires very soon.
Last, but not least, there was a bullish chart setup.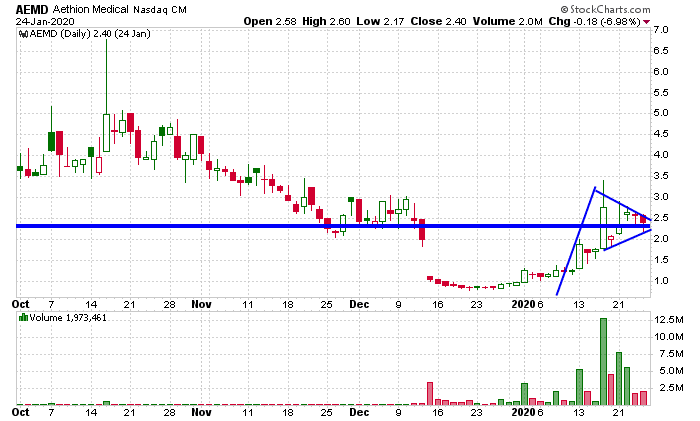 If you look at the daily chart in AEMD, you'll notice the stock formed a bull pennant / bull flag. That was a signal there was a high probability the stock could rocket higher… and if you looked at the way SPY traded the week I was watching AEMD, they were not similar whatsoever.
That means I wasn't really at the mercy of market risk. In fact, the headlines about the coronavirus would've helped my position.
Right there, I found my A+ setup… and all I had to do was plan the trade.
It's All About The Execution
Once I found my Fast 5 trade, I needed to come up with a trading plan. So I wanted to buy shares just as long as the stock was trading below $2.90.
My stop loss was $2.30 because if AEMD broke below that level, that would mean the bull pennant formation was broken.
My target zone was over $3.20, but I also looked for it to get above $3.50.
After I developed my trading plan, all I had to do was execute. I bought 30K shares at $2.69, and I was prepared for a quick mover…
Guess what happened with AEMD?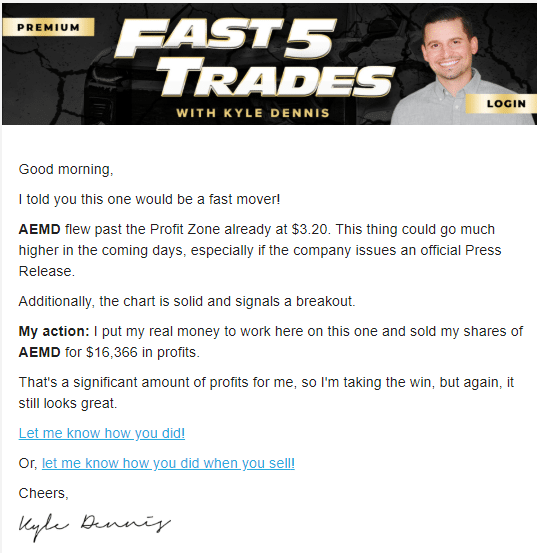 (Don't miss out on another winner! For a limited time only, I'm offering Fast 5 Trades for just $5 for 1 month of my trades. But you'll have to hurry, this deal expires in less than 12 hours.)
AEMD blew right through my profit zone… and I sold my shares for $16,366 in real money profits.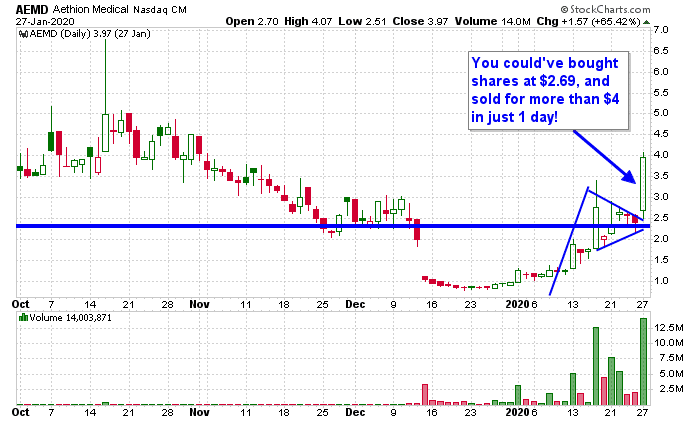 If you followed the plan and were able to purchase shares at $2.69 (just as I did)… you could've put a limit order to sell half of your shares at $3.20, and the rest for $4.00. In other words, you could've made 18.95% on your first sale and nearly 50% on the second sale!
It's really that simple if you want to avoid market risk. All you have to do is focus on your highest conviction trade setup, have an edge, and execute your trading plan.
My next Fast 5 Trades drops tomorrow, and you don't want to miss this one. For a limited time only, I'm offering 1 month of my trades for just $5.
That's right, for less than the price of a coffee, you could receive my highest conviction trade idea. But you'll have to hurry, this offer expires soon… Don't miss out!
Related Articles: