After opening up a discussion with my readers to help as many traders out in this crazy market environment, my inbox has been filled to the brim. While I can't answer all of your questions, my team and I diligently sift through all of the responses and find the most common ones.
This week, I've seen the same question over and over again… "How did you make $477K trading last month?"


Today, I want to show you exactly how I was able to perform at a high level and pull in $477K in trading profits last month — during one of the worst bloodbaths.
It's been tough for many investors and traders out there… even the greats.
The reason I believe some traders are doing better than others is that they didn't adapt to the market environment in time… or they simply didn't tweak their strategies.
So how was I able to adjust to the market and have my best performing month in March?
In this market environment, I believe it's beneficial to remain nimble and only trade with risk capital. In other words, trade with only the amount you could "afford to lose". Now with all this volatility, it's of the utmost importance to figure out what's working and what's not.
So how do you do that?
For me, I detail all of my trades… and I try to find out where my losers and winners are. The easiest way to do that? Journal and review your trades.
No matter what, I write down everything about any trade I take — the key details to include:
Date, Time, PnL and Stock Symbol
Thesis

. The reason I was getting into the trade. It's your trade idea and it could be anything from a technical pattern, fundamentals or catalysts. 
Execution

. The entry, stop-loss, target, and exit prices.
It's not enough to just write these details down… in order to become a successful trader, it's crucial to find patterns in what you're doing right and what you're doing wrong. Thereafter, it's a good idea to cut the losers and just focus on the winning strategies.
What I did last month was figure out where I was making my most money… and guess what? I was able to uncover a hidden bull market.
Basically, I uncovered catalysts that were set to make specific stocks explode!
What I mean by that is I've uncovered some stocks set to benefit from the coronavirus… such as CHF Solutions.
Uncovering A Hidden Bull Market
Let me show you how I uncovered some of these plays.
A lot of the time, I like to look at the chart first. So check out this daily chart in CHF Solutions (CHFS).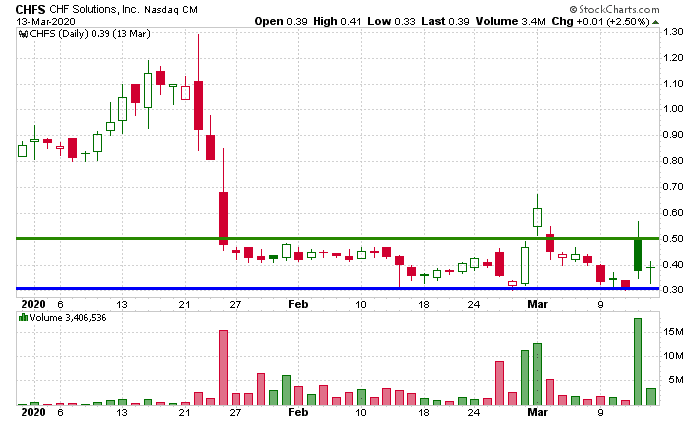 If you look at the chart above, CHFS had support at $0.30 (the blue horizontal line), and had the potential to break out above $0.50 (a key resistance level) — the green horizontal line.
Notice how CHFS had a tough time breaking below $0.30 because there were most buyers at that level (the support level). However, at the time, I figured if the buying pressure continued, the stock could trade above $0.50.
In other words, the chart signaled the stock could bounce. However, I needed to find a catalyst.
Well, I was a little lucky here.
CHF Solutions announced it was holding a conference call about its product and how it was being used in Italy to help with the coronavirus. This was just the following day after I spotted the potential trade.
With this specific setup, all of the buy, stop-loss, and target zones were pretty clear. However, I knew I wanted to be out of the trade before the catalyst date.
Here's what I sent out to my clients in real-time.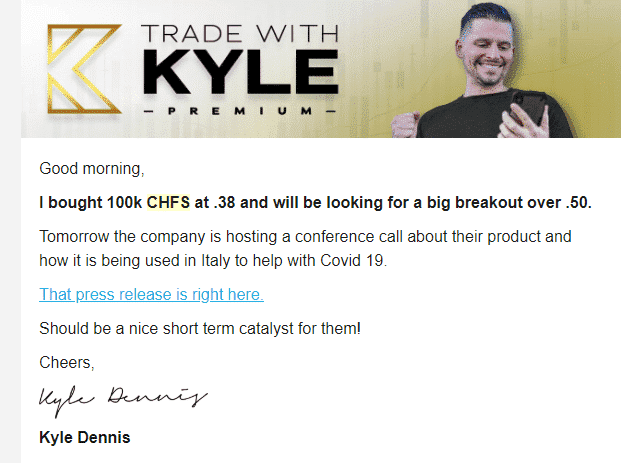 Not too long after I entered the trade, CHFS exploded and actually got to my target. 
As I was reviewing the trade, there was one mistake I realized about the trade…
I didn't take my profits off the table because I thought it could have gapped up the next day.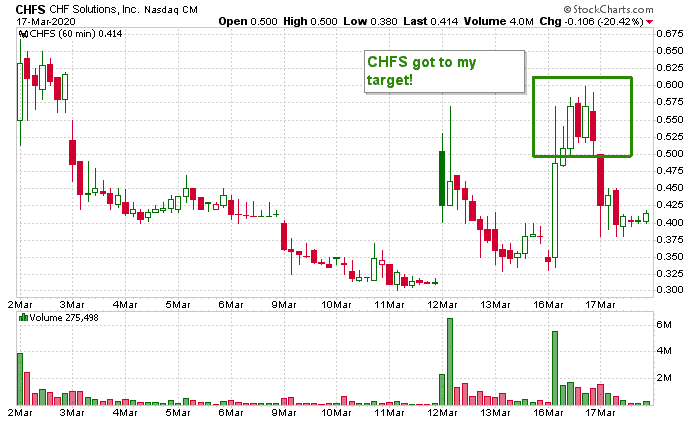 Of course, as you can see, I should've taken the trade-off when it was in my target zone… or at least a portion of it. However, I'm not too mad because I was still able to lock in a profit.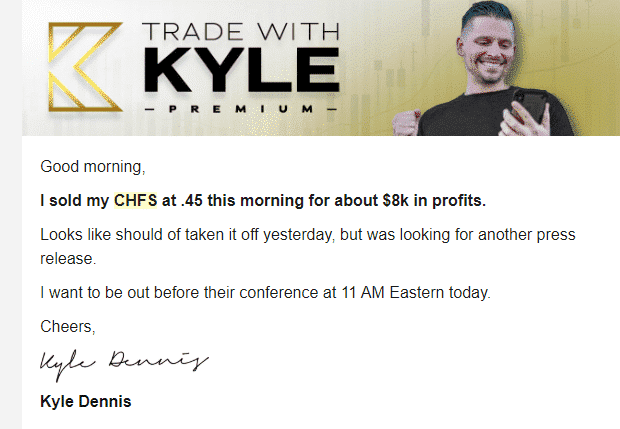 After reviewing the trade, I plan to remain nimble and take profits when I see them, or take a portion off the table and let the rest ride.
Now, this wasn't just a one-off trade because I've uncovered a hidden bull market… and I'm confident that my strategy could sniff out more of these trading opportunities.
If you want to learn how to tap into a hidden bull market, then you'll want to check out my State of the Market address and find out how I raked in $477K in trading profits last month.
Related Articles: