Even after the election, there's a lot of uncertainty in the market. By the looks of it, it might be too close to call for days.
Of course, many are wondering how to find money-making opportunities in this market environment.
The short answer…
I'm not just talking about the election catalyst here — there will be company-specific catalysts I want to take advantage of.
Not only that, but I'll be focused on "longer-term" catalyst plays.
Allow me to show you how to uncover these opportunities, and why I expect my "buy and hold" catalyst trading strategy to be a useful weapon to attack the market.
I know what you're thinking… "Buy and hold, Kyle? Have you lost your marbles?"
No, I haven't — keep an open mind and you'll realize why I want to deploy this strategy.
The Resurrection Of "Buy And Hold"
I know what you're already thinking when I mention "buy and hold." Most will tell you it's dead and to only focus on trading stocks in the short-term.
Sure, trading stocks can help your bottom line, but those who don't focus on "longer-term" plays leave a lot of money on the table, in my opinion.
I mean one of the best strategies this year has been "buy and hold." Just take a look at the numbers on the board, TSLA, NIO, NAV, PTON, etc. Those who bought and hold after March are sitting pretty.
So the argument that "buy and hold" is dead means absolutely nothing.
I get it though when traders and investors think of "buy and hold," they think of being in a position for years to come.
However, my "buy and hold" strategy is completely different.
Let me show you an example of a "buy and hold" trade I took on this year.*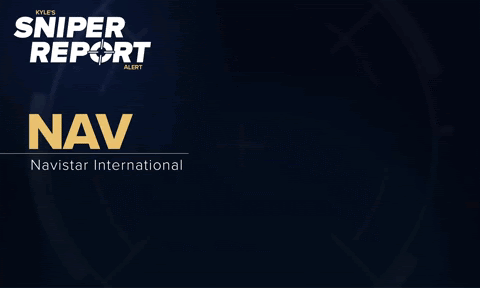 The reason I bought shares in Navistar International (NAV) was due to the fact I uncovered multiple longer-term catalysts on the table for the stock.
It was a merger & acquisition (M&A) play, and I conducted my due diligence to uncover this off-the-radar play.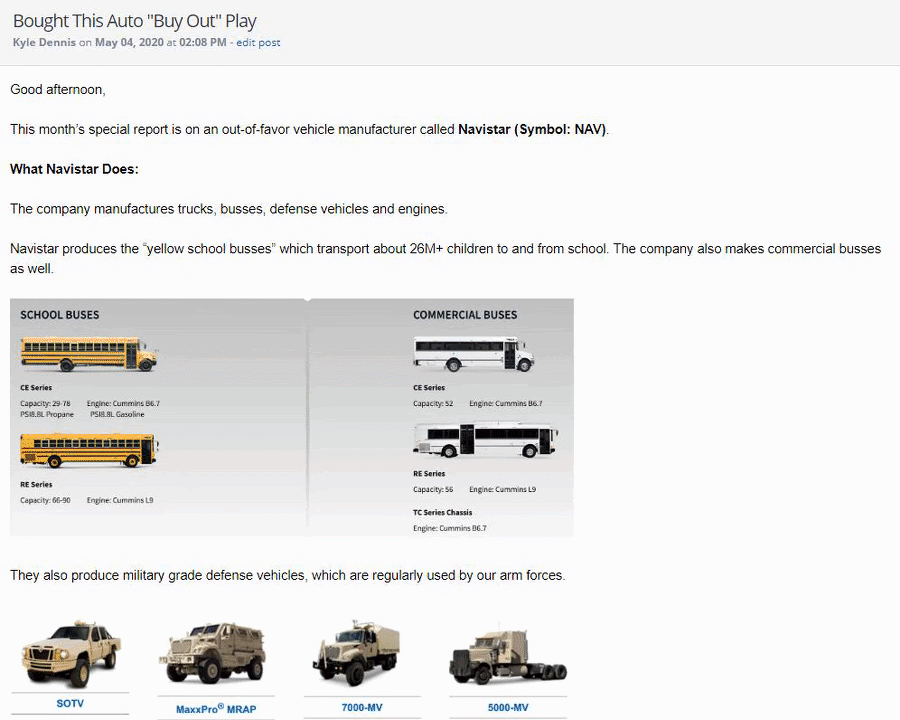 This is just one type of specific catalysts I look for.
Here was my opinion on the play back in May.
I think this dip in Navistar shares provides "encouragement" for management to pursue the Volkswagen offer more seriously. Originally, it appeared Navistar was in the driving seat to negotiate the buyout price, but now it would be wise to merge/get acquired by Volkswagen for shareholders.
An acceptance of the buyout offer would represent over a 50% gain. However, I never like to solely bet on a buyout. And, that's why I like that the company is set up in a good subset of the auto sector and has recently raised cash to help them weather this storm. The management team and board of directors are solid and I think the company is set to succeed either way once the coronavirus is gone.
In just about 2 months, I was able to lock in about a 30% gain.* It wasn't a whole lot of work for me to manage the position. I sized it correctly and had a plan in place, and I was able to "set it and forget it" and reap the rewards after.
Of course, NAV did receive that buyout offer, and the stock exploded… but in this environment, I'm not going to risk losing ~30%.
Right now, I'll be on the hunt for my next longer-term catalyst plays and I believe it's the perfect time for you to learn my "buy and hold" strategy.
The only way you can do that is through Sniper Report.
Given the way the market environment is and the number of catalysts I see on the table, I decided to slash the price of Sniper Report to ROCK BOTTOM LEVELS.
For a limited time only, you can save more than $900, and gain annual access to Sniper Reportfor less than $1 per week.
Don't miss out on your chance to learn how to trade longer-term catalysts.