Markets are closed today in observance of President's Day, and while I could take the day off… I'm hard at work stalking stocks to trade for tomorrow. Not only that, but I'm using this time to try to help as many of you out as possible.
One question that I saw come up a lot was, How do I find the right stocks to trade?
While I can't tell you what to buy and sell, I can show you my method of building a bulletproof watchlist. I know what you're thinking, "Kyle, if you teach us your techniques, wouldn't that eat up your trading edge?"
No, because my strategies are not only repeatable but scalable too. That means I don't care who really gets their hands on them.
Before I found that simple, repeatable, and scalable pattern… I was in the same boat as many of you are now… not knowing what to trade, so I just threw down money on random stocks — that got me nowhere.
The strategy that allowed me to take my account from just around $8K (I started with $15K and lost nearly half of my account from the start of my career) was finding my winners and tweaking the pattern I found. I noticed there was a commonality between all of my profitable trades.
Now, before I get into any trade there has to be a reasoning behind it. In other words, there needs to be a catalyst. Thereafter, I develop an execution plan, which includes the buy zone, stop loss zone and target zone. Once I have this all written down, it becomes really easy and I have a "bulletproof" watchlist.
How To Develop A Watchlist Designed To Rake In Massive Winners
The reason you get into any trade should be written down whenever you build a watchlist. Your thesis could be anything really  — chart patterns, catalysts, fundamental changes, whatever the case may be… just make sure it's in line with your trading style.
Let me show you with an example of a stock that was on my radar based on a chart pattern, for simplicity.
Check out the hourly chart in Nantkwest Inc (NK).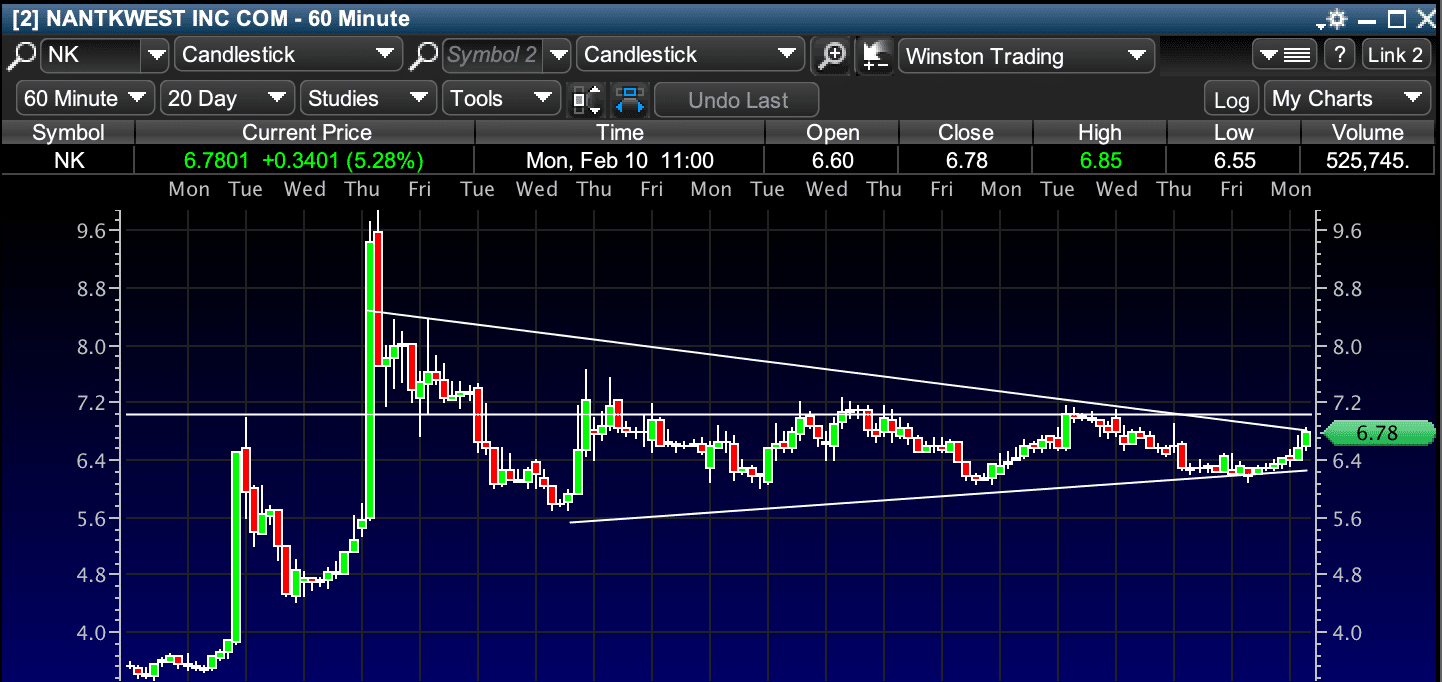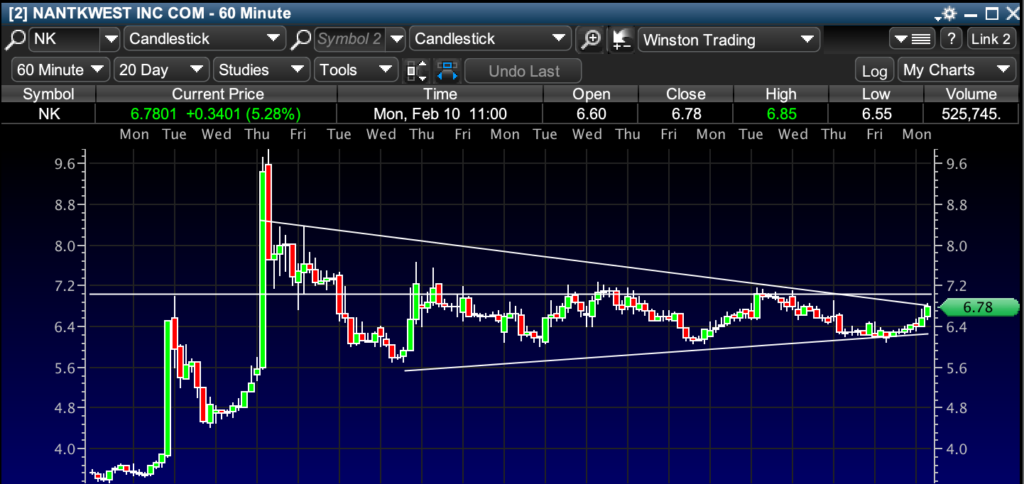 Check out the chart above. Notice how the stock is "flagging" and curling towards a big breakout over $7.20 area. If it breaks that, we likely could see a move to $8.00+. That could be your thesis right there. A bullish chart pattern with the stock popping.
If you look at the daily chart, it's the same pattern.


Both charts show a bull flag pattern, and that increases the odds of success when both the short-term and long-term charts are aligned.
So what did I decide to do after I saw this price action?
I quickly developed a plan and threw it on my watchlist. When you look at this pattern, you'll probably realize there is a clear area where you can buy, stop out, and take profits.
For the buy zone, you could've looked to buy between $6.60 and $6.70. The stop zone could've been below the lower uptrend line (in the bull flag pattern)… so if the trade went against you, you would look to stop out below it (below $6.50) The target would be above $7 (just above the upper trend line in the bull flag pattern).
Pretty simple, right?
Here was my thesis…

Shortly after, the stock actually made the move! However, I actually tweaked my plan and was watching the stock. Sure I was up $7,000 at one point… but I wanted to see if it could actually get to the key level at $8.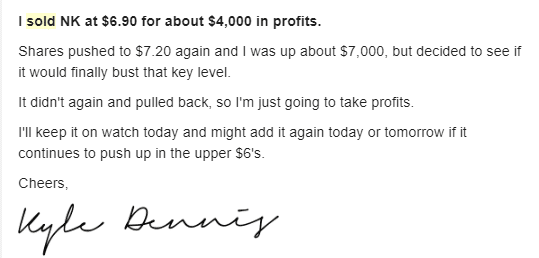 When I saw myself sitting in profits, I knew what I would do if the stock pulled back… I would just take my profits off the table, which I did.
Pretty simple, right?
All you have to do is repeat this process and you'll have a handful of names to keep an eye on. The best part is you can build watchlists ahead of time. However, if you're struggling to find stocks to trade… I've got you covered.
Today, I am going to release my watchlist for the week… and for being a loyal reader, I want to provide that to you at zero cost. All you have to do is click here and enter your email address, and you're all set.
Related Articles: