Markets are in turmoil as the bloodbath continues — as stocks notched the worst week since the 2008 Financial Crisis. Many of my readers flooded my inbox with one question: How do I trade market selloffs?
So I want to attempt to help as many of you out as possible to help you navigate this crazy market. Volatility is high and that means stocks are experiencing violent moves… and options premiums are juiced. 
For the most part, I'm going to reduce my overnight risk and not look to hold a bunch of positions into the weekend.
If you're focused on buy and hold, or swing trading… you may be looking for answers. For me, I find having stop losses in place (for any positions I have on) and remaining patient is the most helpful — as well as focus on edge trades.
Now, there's one crucial step to take if you haven't been doing so…
It's easy to trade on emotions and one of the quickest ways to remove that and make calculated decisions is to have a trading plan in place. When you stare into a sea of red…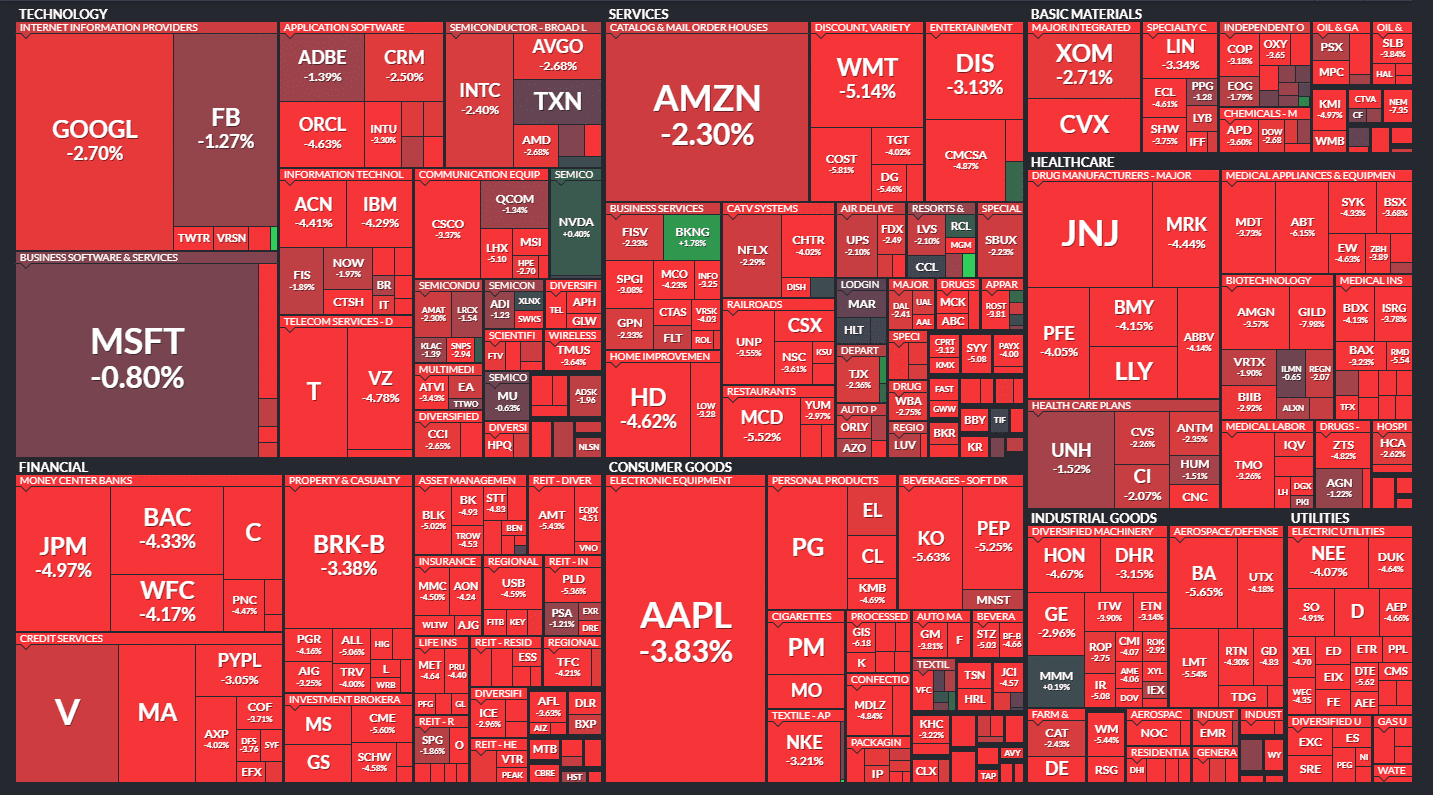 Source: Finviz
It's very easy to get caught up, and try to "buy the dip" and load the boat because stocks are "cheap". However, "being down too much" is not a good enough reason to buy a stock. Not only that but if you don't have a plan in place… it's one of the quickest ways to get sliced up by the violent market moves.
Instead, developing a trading plan is how successful traders navigate these bloodbaths.
For example, with my explosive Dollar Ace trades, I'm remaining patient and have a watchlist in place. Here's what I had on my watchlist the other day…
Most Unusual Calls (these should be cheaper right now)
1457 MGM March 20 $30 Calls for .47
1067 ZTS March 20 $147 Calls for .75
897 SNAP March 6 $16.50 Calls for .31
Most Unusual Puts (these should be more expensive right now)
1167 AAPL February 28 $280 Puts for .85
542 LRCX February 28 $265 Puts for .10
Just by having a few names to keep an eye on, it helps me hone in on my focus… as well as silence the noise from the talking heads.
Of course, I'm also still on the hunt for opportunities throughout the day because short term trades are where it's at… I don't know about you, but I don't really feel comfortable sizing up and holding onto positions over the long-term right now.
For the most part, I am finding success with the few plays that I do find… and catalyst trades are still working out well. For example, I noticed news go across the wire that Starbucks (SBUX) reopened about 85% of their stores in China.
To me, that's an extremely bullish headline — one that could've caused SBUX to pop that very day…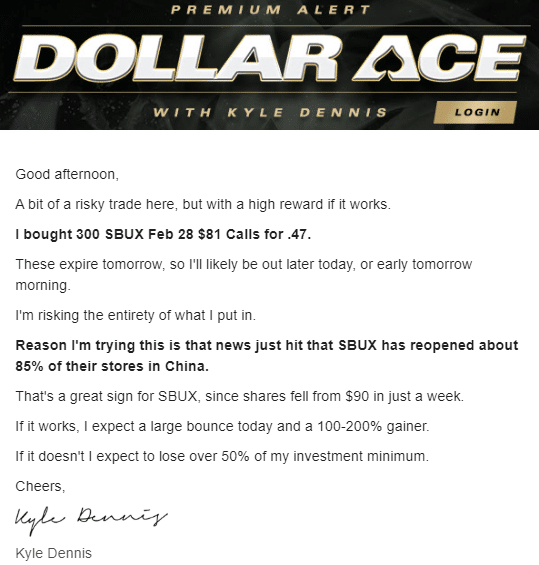 If you look at the alert I sent out to Dollar Ace clients, I outlined exactly what I was doing with the trade… and even mentioned my risk-reward. For me, I was willing to lose the entire premium (I couldn't lose more than I invested).
Guess what happened in a little over an hour?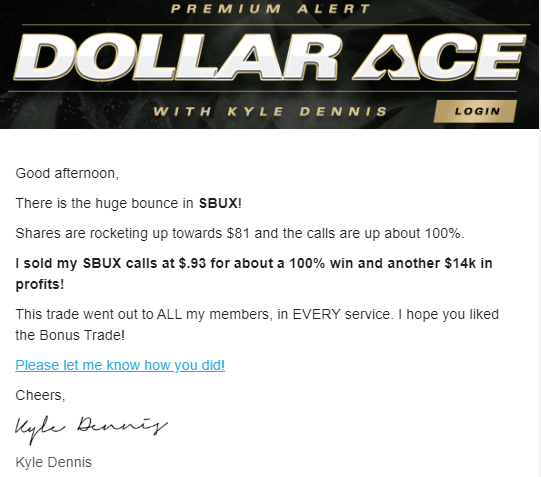 If you want to navigate this market selloff and position yourself for explosive profits… then click here to claim my exclusive ebook Dollar Option Trader.
Related Articles: