As you may already know, a large portion of my trading gains are from trading catalysts.
After word got out about my trading performance during the first half of 2020…
I received an overwhelming response from readers asking…
How do you identify your catalyst picks?
I believe traders are starting to realize the importance of catalysts and want to understand how to take advantage of them.
Today, I want to teach you how I uncover catalysts with a case study in a stock I'm still currently holding…
And how I've uncovered my next catalyst pick, which I believe can more than double my money on in a matter of weeks.
Exposed: My Techniques To Uncover Catalyst Picks
If you don't know what a catalyst is… it's any piece of information that can cause a stock to move.
Catalysts can be press releases, earnings announcements, corporate action, corporate "insiders" accumulating shares, "smart money" activity… whatever the case may be…
It's something that can cause a stock to run higher… or plummet.
For example, my last Sniper Alert was in OPKO Health Inc. (OPK).
Why?
Well, first off, the CEO was accumulating shares.
I mean who knows better about a company than the CEO?
That was one catalyst right there.
Another catalyst was the fact New York gave awarded them with a $100M+ contract for their testing.
Since the company owns a laboratory testing company, it would be a catalyst when states start to open back up… and people need to get tested for COVID-19.
Now, by spotting those catalysts ahead of time, I was able to develop a plan and get in before the stock made a move. 
So far, I'm up more than 50% on OPK in just about a month*… and plan to hold on for the bigger move.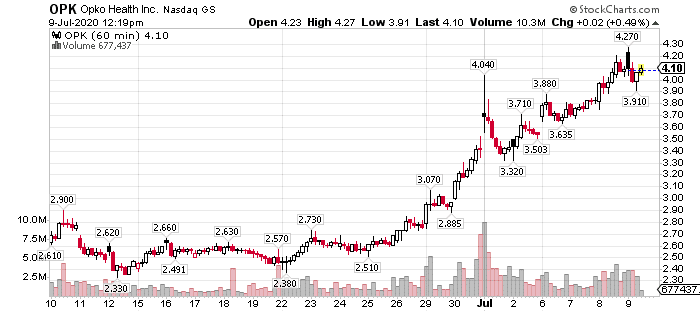 Source: StockCharts
I bought OPK on June 8, and so far… the trade is working out well.
Of course, I don't want to just tell you about my trades after the fact.
I want to teach you how to identify these catalysts.
How I Discovered My Next Sniper Alert
Now, I've already come up with my next Sniper Alert.
How?
Well, I realized that with coronavirus and everyone at home… health and wellness is starting to play a major role in people's lives.
My next pick is well-positioned in the space… and I believe they're set to release a catalyst very soon.
The thing is…
With these catalyst plays, I find it beneficial to get into them before everyone is talking about it.
This stock is flying under the radar of most Wall Street analysts right now…
And at these levels, I believe the stock is undervalued… and I can double my money in it within the next few weeks.
You see, there are key figures involved in this stock.
First off, these two key players involved have a combined net worth of more than $2.6B… and one of those players has more than 140M followers on Instagram.
Now, I've seen one of those players move this stock with their clout before… and I think it can happen again.
This company has done a good job at providing investors and traders with updates…
Each month the company has been updating the public on its progress…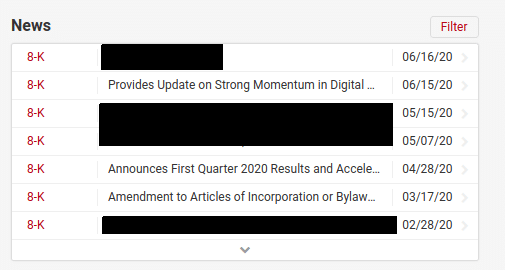 However, they haven't issued anything out yet this month. 
But I feel like it could happen any moment now…
And send the stock skyrocketing higher. 
I'm eager to jump into the stock soon…
If you want to receive my full-report, along with the real-time trade alert on this play…
Then all you have to do is subscribe to the Sniper Report. 
Not only will you receive my latest pick, but I'll also teach you my techniques to take advantage of these catalyst plays.
I think Sniper Report is the perfect solution to your trading woes if…
You're

struggling

to find viable trade ideas

You

hate

doing stock research

You're

tired

of second-guessing your decisions

You're

looking

for an easier way to improve your trading

You want the potential for

bigger returns

You want to make trading simpler and

maximize your time
I believe the training, education, portfolio live-stream, and real-time trade alerts provided in the Sniper Report can help one turn the corner in their trading journey.
*Results presented are not typical and may vary from person to person. Please see our disclaimer here: ragingbull.com/disclaimer