There's a lot of herd mentality in the market at these levels
I can tell you one fact — I didn't achieve more than $10M in career trading gains by following the herd.*
I got to where I am by uncovering trade ideas and developing plans that fit my style. I'm not telling you this to brag…
I'm telling you this because I think it's beneficial for you to learn, and it's something I wish someone told me when I first started trading.
You see, you and I can get into the same trade… but one of us can win and one can lose. Our tolerance for risk may be different, as well as entries, targets, and stop-loss zones.
That's why it's important to learn how to time your trades and tailor your plan to suit your personality and risk tolerance.
I want to show you a quick tip that I believe can put yourself in a position to win.
If You're Not Planning Your Trades… You Will Get Hurt
Listen, I learned the hard way as to why it's necessary to have a trade plan.
Does this sound familiar?
You bought shares of a stock… only to watch it go against you… then you say to yourself, I'll buy more here to get a better dollar cost average?
Only to witness the stock drop even more, and you just keep buying shares until you can't take the pain anymore and take the loss.
If it does, you're not alone.
It's happened to so many traders before, and even myself early on in my career.
To be honest with you, there's a simple fix to time your entries and exits.
For me personally, I like to use catalyst events.
For example, take a look at this trade I took in Cassava Sciences Inc. (SAVA) on Wednesday.

The company actually provided earnings results and a mid-year business review and noted it would announce data in September.
So there was a catalyst coming up, and I wanted to get in on the action early to play the catalyst runup.
I bought shares and started a small position. I was looking for levels to potentially buy more shares because I did want to size the trade larger ahead of the catalyst.
With the catalyst runup, I always want to get out before the catalyst event, or whenever the stock hits my target… whichever comes first.
However, you can actually get more detailed with your plans.
For example, with SAVA, you could've drafted up a trade plan like this:
Buy zone: Below $3.30
Stop-loss zone: 5-10% below my entry
Target: Above $3.80
It all depends on your position size and risk tolerance, and that's something you have to figure out on your own.
Now, SAVA actually exploded higher earlier than I expected…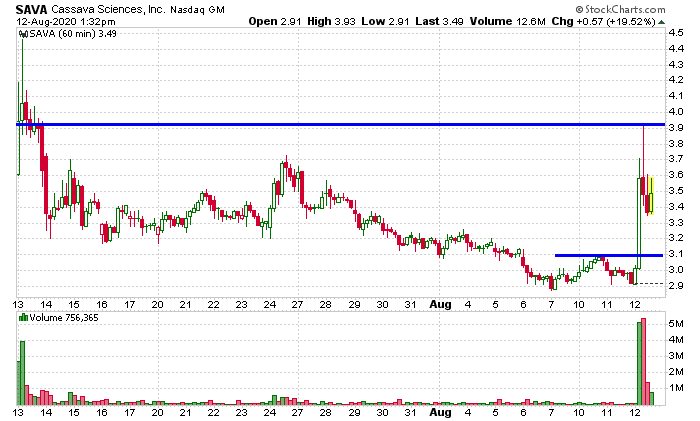 And I wasn't going to chase it especially since it wasn't in my plan. Instead, I locked in my gains because it was a 21% return in less than an hour*.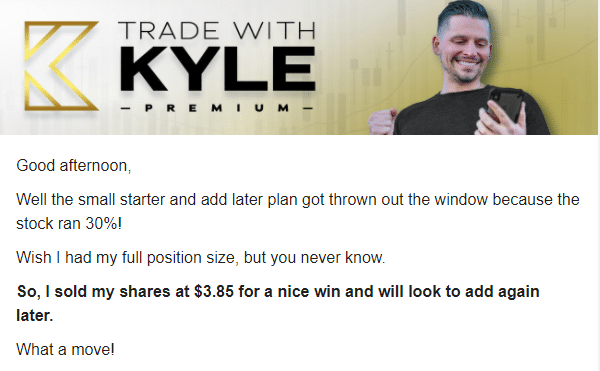 I can tell you all about my strategy and how I time my trades to near perfection…
But to be honest with you, I think it's better if I show you how it works.
That's why I put together this exclusive training session.
You'll learn my number 1 strategy to attack the market, and how my "catalyst runup"strategy works.
*Results presented are not typical and may vary from person to person. Please see our full disclaimer here: ragingbull.com/disclaimer