About seven years ago, I jump-started my trading career and if you told me I would reach 8-figures in career gains by the age of 30*…
I would've brushed it off and paid it no mind.
You see, I realized very early on to focus on the process… and the gains will roll in.
I think traders are finally starting to discover when they focus on their profit and loss (PnL), they run the risk of making trades based on emotions.
To me, that can be the only explanation as to why I received an overwhelming response asking…
How Do You Uncover Trade Ideas?
The key to making money in the markets is to find a strategy that allows you to generate high-conviction trade ideas on a consistent basis.
I want to teach you a little bit about my number one trading edge — known as the "catalyst runup"… as well as provide you with some stocks I have on my radar.
My Process For Idea Generation
When it comes to trading, I believe one of the most important keys to success is to be able to develop a trade idea and develop a plan around it…
Or be able to take someone else's trade idea and make it your own.
You see, you and I can get in on the same side of a stock, but since we both have different risk tolerances, it's not crazy if you make money on that same trade idea and I don't, or vice versa.
For example, let's say I find a trade idea and let you know about it and indicate I want to buy shares. However, you're more comfortable trading options, you could essentially take the idea if you want to and use options instead.
Of course, it all depends on your situation.
Now that's out of the way, let me walk you through my process to uncovering trade ideas.
It all starts with a catalyst.
It's a fundamental reason for a stock to move. It can be an upcoming press release, earnings, data announcement, market-wide news, etc. It's something that can cause prices to either pop or drop.
I found it's important to identify these catalyst events ahead of time, and plan my trades around them.
For example, the coronavirus is still damaging the economy and companies are still racing for the cure.
I identified names with potential catalysts.
"Coronavirus Names": AIM, APT, CODX, CEMI, INO, IBIO, OPK, MRNA, GILD, NVAX, VXRT.
The key is to uncover the specific dates they're expected to announce data, then play them in anticipation of a runup into the event. That's what's helped me over the years.
For example, one trade I'm in right now is LPCN. Here's the trade plan I sent out to subscribers…
Lipocine (LPCN)
Catalyst Dates: FDA Approval Date of August 28
Buy Zone: $1.10 to $1.40
Profit Zone: $1.70 or higher
Stop Zone: $1.00 or below
Option: No relevant options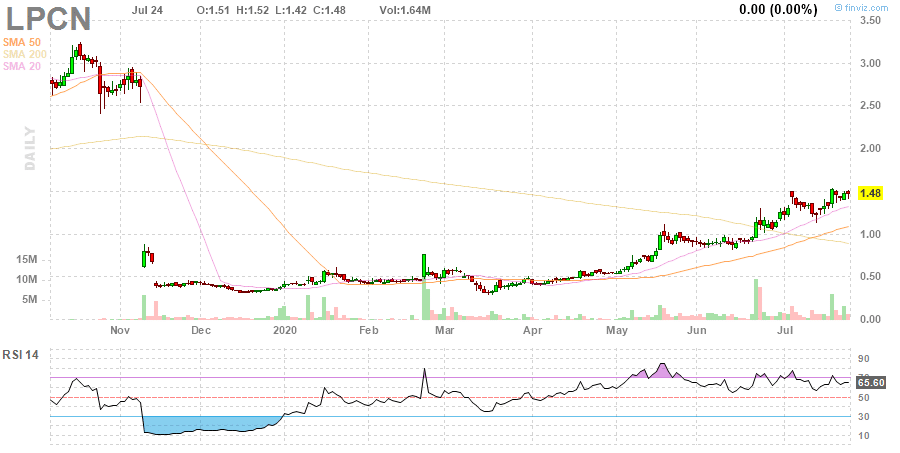 I'm looking for the stock to run up into the event, and I want to get out before the event… or if the stock gets to my profit zone.
Even if the stock doesn't reach my profit zone before the event, I will get out because holding into a catalyst event is too risky in my opinion.
If the stock gets to my stop-loss zone, I'll take the loss and look for another catalyst play.
Right now, there are so many catalysts on the table…
I want to show you how I find pockets to exploit.
And how I'm able to consistently make the big money*.
What do you have to do to get started?
Register for my upcoming training workshop.
There is money out there in the market…ready to be taken.
Let me show you what I've seen work.
*Results presented are not typical and may vary from person to person. Please review our full disclaimer located at ragingbull.com/disclaimer.
WE MAY HOLD SECURITIES DISCUSSED. RagingBull has not been paid directly or indirectly by the issuer of any security mentioned in the Services. However, Ragingbull.com, LLC, its owners, and its employees may purchase, sell, or hold long or short positions in securities of the companies mentioned in this communication.
Related Articles: