It seems as if this whole "buy the dip" and "chase momentum" trend is here to stay, at least for the short term.
Although the appetite for risk has generally been high, some players are playing defense by hedging their portfolios with gold.
At some point, I believe the new breed of traders are in for a rude awakening.
Who really knows what will happen.
The key to surviving in nearly any market environment is the ability to generate trade ideas.
After hearing about my success in the market, and how I made well over seven figures in trading gains in 2020… and crossed $10M in career trading gains*…
I received an overwhelming response from traders, asking about my process to come up with trade ideas and find an edge in the market.
I want to draw back the curtain and show you how I'm finding opportunities right now.
Revealed: My Process To Uncover Trade Ideas
There's one factor that I believe causes stocks to move…

You're probably wondering… "What are catalysts? How can I use them to my advantage?"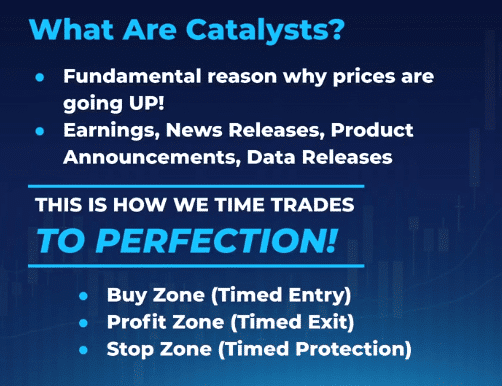 For me personally, this is my number 1 edge in the markets. I try to find upcoming catalyst events, develop a trade plan around it…
Then execute.
For example, I always have coronavirus names on my radar:
"Coronavirus Names": AIM, APT, CODX, CEMI, DVAX, FLDM, INO, IBIO, OPK, MRNA, GILD, NVAX, VXRT.
I would look through these names and see whether there are data releases.
For example, Moderna (MRNA) recently announced news that it's Phase 3 enrollment is expected to be completed in September 2020, and Phase 2 interim efficacy data due 3Q 2020.
That's one important catalyst in play, and my goal would be to develop a plan and get in weeks in advance for the "catalyst runup".
The thing is…
Catalysts exist in all sectors.
For example, I spotted a catalyst on Thursday morning in Kandi Technologies (KNDI).
I developed my trade plan, and thesis… then let my subscribers know about my moves…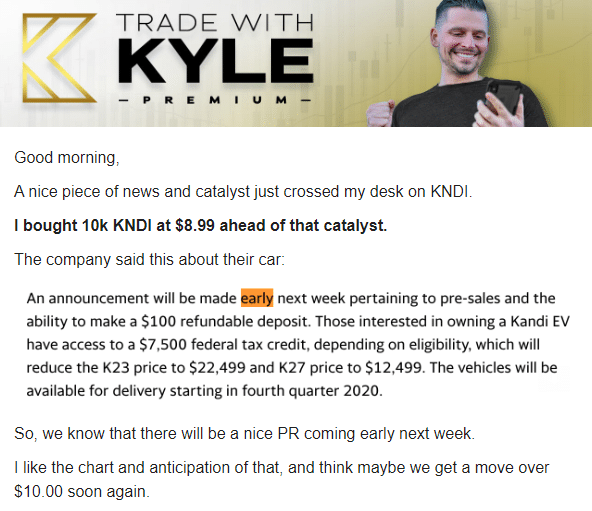 I was anticipating a runup into the event, and I would keep my stop-loss price relatively tight in relation to my risk-tolerance.
KNDI actually made the move and broke above $10… so I stuck to my plan and sold a bulk of my position.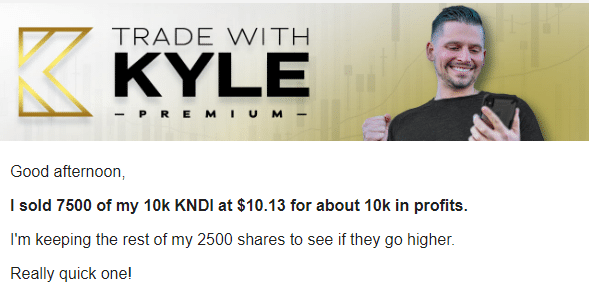 Keep in mind, I'm still in shares of KNDI and will let my subscribers know after I make moves.
I don't show you my gains to try to brag or anything. I just want to show you there are plenty of money-making opportunities in this market.
The key is to understand how catalysts work.
That's why I created this special training session to show you how my catalyst runup strategy can be applied to nearly any market environment.
If you're struggling to come up with trade ideas and make money in the market, you'll want to sign up for this workshop.
What you'll learn may surprise you… and you might be kicking yourself for not utilizing this strategy earlier.
Related Articles: