[Revealed] My Technique To Uncover Trends And Trade Ideas
When it comes to finding trade ideas…
There's one factor I tend to focus on.
Catalysts
To me, catalysts are what drive stocks and price action.
Sure, chart patterns may work for some traders…
But any catalyst that hits a stock or the overall market can break a pattern.
I know what you're probably wondering, "Kyle, what are catalysts… and how can traders use them to their advantage?"
Well, I believe the key is to identify these catalysts ahead of time… plan the trade…
And trade the plan…
My specialty lies in being able to identify the trends and momentum, typically ahead of time… and before these stocks or sectors start to take off.
Let me show you what I mean by that.
Despite the rebound off March lows and the re-opening of states… the coronavirus is still around.
That's why I keep a list of coronavirus names on my radar.
There has actually been an uptick in coronavirus cases…
And one stock that could benefit is  Alpha Pro Tech (APT).
Trade With Kyle subscribers actually knew to keep this on their radar, as it was on the watchlist I sent out last week.
Here's what I sent out to subscribers on Friday, alerting them about my moves in APT.
I also bought 2500 APT at $16.12 for a weekend hold. Covid cases are picking up and states are making it mandatory to wear masks. APT makes masks so it could pop up Monday.
I sent out that alert at 2:47 PM ET on Friday…
Less than 1 hour later, APT rallied over a dollar, and I locked in my gains!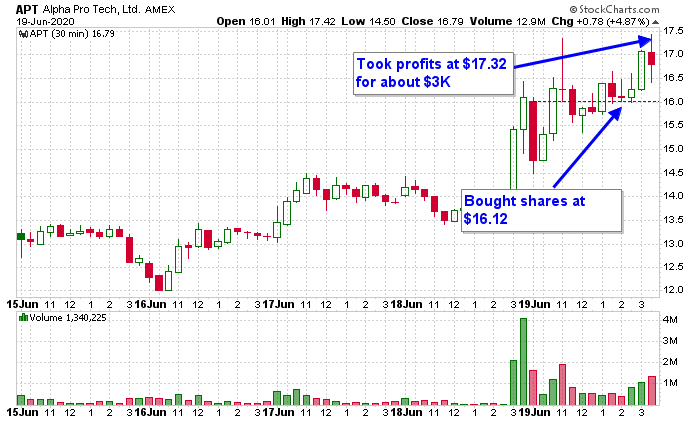 Source: StockCharts
Here's what I sent to Trade With Kyle subscribers at 3:38 PM on Friday, letting them know about my moves.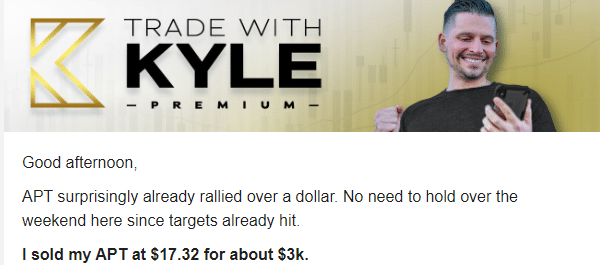 Of course, that wasn't the only trade idea I alerted to subscribers last week…
Luckin Coffee (LK) was also on my watchlist.
Here was the detailed trade plan I sent out…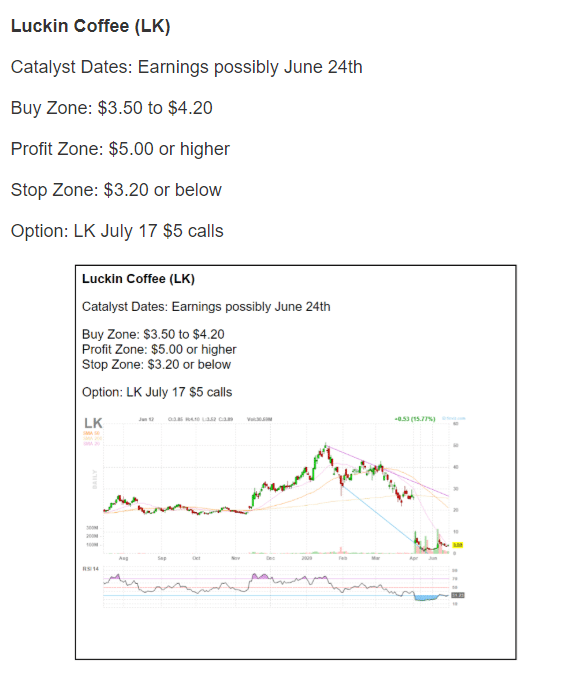 I identified a potential catalyst… and I figured traders may look to buy ahead of this event… and short sellers may also look to cover.
In turn, that could push LK higher…
In just a few days… I was able to lock in $11K in gains.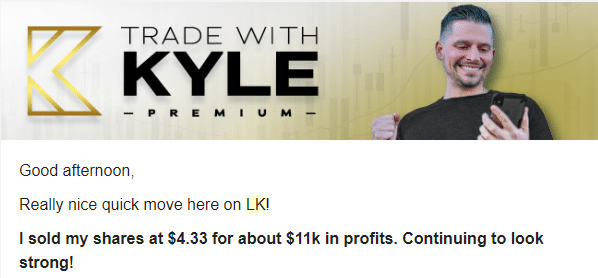 Now, there are themes and catalysts that come up every week… and I believe my edge lies in my skills and analytic tools to uncover these trade ideas…
Faster than the amateur traders, as well as some Wall Street pros.
If you want to learn how to trade catalysts, and put yourself in a position to stay one step ahead of the pack…
Then sign up to Trade With Kyle.
I believe there's going to be more opportunities in the market to take advantage of…
And I will release my latest watchlist come Monday.
Related Articles: