Robinhood traders have been piling into the market… and sparked a retail trading renaissance.
With more than 13M users and commission-free trading, it's caused many with small-accounts to try to join in on the action.
Other commission-free brokers are seeing an influx of traders, and it's no wonder why I received an overwhelming response…
As readers want to know if there is a way to grow a small account.
The short answer, yes.
The thing is, it will take dedication and a definable trading edge…
And that edge shouldn't be just chasing whatever Robinhood traders are trading, in my opinion.
You see, I was in that same boat before…
Trading with a small account, just trading random stocks with a $15K account.
I quickly lost about $8K of that… and I knew I couldn't in that fashion.
I went back to the drawing board and found something that worked for me.
The Process I Used To Grow My Small Account
When I first started trading, I was actually working a 9-5 job as a real estate analyst… and I really didn't have a whole lot of time to trade.
I needed to find a strategy that could help me save time and generate some side income.
I went through all my trades and figured out what worked for me, and what didn't. I just cut the losers out and focused on the winners.
One commonality I found with my winning trades was that they were primarily focused on catalyst events.
I realized there are fundamental reasons that cause stocks to move, and I just needed to get in on the action… before everyone was talking about it.
In a time like this, when there are so many FOMOchasers in the market…
I believe it's especially important to uncover these catalysts and get in ahead of time.
Let me show you how this works with an example.
How I Spotted A 100%+ Winner
I designed Fast 5 Trades to be simpler than all the other strategies out there.
I know the struggles of having a small account… the one key struggle most new traders have is overtrading.
With Fast 5 Trades,I'm focused on my highest-conviction trade idea.
Basically, it boils down to:
Uncovering a specific catalyst that can move the stock

Finding a chart pattern

Developing a trade plan and executing
Here's how it works in action…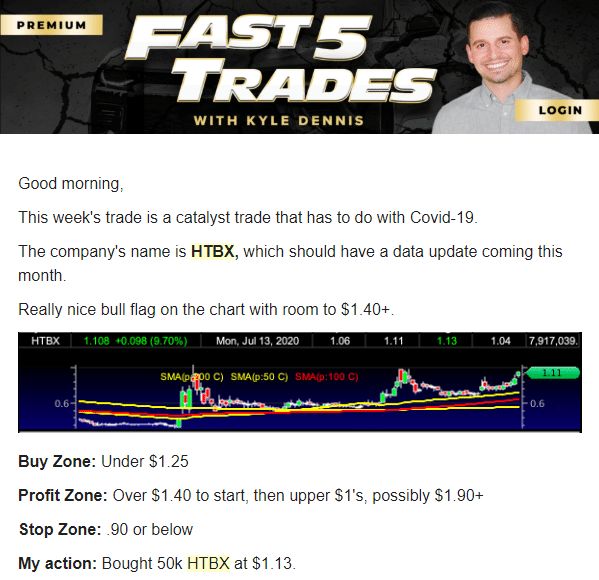 On Monday, I send out my highest-conviction trade idea for the week.
Last week, my best trade idea was in Heat Biologics Inc. (HTBX).
I figured the company was set to announce data at some point, and there was a bullish pattern developing.
I had a trade plan in place and executed.
I bought shares at $1.13 and sold at $1.37 for a nice win, as the company tweeted about its vaccine.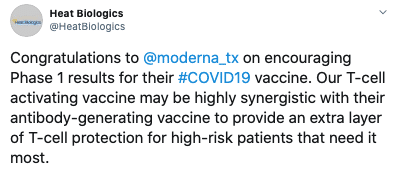 Even though I missed out on the meat of the move…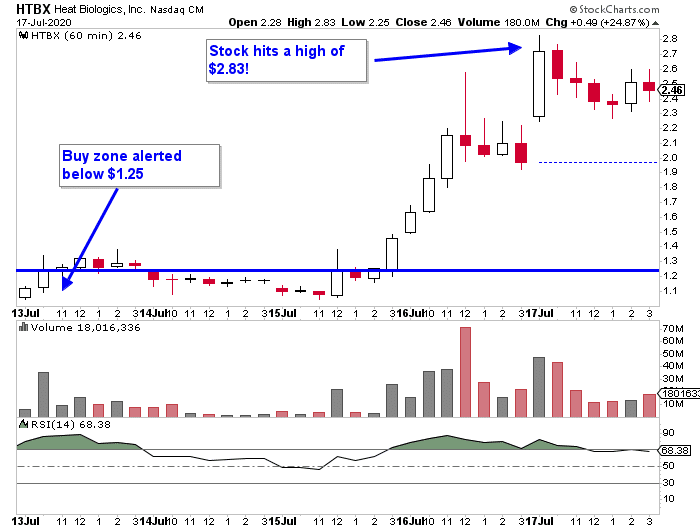 Some of my subscribers were able to capture a bulk of the move because they made the trade their own*…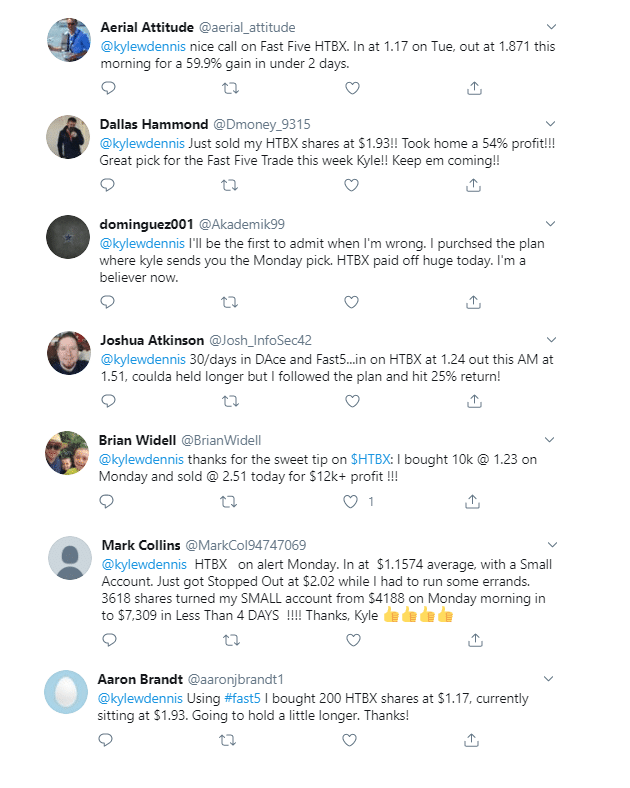 By focusing on just one trade idea a week, and risk managing properly… I believe traders can put themselves in a position to grow their accounts, whether they be small or large.
Since there's so much potential action in the next few months…
I've decided to lower the price of Fast 5 Trades to rock bottom levels.
For a limited time only, you can gain access to 8 weeks of Fast 5 Trades for just $8.
My next best trade idea drops tomorrow morning, so join before midnight to secure your spot.
Take advantage of this exclusive offer, before it's too late.
*Results presented are not typical and may vary from person to person. RagingBull does NOT track or verify subscribers' individual trading results and these individual experiences should NOT be understood as typical as or representative. Results presented are not typical and may vary from person to person. Please see our full disclaimer here: ragingbull.com/disclaimer