A new breed of traders have piled into the market, many of them have small accounts.
Robinhood has more than 13M users, and the typical Robinhood account ranges from $1,000 to $5,000, according to JMP Securities.
That figure may seem like a large sum of money to some, but to be honest…
It's a drop in the bucket when it comes to trading.
However, that shouldn't deter anyone from learning how to trade.
After all, I started with $15K and was able to turn my small account into more than $10,000,000 over the course of my career*.
I received an overwhelming response from readers, asking whether there is an easier way to grow small accounts.
Sure, and I want to show you some of the techniques I used to grow my small account…
But it's probably not what you think, and what you learn today may shock you.
It's Not Impossible To Grow A Small Account…
I don't know what it is with new traders… but they think they have to hit home runs to grow their account.
I mean I thought that way once before too…
But to be honest with you, that only caused me a lot of pain.
You see if you're constantly thinking about your returns and how much money… it can actually cause more harm than help.
If you're focused on growing a small account, typically the first thing you think about is nailing one trade to help you double your money.
Sure, it may work, but it's not a viable long-term strategy.
It only takes one trade where you get too big, and a press release comes out… and the stock moves against you, and you lose your shirt.
I've actually found some easier ways that helped me stack up when I first started trading:
I didn't take on too much risk in relation to my account size

I had realistic goals every week

I only focused on my best setups

I always had a plan in place
I think that's the bare minimum if you're serious about growing a small account.
To this day, I'm not focused on hitting home runs. However, from time to time, I will nail large winners.
When I first started trading, I was working a 9-5 job as a real estate analyst. My goal was just to make some supplemental income every week, I knew I wasn't going to be an overnight success.
I tailored my strategy to my wants and needs and only focused on my best setups.
I also knew where I wanted to get into a stock, where to take profits, and where to stop-out.
Let me show you an example…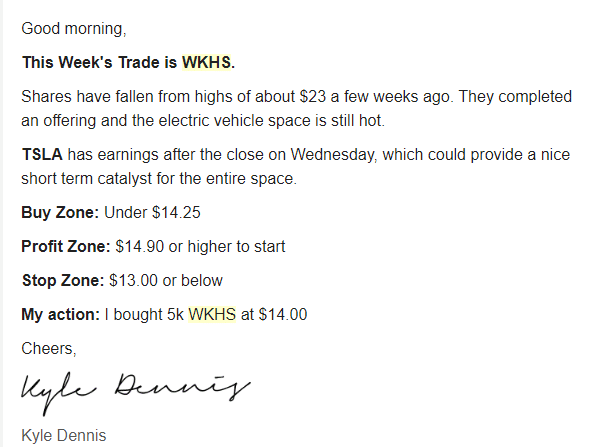 Last week, my highest-conviction trade idea was in Workhorse (WKHS).
Why?
Well, the stock suffered a major pullback and the news was out. However, Tesla Inc (TSLA) was set to report earnings and I figured the electric vehicle space could run up into that event.
I had a plan in place and executed*.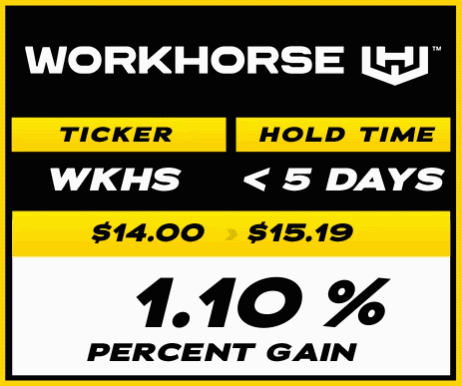 Of course, I locked in my gains once it reached my target*… and the stock continued higher.
Could I have made more?
Sure. But if I held, I wouldn't have been sticking to my plan, and that would go against my trading rules.
For me personally, when I first started trading…
It was important for me to only focus on my bread-and-butter setups, that prevented me from overtrading and actually saved my account.
Since there are so many new traders in the market who have small accounts, I wanted to try to teach as many of them as possible.
That's why I put together this short training clip.
Inside, you'll learn how I was able to grow my small accounts and get an inside look at my most popular service.
*Results presented are not typical and may vary from person to person. Please see our full disclaimer here: ragingbull.com/disclaimer
Related Articles: