On the weekends, I like to take a look at my inbox and see if there are any commonly asked questions.
There's one question that was interesting to me, and I wanted to address it.
Is there an easier way to trade the market?
Let's face it, trading isn't easy and people are always looking for short cuts or any way to make their lives simpler… while putting themselves in a position to win.
I get it.
Not everyone has the time to trade… they might have other obligations… and they can't be glued to their computer screens all day.
That's why I want to show you some tips and one strategy I believe can help traders right now.
Can This Solve Nearly Any Trading Woes?
There are some quick tips I believe can help make trading simpler.
Decide which time period works best for you to trade.

Learn how to trade around your schedule, or figure out the time of day where you can take a peek at your phone for a little bit of time.

Figure out the patterns in a specific stock or sector, and trade the same basket of stocks a day to understand how they move.
You see, I got my start trading by focusing on a specific sector. I found a recognizable pattern that nearly all stocks in the sector follow. I was able to build a career off that, and it's played a key role in my $10M in career trading gains.*
Although I have the luxury of being at my screens all day, I understand the struggles of not being able to open up your trading platform.
That's why I developed a strategy I wish I had when I first started out trading.
The best part, traders can utilize it all from their phones.
I get it though, there are so many trade ideas that come out every day… and you're probably wondering if I'm constantly staring at my phone all day to implement this strategy.
The short answer is no.
Here's what I came up with.
A strategy in which I trade the same symbol everyday at one specific time a day. This strategy leverages a key indicator throughout the day and lets me know which side of the stock I want to be on.
It's one strategy I utilize to put myself in a position to lock down overnight gains.
I truly believe it can be a game-changer for many.
Traders can actually learn how to use this strategy, and I believe it's one of the quickest ways to learn how to trade. You see, once you start to trade the same ticker around the same time every single day… you start to pick up on different patterns that may signal a gap up.
Once traders become specialized in the name and can prove they're profitable trading that name… they can follow the same process with another symbol.
How can you learn more about this one-trade a day strategy?
Click here for all the details.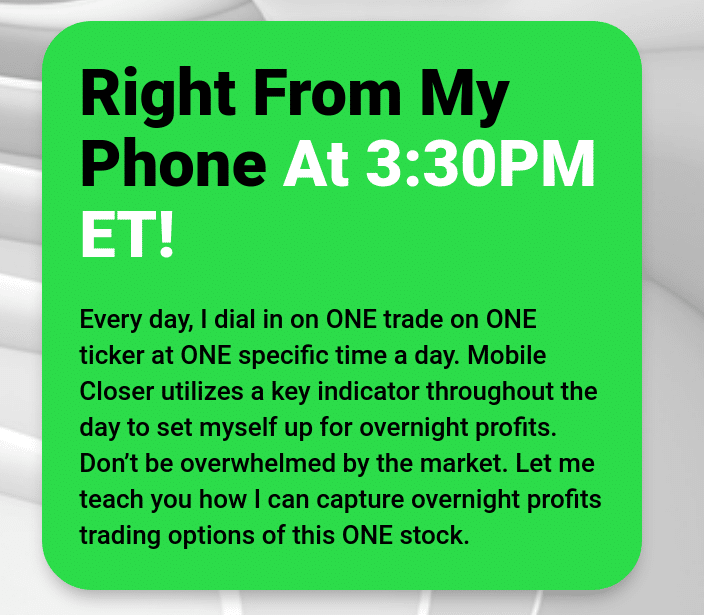 *Results presented are not typical and may vary from person to person. Please see our full disclaimer here: ragingbull.com/disclaimer