This market has been wild — and with this remarkable bounce off March lows… I've received an overwhelming response, asking me what my thoughts on the market are at these levels.
To be honest with you, I'm playing things cautiously and remaining nimble at these levels — but that doesn't mean I'm on the sidelines right now.
In fact, I'm actually looking at specific sectors for potential plays.
You see, while I do have some thoughts on the overall market… I believe my edge lies in uncovering catalysts in areas where not everyone is looking at.
Today, I want to show you my thoughts on the overall market, and some catalysts I'm noticing in some industries.
Where Can The Market Go From Here?
Well, the S&P 500 shot back above 3,000 for the first time since early March today… but many are wondering if this rally continues… or if we actually pull back from these levels.
Now, for me personally, I think this is a key psychological level to keep an eye on. In other words, it may be an area where traders and investors who bought the dip, may look to take profits at.
Not only that, but the SPDR S&P 500 (SPY) has gapped up the 200-day simple moving average (SMA) and has created some potential gap fills to the downside.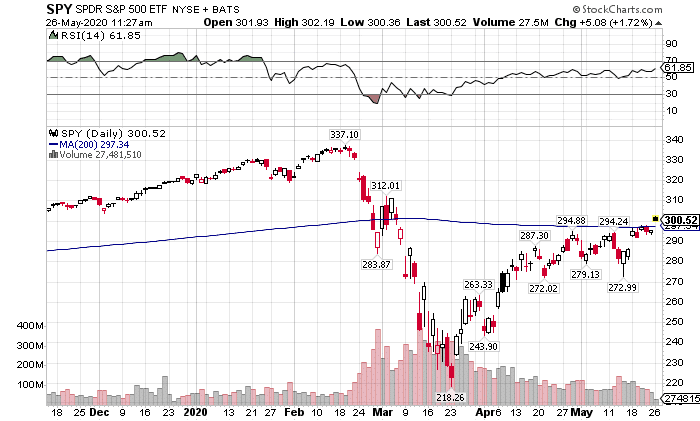 Chart Courtesy of StockCharts
While I do follow the overall market closely, it's tough to pick a direction… that's why I focus on catalyst events.
Why I Focus On Catalyst Events
Now, what do I mean by catalysts?
Well, it's basically any piece of information that can move a stock or the overall market. For example, the move today was due to coronavirus vaccine news, in my opinion. As well as more states opening up and easing stay at home orders.
So what catalysts am I noticing at these levels?
Well, of course, there are companies developing coronavirus treatments…
Some names I have on my radar include: AIM, APT, CODX, INO, OPK, MRNA, GILD, NVAX.
If the economy bounces back and there actually is a cure for this pandemic, then I believe restaurants, airliners, casinos, hotels, entertainment stocks could have a remarkable run.
Of course, there are other sectors that have looming catalysts…
For example, the cannabis industry is one area that has a catalyst on the table.
You see, the U.S. House passed a $3T package to bolster the economy… and included in this large bill is legislation that can help reduce the number of cash transactions to stop the spreading of the coronavirus.
That's a big catalyst for the cannabis industry.
You see, it still remains illegal at the federal level… and that means most marijuana businesses can't gain access to credit lines or loans.
If this bill actually passes the senate… then cannabis stocks can skyrocket. However, this bill has a 50-50 chance.
Now, when it comes to these catalyst events… I believe it's helpful to be in them first. As you probably already heard… cannabis stocks have been popping off already.
I was actually able to lock in some profits on TLRY last week…
With catalyst events, I believe it's helpful to be a first mover…
And the first movers can generate the fastest and largest percentage gains, in my opinion. Now, if you want to learn more about catalyst events and how to spot them…
Then register for my training workshop.
In it, I detail one of my bread-and-butter strategies that helped get me to over $1M in trading profits in 2020 so far.
Sign up for this exclusive training event now.
Related Articles: