As I sifted through all the questions traders have been asking me, there's one that caught my eye.
What Smart Money Plays Are On Your Radar?
I thought this was the perfect one for today's Ask Me Anything (AMA).
Not only will you receive trade ideas to keep on your radar, but you'll also learn how powerful my "insider" activity scanner is, as well as the unique edge it provides.
The reason why I believe it's so important to follow the paper trail of the Wall Street whales is that it can help you efficiently generate trade ideas — it's more like ethically and legally stealing their trade ideas and making them your own.
That said, let me show you what trades came across my scanner this week and why I have them on my radar.

On Friday, these options plays came across my radar…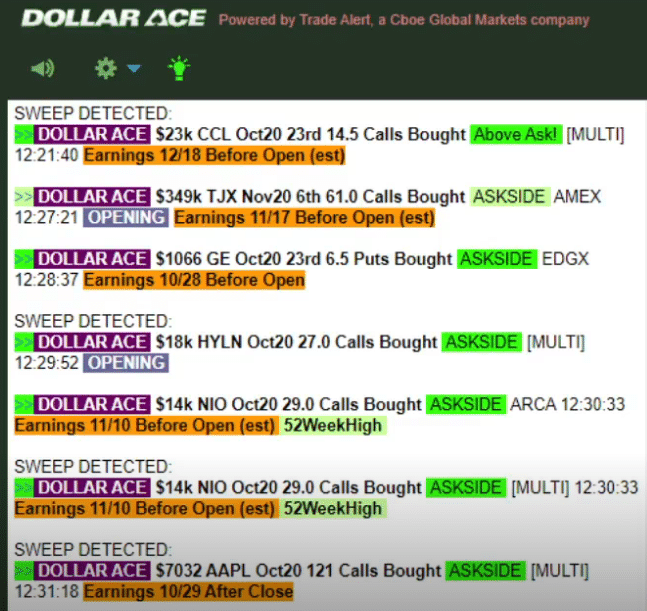 The first trade that catches my attention is the TJX Companies (TJX) trade. Someone threw down a whopping $349K on TJX Nov. 6 $61 calls. 
Why did this stick out?
Well, TJX doesn't report earnings until Nov. 17, and that tells me this isn't an earnings play. Maybe someone knows something that can cause TJX to pop off soon… or it might be a catalyst runup.
We can only speculate on why they placed the trade. 
All that matters is that they left a paper trail.
Another play that looks interesting is Carnival Corp. (CCL). Someone threw down a $23K bet in OTM calls expiring on Friday. The stock closed at $14.08 on Friday, and since those are $14.50 calls that were purchased, I'm going to keep that on my radar.
Last, but not least…
I saw a slew of options activity in Jumia Technologies (JMIA).
On an average day, about 10K calls are traded on JMIA. However, on Friday, more than 110K calls exchanged hands. In other words, that was more than a 10X jump in call option volume.
Now, let me tell you some specific bets I saw, ones I believe the "smart money" were piling into.
…late in the afternoon a trader came in and bought
522 JMIA Nov $27 Calls
 764 JMIA Nov $27 Calls
671 JMIA Nov $27 Calls
All within a minute of each other. 
Now when you do the math, this trader dropped $128K on the trade.
They paid an average price of $0.65 per contract. 
Now at the time of these trades, JMIA was trading in the $15.70s. 
This "smart money" player threw down $128K because they believe JMIA could rally another 76% from here.
This one is on my radar.
Look, I want to show you how you can legally steal the "smart money's" trade ideas and make them your own.
This is by far one of my favorite strategies and the most efficient weapon in my arsenal.
You can discover how this all works in this exclusive training workshop.