There's been a lot of wild stocks out there… and with retail traders piling in…
It seems as if many have been buying randomly.
The latest "zombie" stock that many are trying to support at these levels is Hertz Holdings (HTZ)…
And many readers are trying to figure out what's going on with HTZ recently…
If you haven't heard the news yet, HTZ announced it received a delisting notice last week… and is in bankruptcy proceedings.
However, the stock price is more than 600% off its 52-week lows…
And some are still betting this stock can come out on top.
Not the "smart money" traders though.
Today, I want to reveal to you some details about HTZ… and why if you're thinking about trading it…
You should look at the facts and conduct your due diligence, before making a move.
Is HTZ A Zero?
At one point, HTZ was trading well above where it was when it announced it filed for bankruptcy.
There were so many retail traders bidding the stock up… 
For example, currently, more than 170,814 Robinhood accounts are holding HTZ, according to Robintrack.
That tells me there are a lot of traders who haven't conducted their due diligence…
Or traders who just have an appetite for risk.
To me, that isn't really trading… rather, it's just gambling.
Here's what's going on in HTZ
In a strange turn of events, a bankruptcy court approved HTZ's request to sell up to $1B in stock.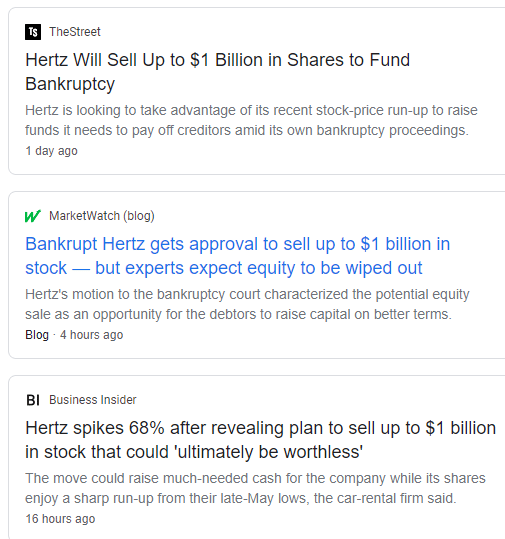 Of course, with this proposed stock offering… it would actually dilute shares.
Not only that but even with this capital raise, it only buys time for HTZ and doesn't really pay off its debt.
Talk about a risky trade.
In addition to the stock potentially being diluted… there could be a liquidity problem with HTZ.
You see, with HTZ staring in the face of being delisted from the New York Stock Exchange (NYSE)…
The liquidity can dry up.
You see, if HTZ gets delisted, the stock would be traded on the OTC Markets…
Which would be much more difficult to trade in and potentially sell shares.
Additionally, if HTZ ends up on the OTC markets, it can cause all those traders who are long to dump shares at unfavorable levels… and it's less likely the institutions will even touch this stock.
Of course, the "smart money" traders are already betting that HTZ is going to $0 and going defunct.
I mean last week,  I noticed one options order in HTZ…
One player came in and bought:
2257 HTZ Oct. 20 $19 Puts For $17.50 A Piece
They Dropped A Whopping $3.95M On The Trade
But there were other options bets I noticed and by the looks of it… the "smart money" believes it's going to zero.
I don't think anyone is throwing down millions of dollars on a bet against HTZ, unless they have a high conviction…
Or know something.
Who knows what will happen with HTZ, all I know is that there's a lot working against this stock… and it's unlikely HTZ will survive.
Now, if you want to learn how I use options activity to my advantage and generate trade ideas…
Then grab my latest eBook on options order flow. 
I'll teach you how the smart money moves…
And how traders can copy them…
Click here for your complimentary copy.
Related Articles: