From time to time, I like to sift through all the questions I get from readers and try to find their pain points… and where I can help out.
I've noticed there's one question so many traders have been asking me…
What's the catalyst runup strategy?
It makes a lot of sense that many readers have this on their minds.
It's one of the strategies that has helped me generate more than $3M in trading gains, in 2020 thus far.*
I want to give you a taste of the strategy and show you how it all works, as well as provide you with some trade ideas.
Revealed: The Catalyst Runup Strategy
When I first started trading, I had no clue what I was doing… I was just buying stocks randomly and didn't really have a plan in place.
Of course, after I had enough of losing and taking it on the chin, I went back to the drawing board. I knew I needed an edge in the market if I truly wanted to make it as a trader.
I figured out stocks moved because of catalysts.
I know what you're probably wondering…
What are catalysts?
Well, it's pretty simple. Catalysts are a fundamental reason that a stock will move. It can be a press release, data release, earnings, corporate action, etc.
The thing is, stocks not only reacted to catalysts after the news was out… they would also move ahead of the events. That's when I came up with the catalyst runup strategy. I could actually trade these stocks AHEAD of these events and make money… without the need to hold my positions into the event, which can be pretty risky.
Let me show you what I mean with an example.
A few weeks ago, Kandi Technologies (KNDI) announced it would make an announcement pertaining to pre-sales. In my opinion, that's a catalyst right there.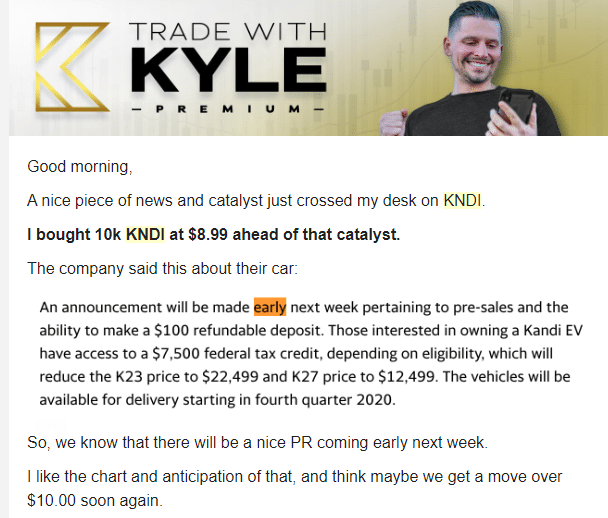 I decided to buy shares ahead of that press release.
Makes sense so far, right?
Identify the catalyst, develop a plan, and execute.
Well, less than an hour after I placed that trade, KNDI shares exploded and got right to my target.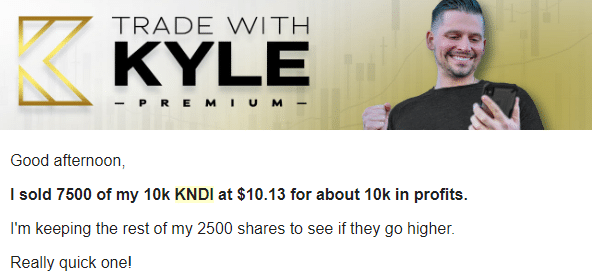 I decided to hold those shares overnight, at the time… and in the pre-market the following day, shares were still making a move and I locked it all in.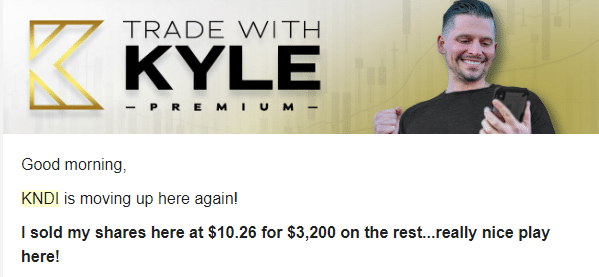 You see, I got out before the catalyst event so I wouldn't take on all that risk. Not only that, but I didn't want to trade it after it announced news because there'd be no reason to trade it, once the news is out, in my opinion.
If this strategy sounds a little confusing at first, don't worry… I'll explain it in greater detail here.
I want to teach you how to uncover trade ideas just like the one I laid out to you, but first, you need to understand how to identify catalyst events.
That's why I put together this catalyst training workshop, so you can understand how to time your trade ideas around catalyst events.
Register now, if you really want to level up in trading and add another wrinkle to your game.
*Results presented are not typical and may vary from person to person. Please review our full disclaimer located at ragingbull.com/disclaimer.