I've just caught up with all the responses I've received from readers… and I decided to take some time out of this holiday weekend to try to help as many traders out as possible.
One question I kept noticing time and time again: "Why do you follow the paper trail?"
If you don't know what they're referring to, it's about my Dollar Ace strategy.
You see, I'm a firm believer if you can figure out where the money is moving, generating trade ideas can become easier.
The way it works is there's a scanner I worked on with the help of a team of quants.
Basically, they have the technology to uncover massive bets in the options market, that signal there's a high chance a stock can move.
In order for you to understand the true power behind the strategy that has helped me lock in some of my largest percentage gains this year…


I want to show two recent "smart money" plays the scanner detected.
The Paper Trail Is Gorgeous
Check this trade out, it appears that SoftBank came in on Aug. 21 and purchased:
14,700 CRM Nov20 210 Calls
They Paid $15 Per Contract
That means they spent a whopping $22.1M in premium
At the time of this trade, CRM was trading at $206.70. In other words, these were OTM options, set to expire worthless, unless the stock made a move.
Three days later it was announced that CRM will be added to the Dow 30.
The stock gets a boost there.
Two days after that company knocks it out of the park with a great earnings report…and the stock absolutely skyrocketed higher.
Those OTM calls that it appears SoftBank bought…
Well…
The stock got as high as $280 not too long after…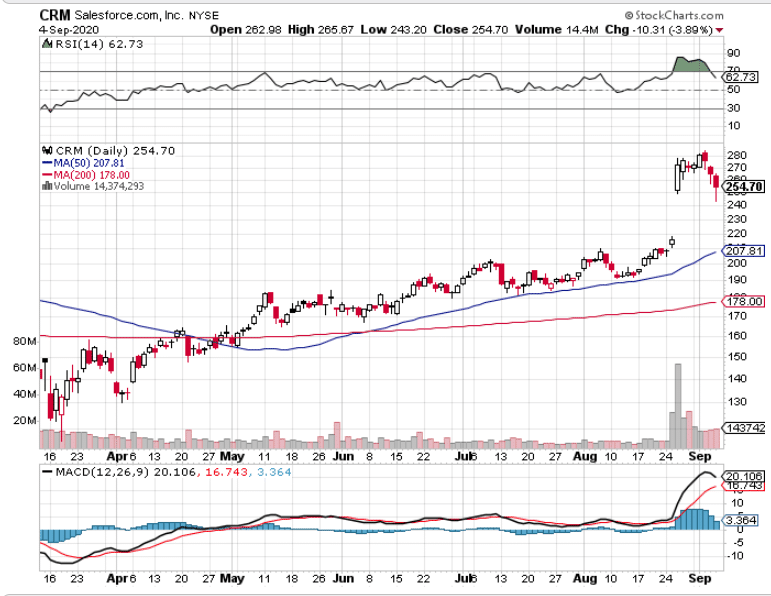 At their peak, just a few days ago, those calls were trading as high as $80 per contract.
That means SoftBank was sitting on profits of $95.5M at one point.
Here's a look at what I sent this watchlist to my Dollar Ace subscribers a few weeks ago: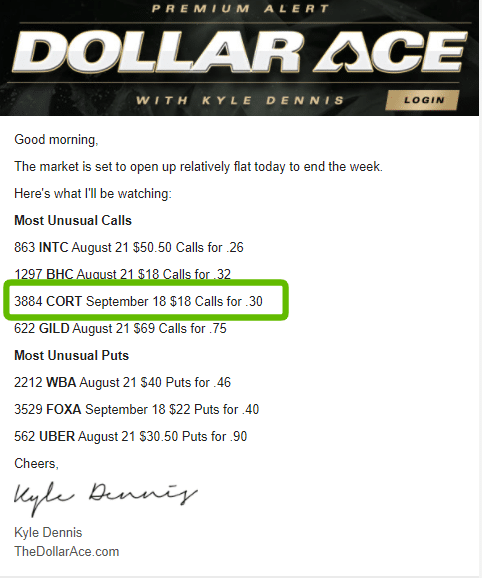 The trade I want you to focus on is outlined in the green box.
The company's name is Corcept Therapeutics and its ticker symbol is CORT.
You see, on an average day, CORT option volume is around 400.
So when the Dollar Ace Scanner picked up on a trader buying…
3884 CORT Sep. 18 $18 Calls
For $0.30 Per Contract
Paying $116K In Premium
And you know what?
CORT exploded last week after it was rumored that it might gain exclusivity for its drug, Korlym.
CORT opened at $12.81, and traded as high as $23.48 that day…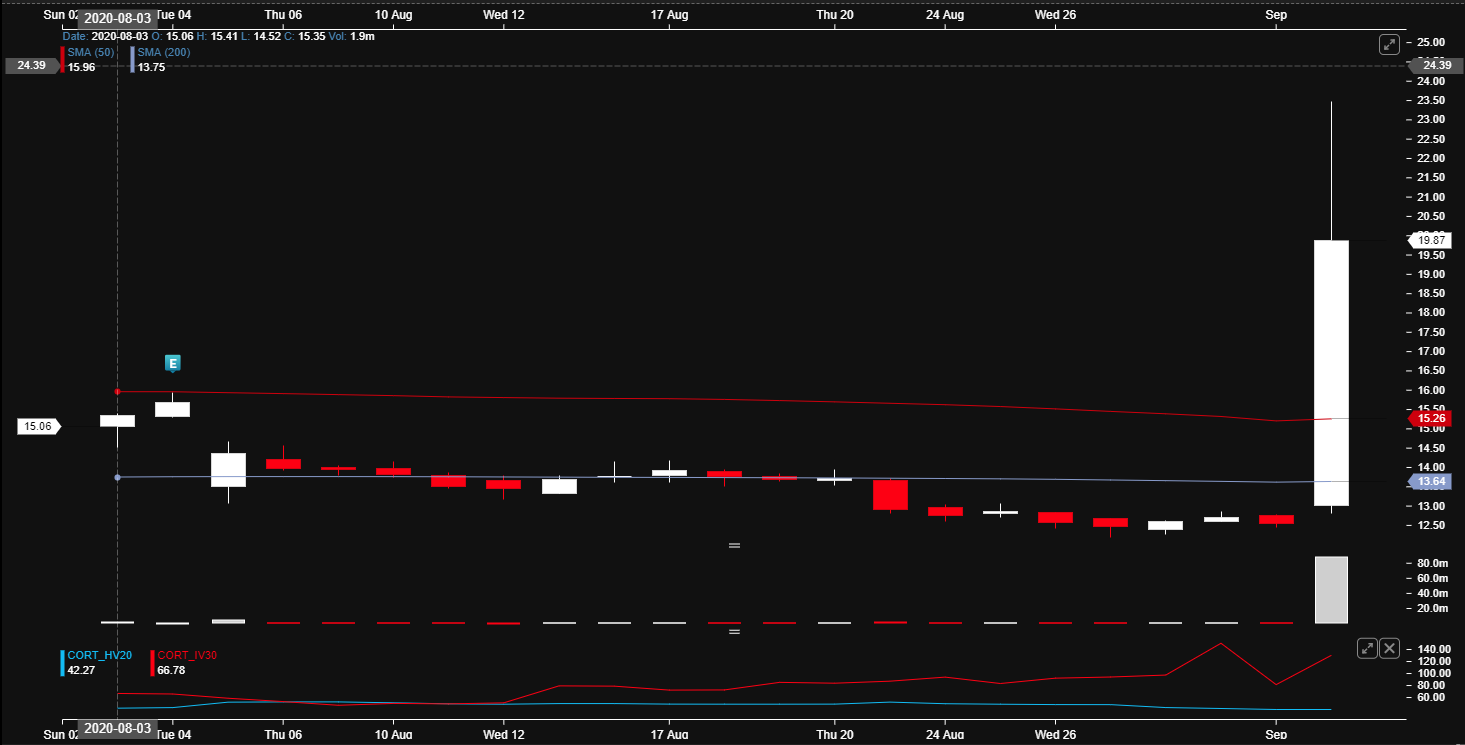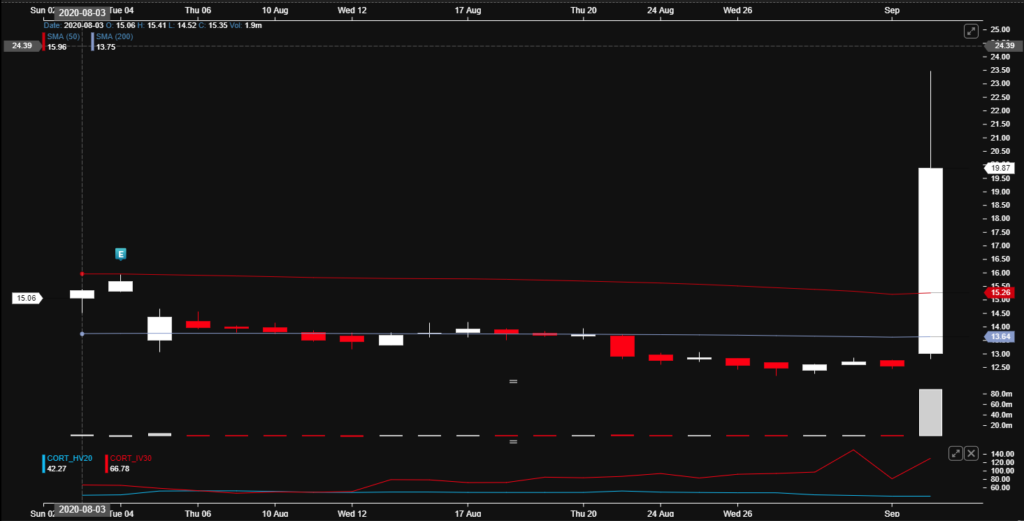 That $116K wild card bet was an easy seven-figure winner for the smart money trader who placed it.
Now, I didn't take this trade, but there are two ways my subscribers could have.
The first you already saw, my watchlist.
But you could have also seen this trade go down in REAL-TIME via the Dollar Ace Scanner.
…which I stream every day for members of the service.
If you've never seen a seven-figure winning trade, there you go.
But instead of reading about these trades…
I want to show you how you can get involved in the game.
It starts by taking the first step…
⇒Click here to see how it all works
And see for yourself, how easy it is to trade alongside the smart money.