Hello trader,
We've all seen the headlines of companies duping investors…making up numbers, just to juice their stock prices up. We've seen it happen time and time again with micro-cap companies…
But you wouldn't expect a large-cap company to make numbers up, right?

Well the SEC charged FCA US LLC — Fiat Chrysler Automobiles — for misleading investors about the number of new vehicle sales… and the company will have to shell out $40M for fudging the truth — its record sales were nothing but bull.
Imagine hearing that the company smashed records and went on a hot streak with vehicle sales… buying the stock… only to hear it was all a sham. 
That's how investors get hurt… but there were red flags along the way that could've signaled this company was engaging in financial shenanigans.
Today, I want to show you how you could've spotted these false claims, as well as show you how you can turn to the options market to uncover information that could lead to massive profits.
The Fiat Chrysler drama dates back to Fall 2012 to Summer 2016.
For years, the company touted a continuous increase in new vehicle sales every month, year after year. The execs called it a hot "streak" of nonstop sales growth. If you know anything about automakers, they release new vehicle sales to update the general public.
If you think about it when you tout such amazing sales growth… it boosts the company's stock price. So what did Fiat Chrysler do?
FCA US issued monthly press releases touting these false new vehicle sales and growth streaks. Numbers that were also filed with the SEC… that's right, the company even lied to the faces of the financial watchdog.
The thing is… this wasn't a small-time thing. The ring leaders of the charade went all the way up to the 9 regional offices and the headquarters itself. 
The simple task FCA US had was reporting its sales to dealers and the occasional sale directly to the customer.
Simple accounting, right? 
How do you screw that up? ── Unless you are actively trying to mislead people… 
Yes, there is a lot of competition out there for car sales. 
Yes, nobody wants a crappy car and NO ONE wants a crap stock. 
However, when the numbers for the company are twisted around it can lead to both.
All You Have To Do Is Conduct Due Diligence
When you're trading or investing, the first thing to do is conduct due diligence. That means looking through accounting figures, chart patterns, you name it.
Well, if you look back to Fiat Chrysler… it was a different story, especially when those figures were falsified.
The company took this beyond the catfishing of numbers and was paying the dealers to report phony sales. Even the regional office employees were in on it, making fictitious vehicle sales too.
Wrap your mind around the fact that for years the REAL vehicle sales weren't reported.
Fiat Chrysler had a cute name for these new numbers too ── "the cookie jar". The cookie jar was the fortress of beefed-up car sales.
When FCA US wanted its numbers to appear more attractive it dipped into the "cookie jar" that was stock full of inflated vehicle sales or previously reported sales. The purpose always being to avoid ending the growth streak in vehicle sales.
FCA US also pumped up sales before crucial investor events like when FCA N.V. was prepping to list on the New York Stock Exchange.
While FCA US preached better than ever sales and continuous growth for every month, every year it actually fell way below that mark. Twice.
So, when FCA US reported having 48 consecutive months of year-over-year sales gains at an investor event it was flat out lying. When a company goes on a streak like this… it should raise red flags… but what happens when the numbers are all wrong?
Well, you can turn to the options market.
Turn To The Options Market For Clues
Sure, we can kick and scream, "The game is rigged!" But this is the market, and we all know the playing field isn't leveled. It also doesn't help that there are companies out there willing to lie to its own investors.
That's why I love to turn to the options market for clues. I use a proprietary scanner that allows me to detect the moves of Wall Street's largest players.
My Dollar Ace trading system follows the real money players… those traders and insiders who risk it all to make a fortune — the type that put their money where their mouth is.
That's why I follow the paper trail.
Let me show you how it all works…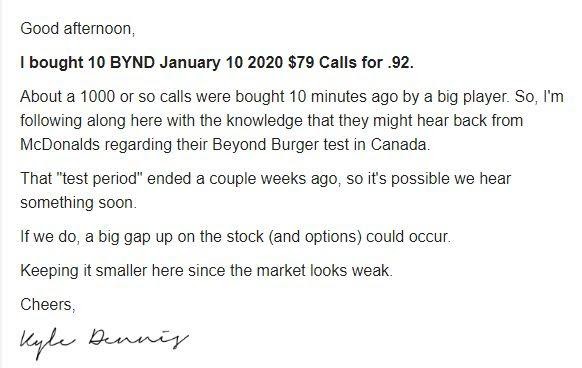 I spotted a massive options order go off in BYND. Approximately 1,000 calls were swept up… That's right… some baller came in and bought $92,000 worth of options and they would've expired worthless if the stock didn't move higher.
And you know what?
When those options expired… if the trader held them… they would've been worth a whopping $18 apiece.
That means, that $92K wild bet would have turned into $1.7M in trading profits. 
Do we know any information behind the move? No, all we knew was someone was buying… and the chart looked juicy.
And despite the unlikelihood of this trade working on paper… I just had to take it because I don't think anyone was throwing down a near six-figure bet just to lose it all.
When the options started losing value… I didn't panic… In fact… I ADDED.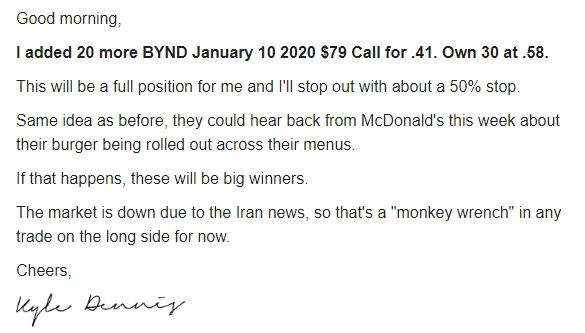 That's how much confidence I have in my Dollar Ace strategy. 
And with just a few days until expiration — the move happened…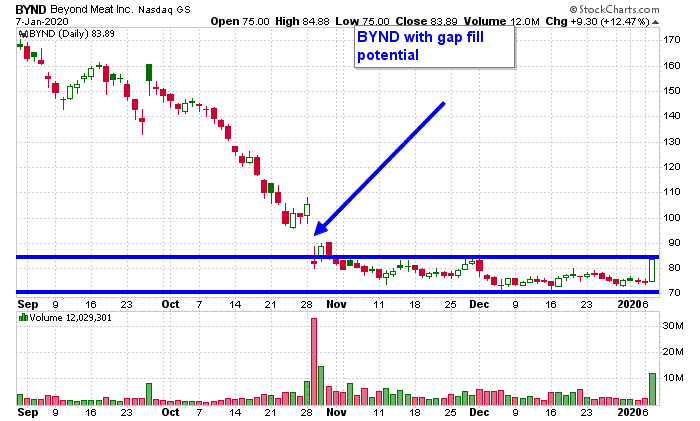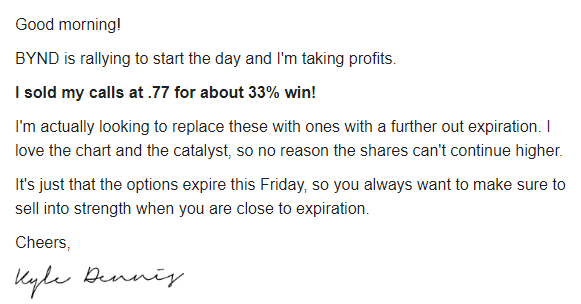 In just a few days… I was able to lock in a 33% winner!
However, I wasn't the only one feasting from the trade. 
So were many Dollar Ace clients…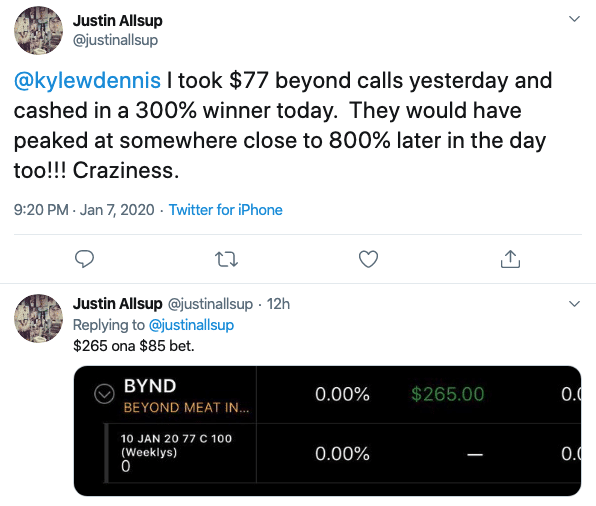 I had a 260% win on BYND calls, my largest ever, so no, not sleepy LOL ~ Craig M.


Dollar Ace flags down smart-money bets and tells me what they're buying and the type of move they're expecting from the trade.  
By tracking their footprints, we're able to get into the same trades, and profit alongside them. If you're ready to take advantage of this unfair edge in the options market, click here to watch this exclusive training session.
Related Articles: