Let's face it, there are dirty players in the market, so much so… 
That there are way too many SEC cases to pick and choose from to highlight.
But there's one that I want to point out, and it's in Alexion Pharmaceuticals (ALXN).
The $24.80B pharma company was recently charged by the SEC…
For greasing the palms of foreign government officials to get favorable regulatory treatment for one of its drugs.
It really grinds my gears when I find cases like this…
And I want to expose what it is they did.
If you don't know, biotech and pharmaceutical companies always face regulatory approval for their treatments.
You see, there's extensive research being conducted in order to make sure the treatments are safe and effective.
Of course, there are some companies that try to tip the scale in their favor…
Alexion being one of those companies.
According to the SEC, two of Alexion subsidiaries made payments to foreign government officials in order to secure favorable regulatory treatment for its drug Soliris.
The SEC's order finds that between 2010 and 2015, Alexion Turkey paid Turkish government officials so they could influence them to approve prescriptions…
As well as favorable regulatory treatment.
Now, that wasn't the only thing the SEC found.
Between 2011 and 2015, Alexion Russia also bribed Russian government officials to influence the regulatory treatment to Soliris. Additionally, they were paid to allocate a specific budget to Soliris, and increase the number of approved prescriptions.
Talk about trying to juice their numbers.
These subsidiaries tried to cover their tracks too… so they knew it was wrong.
They had falsified records and books of the payments… and the internal accountants couldn't figure it out.
The SEC also found Alexion Brazil and Colombia also didn't have accurate records that were allegedly paid to patient advocacy organizations.
Guess what?
They pretty much got away with it.
Alexion settled and agreed to pay more than $21M to resolve the charges.
That's pretty much a slap on the wrist for a $24B company.
If you think that's the only shady activity that goes on in the market, I'm sorry to say… but you're naive.
You see, there are unusual options bets I notice that are placed in the options market, sometimes ahead of news events… 
And some of these trades seem so well-timed, it makes it seem as if they knew about it.
Now, I'm not crying conspiracy or anything.
Instead, I've figured out a way to legally "steal" their trade ideas.
For example, I noticed an unusual bet in Pfizer (PFE) last week… and I followed the "smart money" into the trade…
And just a few days later, here's what happened.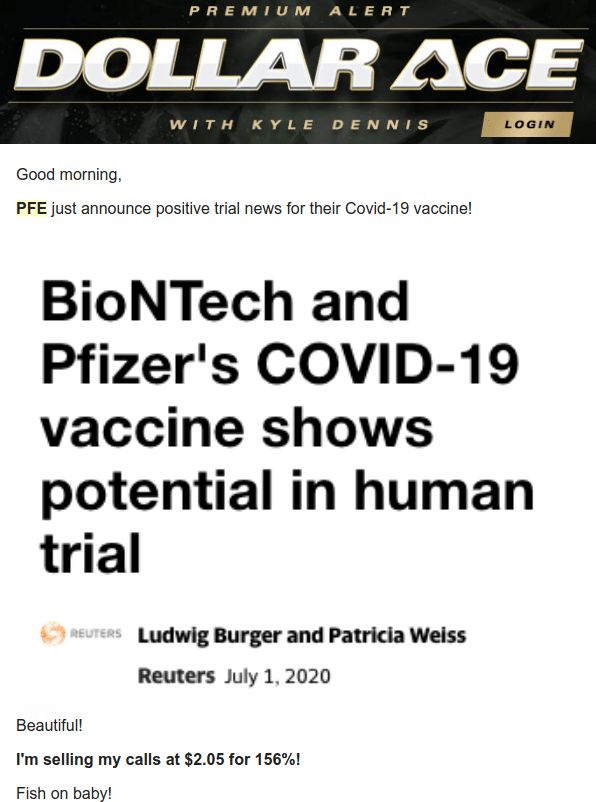 If you want to get the full details about the trade in Pfizer, click here to read all about it.
Now, if you want to learn how I detect the "smart money" activity, and take advantage of the information…
Then you'll want to register for my exclusive training session.
Find out how to legally spot "insider" activity and legally steal the smart money's trade ideas.