Another day, another scandal.
When's the last time you turned on the news and didn't hear about some politicians who cheated the public?
I can't recall either.
The problem with politicians is that they're CONNECTED… and rather than serve the public, they take care of number one first — themselves.
And while we're breaking our backs, working hard for our tax dollars, they are off spending it any way they feel like.
It seems like they live by the mantra: It's not considered cheating if you don't get caught…
If you think Raj Rajaratnam, SAC Capital or Goldman Sachs was bad… some politicians are on another level.
Don't believe me?
In this issue of American Greed, you'll learn about a congressman who fell in love with big pharma — and got so deep he was later charged with insider trading.
What makes this case even more shocking is that it was a family affair — the future in-laws were in on it!
Talk about the apple not falling far from the tree.
The Australian biotech company Innate Immunotherapeutics Ltd. is at the center of this scandal. Not for any wrongdoing but because of one of its independent directors, U.S. Representative Christopher Collins.
Innate was developing a drug for multiple sclerosis. Their clinical trial results and research were kept solely within the company.
Christopher Collins was a groundbreaking congressman, and the very first U.S. Representative to endorse President Donald Trump.
He also now holds a different title, as the first member of a sitting member congress to be charged and convicted of insider-trading.
Christopher Collins is a very wealthy man who had been sitting on the board of directors,  and a large stakeholder of Innate shares.
At one point, the Collins family owned a third of the company. Collins even had a hand in its IPO in Australia.
To add to Collins's questionable litigation behavior, he also was a huge Big Pharma supporter.
He sponsored several bills that would benefit Innate—a dangerous cocktail that would later get him in trouble.
Collins was doing his part, but there were some things he couldn't control—the drug testing results.
Innate's multiple sclerosis drug was a clinical failure.
Even going as far as saying there were no "significant differences in [outcomes] between MIS416 and placebo".
Which is about as big of a failure as you can get other than your drug have adverse effects.
How The Congressman Actually Avoided A $570K Loss
Christopher replied to this news "Wow. Makes no sense. How are these results even possible?"
Immediately following this email Christopher called his son Cameron Collins during which he divulged confidential information that Innate's only drug was a failure.
Christopher Collins and his son knew what this would do to the company's stock.
The morning after the call took place Cameron began to sell his shares based of the insider information. During June 23 and 26 of 2017, Cameron Collins sold 1,391,500 shares of Innate.
After his father's phone call Cameron called his fiancée and told her that Innate drug trial was a failure, further spreading the inside knowledge.
Cameron avoided a loss of $570,900 and his fiancée's father avoided a loss of $186,620 all because of insider trading. Everyone not in the know suffered financially from the drug's failure.
A day before Christopher Collins planned to plead guilty to the criminal charges of insider trading, he sent a letter to, at the time, House Speaker Nancy Pelosi that he resigned ending the term "effective immediately".
Unlike many times where the culprit flies under the radar, these men were caught and hung out to dry. An example that even members of Congress aren't untouchable.
The three men agreed to disgorge their avoided losses with prejudgment interest. A perfect judgment that they would receive the same losses than many Innate shareholders felt.
Perfect karmic justice.
Take A Hint
This story has a large part to play. It's not just insider trading, it's the quess you can pick up when watching trades.
Completely innocent of any wrongdoing you see that someone out of nowhere sold over a million shares of their stock.
Something is up.
This exactly where you want to take a hit and sell too. Or the opposite, you see that someone out there is gobbling up shares like samples from the yogurt shop. Innocent of whatever set off their big move, you can take a hint and get in on the action too.
The thing is… this happens ALL the time in the markets. These "insiders" have found new ways to hide their trades in the options market, in an attempt to make trades based on insider information. However, what they don't know is the fact there are scanners out there that detect their every move.

The best part?
You can legally trade off this information because all we know is the order flow and the chart patterns. I've been using Dollar Ace to legally follow these insiders… and you can too.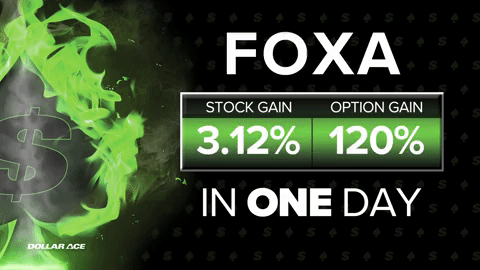 Click here to watch how my 5-minute options strategy could help you uncover droves of opportunities in the market.
Related Articles: