So many traders have been trying to learn how to trade, and I'm glad to see them try to take matters into their own hands.
However, there are still traders out there who lean on financial advisors to manage their money…
And there's one thing I have to say about them — conduct due diligence and make sure you know everything about what goes on with your portfolio.
You see, you can't just assume they're going to do what's best for you and provide you with the best trade ideas.
How do I know this?
Well, there was one greedy financial advisor who was charged with fraud, after he stole millions of dollars from investors.
I want to reveal to you what this advisor allegedly did, and how to potentially avoid it.
Let's face it, there are some dirty players on Wall Street… but I'm not saying everyone doesn't have your best interests at heart, just that you need to be wary of anyone who's going to handle your money.
What happens if you don't pay attention to your finances?
You can end up losing a lot of money.
No joke.
The Securities and Exchange Commission (SEC) just charged a financial advisor in McLean, Virginia with fraud.
Guess what?
He was part of a large financial institution and even though he was licensed and was trained to know the laws…
The SEC alleges he still falsified documents to effect dozens of unauthorized wire transfers from the accounts of the firm's customers to his personal bank account.
Even though this financial advisor was supposed to have his clients' best interests in mind… he still stole millions of dollars from them.
According to the SEC's complaint, to generate some of the funds that he misappropriated, the financial advisor sold securities without the customer's permission.
Now, this dirty player used intricate methods to conceal his misconduct from his brokerage customers. One of those methods was diverting account statements to addresses he controlled.
The financial advisor made nearly $1.5 million in unauthorized transfers from the accounts of an elderly advisory client. He allegedly sent nearly $1 million to himself and used some of the remainder to repay funds he had taken from a brokerage customer.
Here's the kicker…
He also allegedly misappropriated funds from the client that originated from 529-plan college savings accounts held at another financial institution for the benefit of their grandchildren.
Apparently, he used the misappropriated funds from his customers and client to support his lavish lifestyle.
That's why I stress the importance of knowing what goes on in any accounts you may hold at a financial institution. If you don't track everything that's going on, that can end up costing you a lot.
For me, I don't necessarily want someone to handle my money…
I like to take matters into my own hands, and try to take advantage of Wall Street.
You see, there are plenty of dirty players on the street, they may place bets on stocks based on information we don't know about…
And it's not a level playing field for many.
That's where my Dollar Ace strategy comes into play.
How does it work?
I use my Dollar Ace Scanner that lets me know where some of Wall Street's brightest minds are placing their bets…
And it helps me uncover winners like this one*…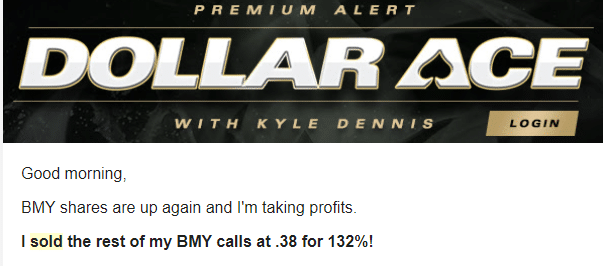 Of course, I can tell you about more of these Dollar Ace winners…
But I rather teach you how my strategy works, that way you'll realize the true power of my scanner and why I love to use it.
Who knows, maybe after you attend this exclusive training session, you'll rethink trading and take matters into your own hands.
*RagingBull does NOT track or verify subscribers' individual trading results and these individual experiences should NOT be understood as typical as or representative. Results presented are not typical and may vary from person to person. Please see our full disclaimer here: ragingbull.com/disclaimer