We all know there are dirty and scummy players in the financial world, and you wouldn't believe the dirty I dug up on this millennial CEO.
Deep in the heart of Texas, one millennial was vying for the American Greed Award.
This guy threw money at strippers while rocking a new Rolex… cruised the streets of Houston in his brand spanking new Lamborghini.
The way he got it all his money wasn't through following the "smart money" and stealing their ideas.
His lavish lifestyle was all paid for with the COVID-19 relief funds he made sure to collect.
Shame on him for not putting that money to good use.
He's now charged, and may have to be in an orange jumpsuit for quite some time.
I want to reveal to you some shocking details about how he did it… and how to actually take advantage of some of the dirty players on the street.
Millennial Tricks The U.S. Government, And Nearly Gets Away With It!
Lee Price III is not even 30 years old and he is up to his neck in trouble.
At the age of 29, he seemed to have it together, but the truth was revealed to be otherwise.
According to LinkedIn, Price was chairman at Price Enterprises Holdings (PEH). A Houston investment company.
And it was Price who was allegedly tangled in a scheme to send in bogus a PPP loan application.
Getting in on the CARES Act COVID-19 relief program for those suffering during this trying time.
This relief program offers loans that are guaranteed by the SBA, and at times potentially forgivable.
But this loan would not be the only PPP loan app that was sent in that Price was somehow attached to.
Another company by the name of 713 Construction put in for a PPP loan. But this application was quite an odd one. The loan was applied for one month after the CEOdied… who was listed on the application.
Both applications evidently pled the need for funds to cover their many employees and eyebrow-raising payroll expenses.
According to the charges this young gun is facing, neither company had employees. And neither company was paying wages that even came close to the number on the requests.
But despite the odd events PEH received over $900K from the PPP program. With 713 Construction reeling in $700K from apparently the afterlife.
And this is where things get scandalous.
Price was the receiver of both PPP loans.
While we normal folks were hunkering down at home and many were putting off non-essential buys, this fool went buck wild.
And no that was not the name of the strip club where he made it rain with COVID relief funds.
Price blew through thousands of dollars at Houston strip clubs and other night clubs.
Price would go on to buy a Lamborghini Urus. A car that's base model costs $200K.
Would he stop at one car?
Nope
Price scooped up a big ole pickup truck. This city boy went right for one of the largest and newest trucks Ford offers, a 2020 Ford-350.
From here he would make a few real estate transactions and snag himself a sweet Rolex.
Seriously speaking, who is spending this kind of money right now? Like "surprise I magically could afford a Lambo overnight!"
You would think he WANTED to get busted.
Price has been charged with wire fraud, bank fraud, making unlawful fiscal transactions, and lying to a financial institution.
That's not the only shady activity I noticed recently…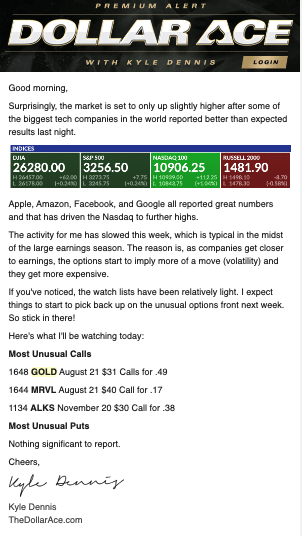 Someone piled into a bunch of GOLD calls…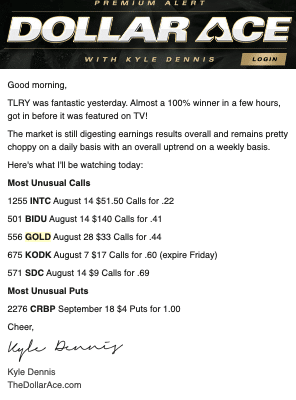 Guess what happened after the close on Friday?

An awful coincidence, right?
While I can't get rid of the dirty players on Wall Street… I have figured out a way to legally steal their best ideas and make money off them.
The best part is, it's 100% legal.
You can read all about how I detect the smart money's move in Dollar Option Trader.
See how the smart money can "go to work" for the little guys for once.
Claim your complimentary copy now.