On Wednesday, I pointed out a wild options bet in Avis Budget Group (CAR)…
Today, I want to provide an update on CAR and my thoughts on the name.
If you recall, the other day, I mentioned how a trader came in and bought 2340 August $8 puts for $1.56 and spent a total of $366K in premium… 
While the stock was trading around $13 at the time.
Just a few days after I noticed the options activity, CAR actually hit a low of $9.44…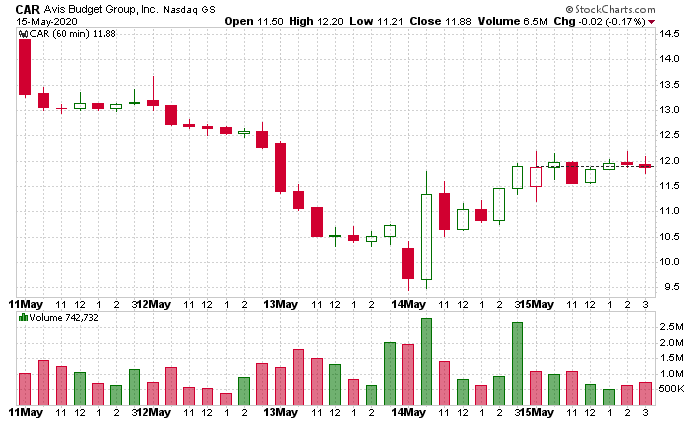 Chart Courtesy of StockCharts
Those options were worth well over $2 at one point, and the trader could've locked in more than $100K in profits…
Guess what they did instead?
According to my scanner, it appears the trader actually purchased more puts! 
So what's actually going on in CAR, and what was the "smart money" activity that my scanner picked up
Could CAR Plummet From These Levels?
My scanner pointed out that someone came in and purchased 8,849 CAR Aug $8 Puts for $2.45 on Thursday.
That means someone threw down a whopping $2.17M on the trade… and this happened when CAR broke below $10 the other day.
According to the recent options action in CAR, the trader(s) believe it could head much lower.
You see, for them to just break-even on this trade at expiration, CAR would need to drop by nearly 50%…
And they were willing to drop more than $2M on their idea.
To me, that's just insane.
The Looming Catalyst In The Auto Industry
Right now, there's a looming catalyst in the auto industry…
Hertz Global Holdings Inc (HTZ) — Avis Budget's competitor — has until May 22 to come up with a financing strategy…
If it isn't able to come up with an appropriate strategy for its lenders, HTZ will be required to liquidate its used cars to serve as collateral. In other words, Hertz could go bankrupt.
Now, if that does happen, this would flood the used car market with hundreds of thousands of vehicles, which can damage the used car market for years to come.
The thing is, CAR is going through similar financial troubles…
CAR recently priced an offering of $500M worth of debt in an attempt to keep it afloat, but it seems as if the "smart money" believes the stock is headed much lower from these levels.
Does someone know something about CAR that we don't? 
Who really knows…
But I'll continue to monitor the situation.
Now, if you've ever wondered how the "smart money" operates, then check out my latest VIP training session… as I show you how I profit off this type of activity regularly.
Related Articles: