I'm out here working on my game — as I work towards my goal of the coveted 8-figure trader title (I'm above $7M in career trading profits in just about 7 years).
How have I been able to climb the ranks so fast and can I replicate your success?
While I can't guarantee the spectacular results I've had, I will show you how I've been able to become an elite trader.
The key to becoming successful in the markets is to stay humble and keep a beginner's mindset. And believe it or not, I don't move fast. In fact, it wasn't until my third year trading when I started to dabble in options.
But as I've said in the past… the more profit buckets you can add to your toolbox the faster your account can grow.
That said, I want to explore how Wall Street "insiders" hide their trades and share my insights with you. Last night, we saw a major headline hit the wire…

Guess who was in that trade BEFORE the news broke?
The smart money.
Today, I want to show you how you could've spotted the play, and followed the Wall Street "insiders" and potentially woke up to monster gains.
Before I get into the details of these trades, I need to explain unusual options activity. Basically, I use a proprietary scanner that detects large bets in the options market…
An unusual options order is one that is "relatively" large.
I won't get into all the details because you can read it in my complimentary eBook Dollar Option Trader (hurry, this is a limited-time offer!).
Let's take a look at the unusual options trade in Sprint (S). Now, if you've been following the news, you've probably heard S was trying to merge with T-Mobile (TMUS). However, there were some bumps along the way… but the courts ruled in favor of the two companies merging.
On Friday, January 31, a Wall Street whale came in and purchased 4,506 S Mar 20 $6.0 calls for $0.37 apiece. If you do the math, that's a bet size of $167K. At the time, S was trading at around $4.30s – $4.40s. That meant someone must have known something.
Why do I think that?
Well, the stock needs to move more than 50% for the player to make money… a seemingly long-shot bet. However, I know Wall Street is filled with players who have access to non-public information… and this trade was no different.
You saw the headline already… but guess what S did after those headlines?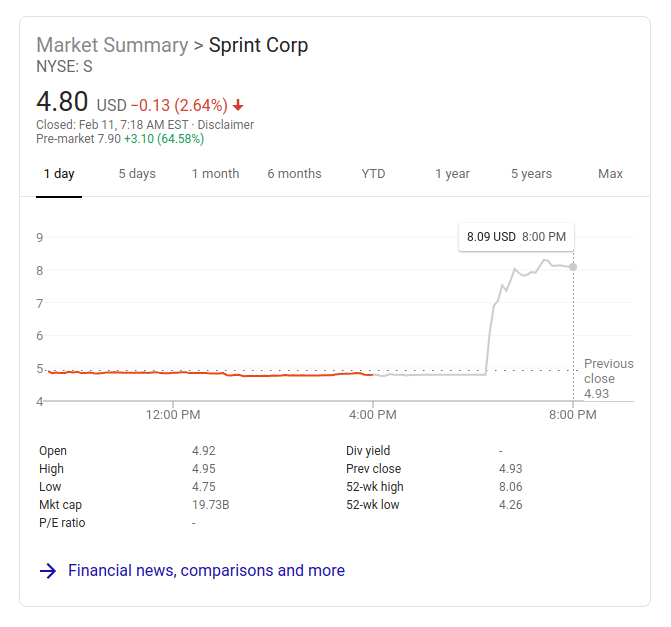 The stock exploded and traded above $8 to close out after-hours.
Now, if you were able to spot that options activity in real-time… and followed suit. Well, you would've been sitting pretty and could've made more than 5 times your money (depending on where S opened and you took profits).
You're probably wondering, Kyle how do you use unusual options activity in your trading?
For me, it's just an indicator. Even if giant calls or puts are bought we don't know if it's a hedge, done for misdirection or what… For example, some could be buying calls because they are short the stock.
And since hundreds of these types of trades go off… there is plenty of noise too.
That said, there is information in these trades…
…and if you can stack it with other reasons to be long or short then it's worth recording and watching.
Let me show you how it all works.
How I Spotted A Triple-Digit Winner By Tapping Into The Options Market
You know the name of the game… find unusually large options bets and try to pair it with another reason to get long calls or puts. For me, I like to pair it with a chart pattern.
Now, I spotted unusual options activity in Zynga (ZNGA). A large player came in and gobbled up 7,509 ZNGA June 19 $6 calls for $0.66.
Again, if you do the math, that's a whopping $495,594 bet that ZNGA would trade above $6.66 before the June expiration date. Remember how the S trade turned out? Well, this is a similar play.
When I see a massive trade like that… I put it on my watchlist and send it out to my clients.
At the time this bet was placed, the market was actually in wacky conditions. So I decided to wait until I placed the bet because patience is also key with these setups. Just a few days after I spotted that massive order, I spotted the perfect entry. The thing is, I didn't follow those "insiders" to a T. Instead, I made the trade idea my own and looked for closer-dated call options. Here's what I sent out to clients in real-time.
I bought 300 ZNGA February 14 $6.50 Calls for .15.
There have been unusual sweepers on this one for months and I'm hearing on my newswires that they just canceled out of a conference (possible M&A coming?). 
A rumor there but I think it can run today on that with the possibility of hitting a home run.
The most interesting part about this trade was the fact ZNGA was set to report earnings in just a few days… and it had just suffered a large drop but found a key support level just under $6.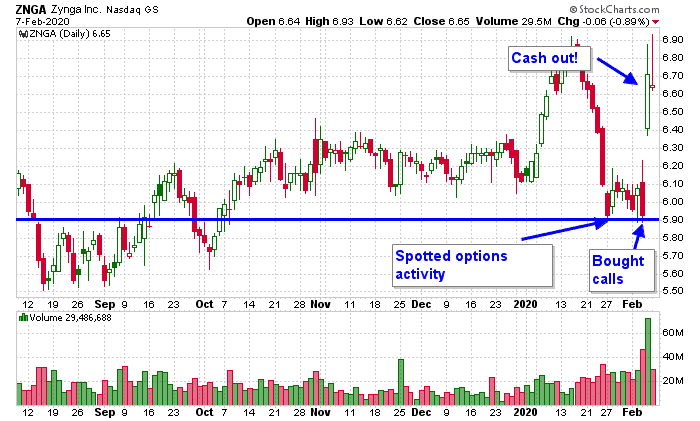 So I took the trade and had a good feeling it could pop after it released earnings. Remember, the only thing I looked for was the options activity and the charts. I had no knowledge of the news or anything.
Guess what happened with ZNGA?
ZNGA beat the street's expectations and started soaring, as you can see in the chart above!

Of course, once the news was out, I took my profits off the table and was able to double my money overnight.

If you want to steal a page out of the smart money and legally follow their trades, you'll want to check out my eBook Dollar Option Trader. The tactics that I outline in Dollar Option Trader — to my knowledge — have never been revealed before.
The techniques I lay out in  are already helping traders post returns of 263%, 448%,  and 545%… and you could potentially replicate those results (if not better).
Related Articles: