Sogou Inc. (SOGO) was one of the hottest stocks on Wall Street on Monday, finishing the day up 48%.
The reason for the explosive move?
SOGO received a buyout offer from Tencent — a Chinese multinational conglomerate.
The thing is…
There was some unusual options activity that hit the tape on Friday…
Did that options player know about the news… or was it just a lucky trade?
Who knows, and who really cares.
The only factor that I believe is important to follow right now is…
The Paper Trail
Why?
Well, the "smart money" is throwing down bets in the options market.
If traders know where to look, they may uncover large winners.
Let me show you the activity my scanner detected in SOGO.
On Friday, more than 37K calls traded in SOGO — when you compare that to the average number of calls traded per day (177), it signals people wanted in.
At the time, it was uncertain why the Chinese search engine company was up by more than 21%…
…and why the options action was so heavy in the symbol.
But now we know.
On specific options trade actually stuck out: the $7.50 strike price calls expiring in August.
More than 26,000 of those contracts traded on Friday…
And one trader bought 2,540 of them and paid $0.20 per contract.
In other words, they spent over $51K on that trade.
I don't know about you, but that seems like an awfully well-timed trade.
They purchased deep out-of-the-money (OTM) calls when the stock was trading below $6…
Come Monday morning, the company has a catalyst that propelled the stock higher…

While the stock was hot…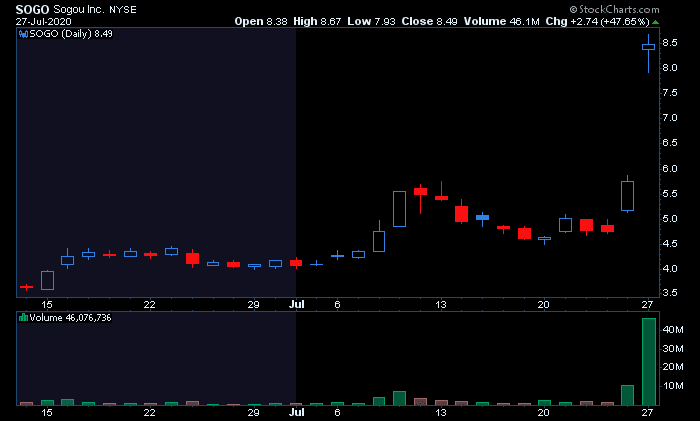 Those returns pale in comparison to the returns on the options.
Those SOGO Aug $7.50 calls that were going for $0.20 on Friday…
Hit a high of $1.50 on Monday, and closed at $1.15.
That means a $200 bet could've generated as much as $1,300 in gains.
A $500 bet could've generated as much as $3,250 in gains.
The options player who bought 2,540 of those calls and spent $51K, could've made as much as $330K
That's why it's so important to pay attention to the "smart money".
I know what you're thinking, "How do you actually follow these players?"
For me, it's simple.
I utilize my Dollar Ace Scanner.
Now, if you want to learn how I'm able to steal the "smart money's" trade ideas…
Make sure to register for this exclusive training workshop.
You'll learn how I use unusual options activity to my advantage, and how to uncover explosive opportunities.
Now, all I ask is you come with an open mind because what you're going to learn may shock and amaze you.