If you've ever seen the top gainers on Wall Street, you probably thought to yourself — at one point or another — how do I find these stocks before the move?
At least that's what many of my readers flooded my inbox with this weekend. Of course, we all want to spot fast-moving stocks before the move happens… and I've actually designed a strategy that allows me to do just that.
Today, I want to reveal how exactly I find hot stocks before the move happens… and when you hear how simple it is, you might beat yourself up for not leveraging the power of this strategy earlier. But don't, because there are plenty of hot stocks for you to trade this week.
So what's the strategy I used to take me from a $15K account to more than $7M in just a few short years?
[Revealed] How To Spot Explosive Stocks Before The Move Happens
If you look at any stocks making a move, on any given day, you'll probably realize there's a catalyst that sparked it… whether the stock is selling off or running higher.
So what exactly are catalysts?
They're the fundamental reason why prices move. They could be earnings, news releases, data releases or product announcements.
The best traders are forward-looking and understand how catalysts work… and I want to show you exactly how to use them to your advantage. For the most part, all of my winning trades have catalysts… and I'll do is time them to perfection. 
However, spotting the catalyst and placing your trade isn't the only thing you need to do in order to hunt down explosive opportunities in the market. In fact, I have a simple ruleset:
Eliminate emotions from trading

Silence the noise and trust the process

Develop a trading plan (this helps with staying in between your guidelines, and removes emotion and noise)

Time your entry and exit by identifying catalysts
Let me show you how it all works.
Remember the insane move Beyond Meat (BYND) had?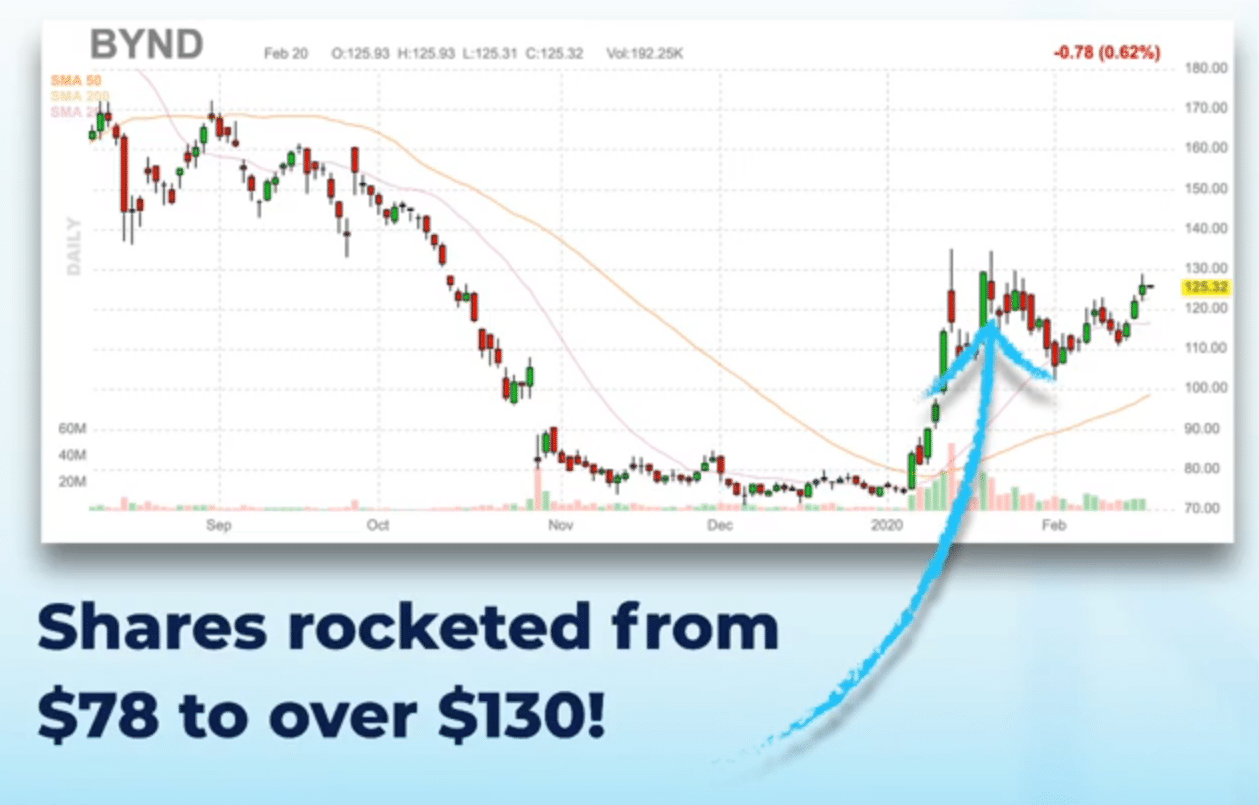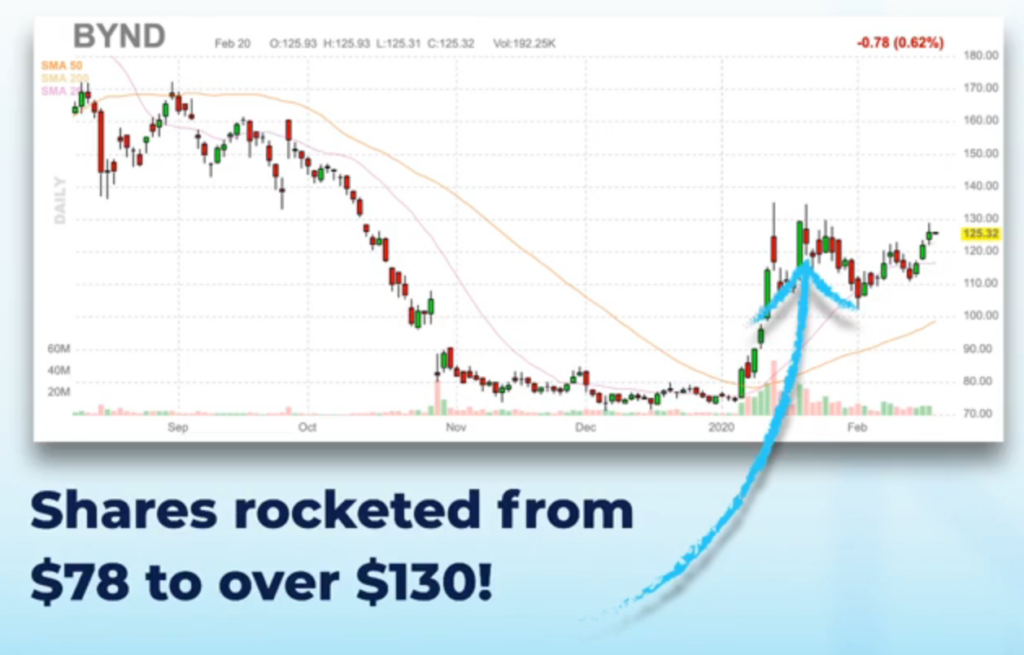 The stock skyrocketed from $78 to over $130 in just a few short weeks!
If you go back and review that move… you'll figure out BYND had multiple catalysts on the table, and all you had to do was time your entry around the catalysts.
You see, McDonald's announced it was testing its Beyond Meat burger at locations in Canada. This news was announced a few months prior… and the test started a few months ago and ended in early January.
If you know anything about Beyond Meat, so many people love their vegan patties… and it was likely the tests went well and McDonald's would expand its relationship with the company. Not only that, but BYND had an upcoming earnings release and call on Feb. 27, 2020.
Here's what happened… 
After the initial tests, McDonald's announced it would test its Beyond Meat burger at more stores. 


What do you think traders had on their minds with an upcoming earnings announcement?
Well, McDonald's was expanding its Beyond Meat burger, and that would mean more revenues and earnings for the fake meat company… so instead of waiting more than a month for the catalyst to happen, forward-looking traders hopped into the name.
They probably thought, "I gotta get into this stock before the move happens."
Well, if you know the story beforehand… the trade becomes extraordinarily easy… and you could have taken part in this move.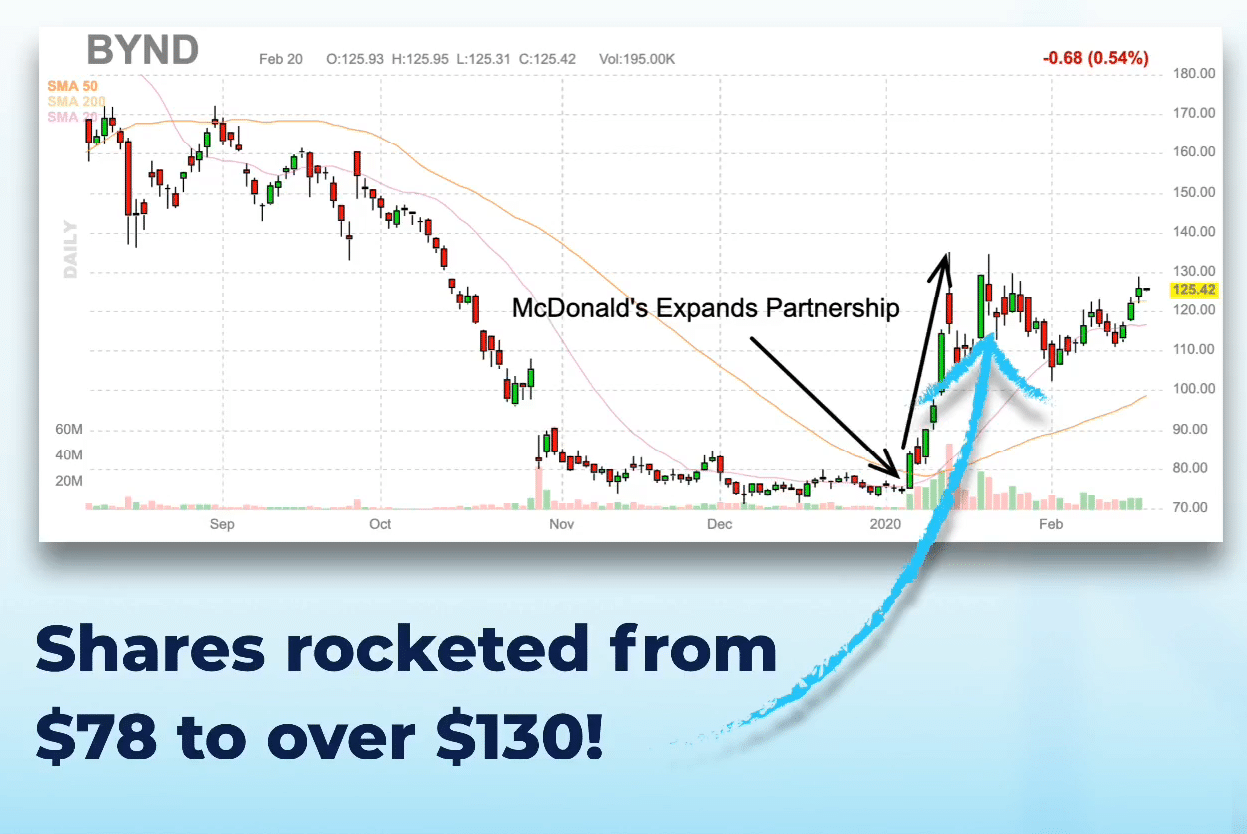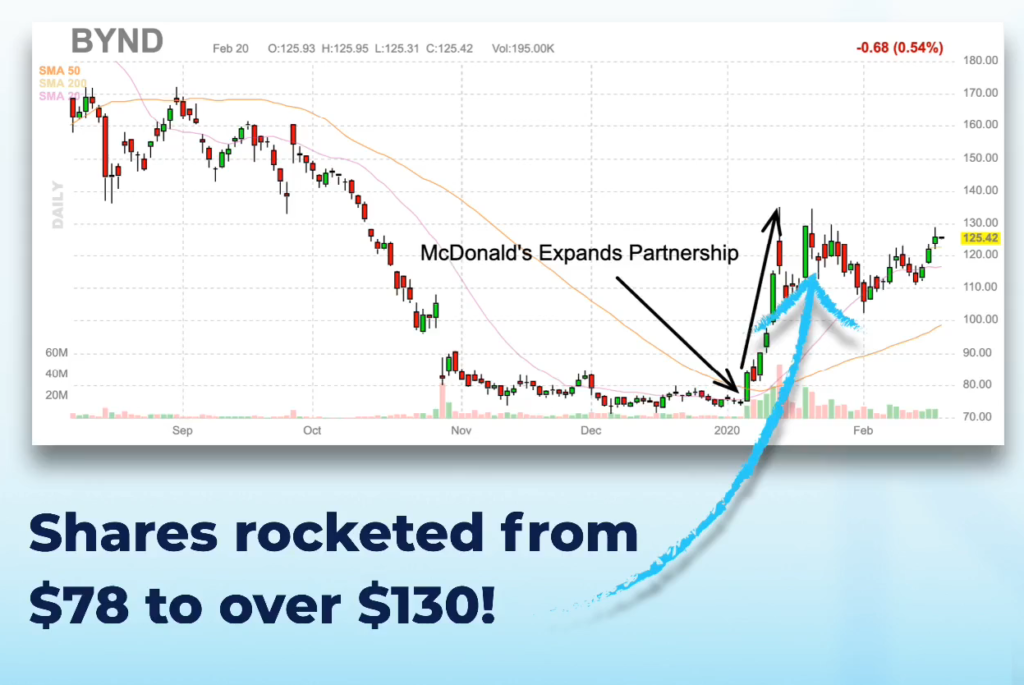 It's really not rocket science… and I actually traded BYND options and took part in this move.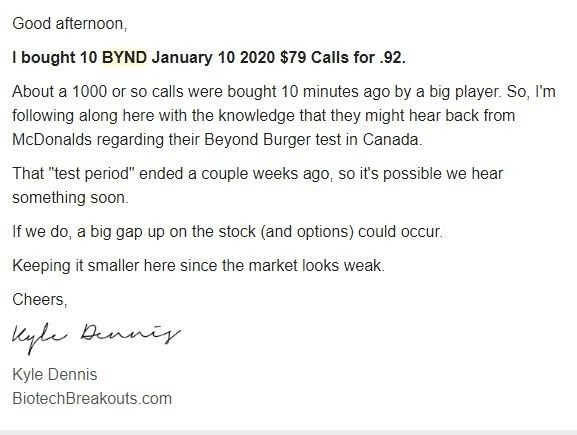 Not only that, but my clients crushed the trade!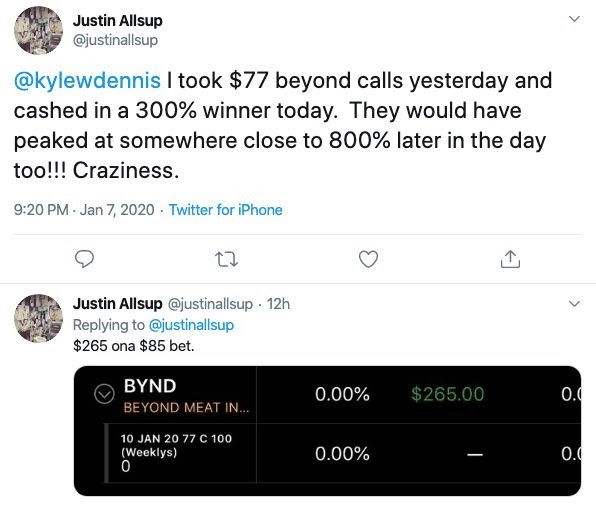 If you ask them how easy it was… they'll probably tell you it was a no brainer. Remember, all you have to do is spot the catalyst, develop a trading plan, and time your entries and exits… then you could find some of the most explosive opportunities in the market.
Related Articles: