Why It Pays To Follow The Smart Money
For me personally, my "smart money" strategy is one that delivers some of my best percentage winners… and that's why I love following these players so much.
I just turn to my scanner, find some names that look interesting to me… then put it on my watchlist.
In a way, it takes out a lot of the heavy lifting and allows me to focus on Wall Street's best trade ideas.
Take a look at the watchlist I sent out on Thursday.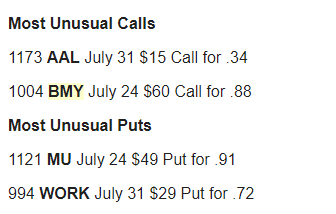 Just a few names that I found interesting on the scanner that I wanted to trade.
Now, the market was a bit choppy last week, but one area that has been performing well is pharmaceuticals and biotechs.
There are catalysts on the table for these companies… and that could cause them to catch a pop.
Bristol-Myers Squibb (BMY) was the one "smart money" trade I wanted to get into.
On Wednesday, my scanner picked up on a rather large order in BMY.
Someone came in and purchased 1004 BMY July 24 $60 calls for $0.88 a piece.
They dropped $88.35K on that bet, and those options were set to expire in about a week's time.
The level of implied volatility was pretty low in BMY, so no one was expecting a big move… and I thought those options were relatively cheap.
On Thursday at 1:29 PM ET, I followed suit and purchased those same calls the "smart money" jumped into.
I was actually patient and got a better price than those players.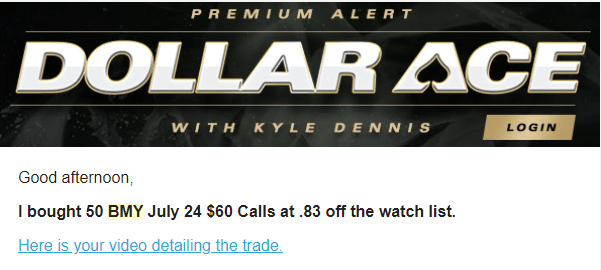 The very next day, BMY had news…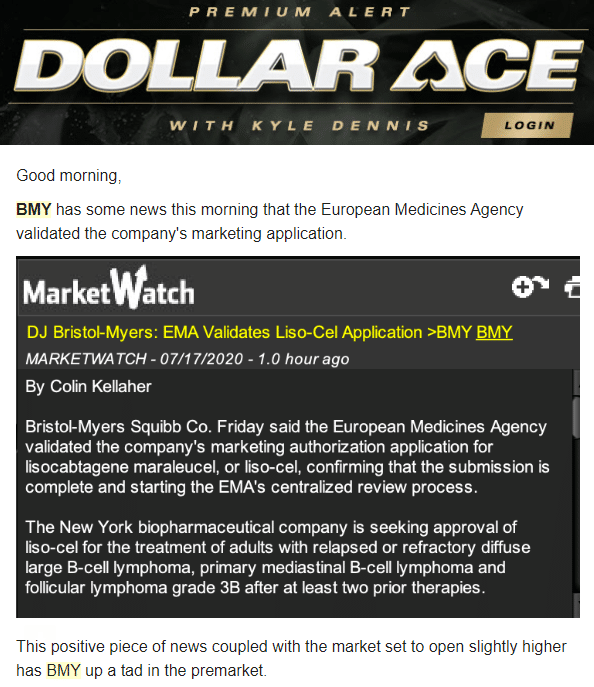 I got a little lucky with that one, I wasn't really expecting that type of news so quick…
Shortly after the opening bell on Friday, I locked in a 40% on those BMY calls.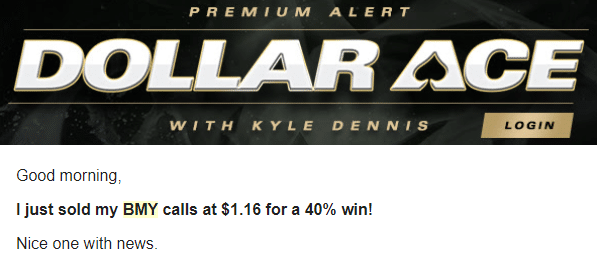 This is just the tip of the iceberg when it comes to my "insider" activity scanner.
There are a plethora of examples I want to show you… and I want to teach you how my scanner works.
That's why I've put together this exclusive training workshop…
It's a must for traders who want to learn how I'm able to "effortlessly" generate trade ideas.