Volatility is picking up, and some traders are starting to panic…

There's a lot of fearmongering when stocks start to tank. It's no wonder why I received an overwhelming response asking how I time my entries and exits.
In any market environment, I believe it's crucial to have the skillset to know when you should be placing a trade… and when you should pass it up.
For me personally, it's pretty easy.
I identify a catalyst and develop a trade plan around it. By doing so, I have a clear and concise thesis and know when I should get in, take profits, or stop-out in case things go against me.
It's what played a large part in my trading gains this year.*

Let me show you how it works, and reveal to you a few stocks with catalysts on my radar.
One Factor To Pay Attention To Right Now
When it comes to price action, I believe there's one key driver — catalyst events. For example, the selloff back in March was led by coronavirus concerns and the economic shutdown.
The whole runup over the last few months after the market bottomed out in late March was due to the U.S. government injecting capital into the economy.
The selloff we've witnessed in the last few sessions was led by tech, and traders potentially taking some risk off the table.
The key is to identify these catalysts ahead of time, and plan accordingly.
I know, I know…
There are so many catalysts, how do you know which one holds weight?
Well, I was just using the market as an example. What's easier to identify are catalysts in specific stocks.
One of the major catalysts still prevalent in the market is the race for a COVID-19 vaccine. Especially after AstraZeneca (AZN) vaccine study was put on hold, traders will be eyeing other stocks for potential plays.
Dynavax (DVAX) is one that comes to mind. The company is expected to announce data some point in September, and I want to keep an eye on it right now because it's at a crucial area (right around $5).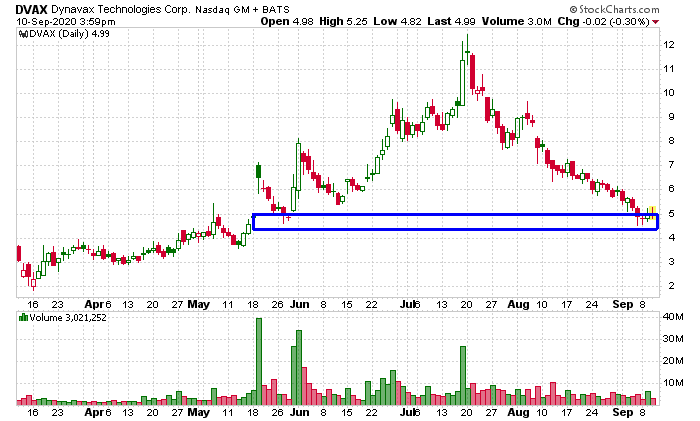 Next up, there's BioNTech SE (BNTX), which has data due October 2020, and it's on track to seek regulatory review.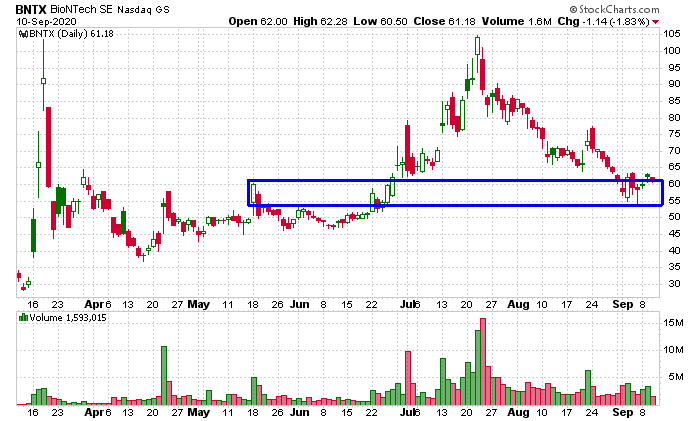 Last, but not least, there's BioCryst Pharmaceuticals (BCRX) and has a catalyst date in 3Q 2020. It's expected they're going to provide information from Part 1 of its Covid-19 trial.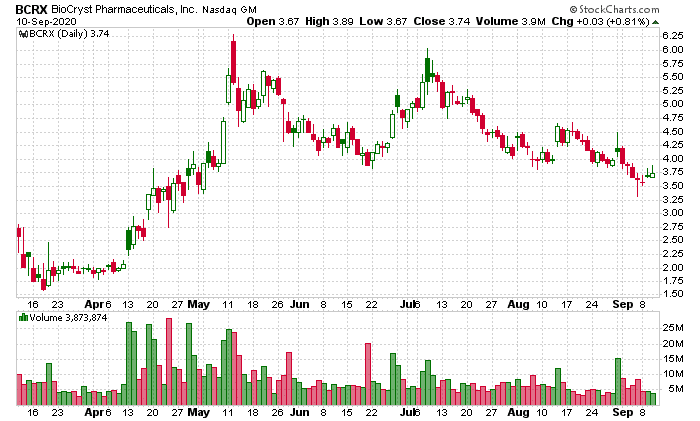 Listen, COVID-19 isn't the only catalyst I see in the market. The whole idea here is to spot an upcoming catalyst and take advantage of the "runup".
You see, the pattern goes like this…
Once traders find out there's an upcoming catalyst, traders will look to buy ahead and hold into the catalysts… and there may be short sellers who want to take some risk off and close out their position.
That can fuel the demand for the stock leading into the event, and that's what I want to take advantage of.
If you want to develop the necessary skills to better time your trades, you'll want to attend my catalyst training workshop.
You'll discover how to become a better trader by exploiting the "catalyst runup".