If you haven't heard the news by now…
Gap Inc. (GPS) announced a partnership with Kanye West last week…
And many believe it can revive the company's brand image.


The Yeezy and Gap collaboration could send the stock soaring in the coming months…
Traders are all over this right now.
Now, there was actually a "smart money" play I noticed ahead of the press release…
And it's got me wondering if this was a well-timed trade, or did they know?
Who really knows.
The one thing I do know is traders could've followed the "smart money" into this trade.
Today, I want to show you how I spotted "insider" activity in GPS and what I'm watching in the stock right now.
Did Someone Know About GPS?
A few weeks ago, I noticed someone came in and bought calls in GPS.
More specifically, they purchased 1439 GPS June 26 $12 calls for $0.50 a piece.
In other words, they spent $71,950 in total to purchase those options (excluding trading fees).
This order went off when the stock was trading around $11.
I don't know about you, but who would actually buy out of the money options set to expire in about 10 days.
To me, that let me know there was probably a catalyst I didn't know about.
Of course, the move didn't happen right away.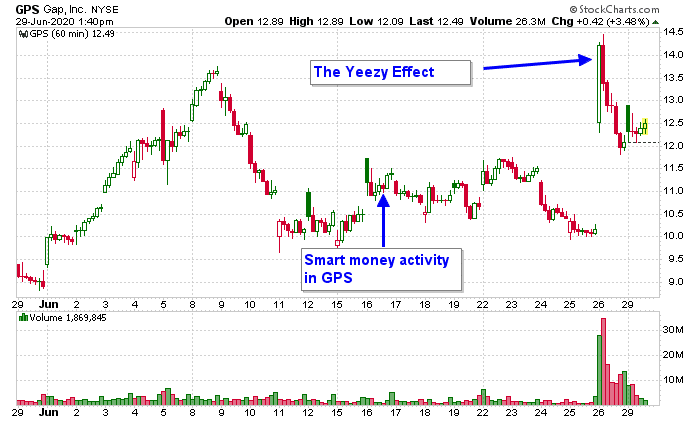 In fact, the timing of this trade was so perfect… 
It's one of the reasons why I love to follow the "smart money".
You see, the options they purchased were set to expire on June 26… and that's when the press release came out.
I don't know about you… but that timing was too on the button and it may not have been a coincidence.
Who really knows though, and I'm not complaining.
In fact, I actually followed the options activity in GPS to try to figure out their thoughts on the stock right now…
Well, on Friday…
They were getting after GPS calls. 
You see, on an average day, we'll see about 5,500 calls of GPS trade. 
However, more than 218K traded on Friday. 
That's 3,965% above-average volume.  
While the stock closed well off its intraday high of $14.45 that day…
That didn't stop some options players from stepping in and buying calls…
More than 5K call contracts of the $12.5 strike expiring on July 2nd traded.
8 minutes before the closing bell on Friday…
A trader came in and bought:
1501 Jul2nd $12.5 Calls
Spending $0.68 Per Contract
A Total of $102K In Premium
They paid above the best offer price to ensure they got filled on the order…
Talk about being aggressive. 
To me, that's "a tell".
With those options set to expire in a matter of days, I think we can see another pop in GPS.
Only time will tell.
Now, if you want to learn more about "smart money" activity and how I steal some of their best ideas…
Then you'll want to check out my exclusive training workshop on "insider" activity.
It's 100% free, and you'll learn how I use unusual options activity to my advantage.
Related Articles: