There's one question I get all the time — and it has to do with my ability to come up with hot trade ideas.
While one of my favorite strategies involves me hunting down catalyst trade ideas, I have to be honest with you…
I don't do all the heavy lifting myself when it comes to my Dollar Ace strategy.
You see, I actually have a customized scanner that detects smart money activity in the options market.
Imagine just staring at a scanner all day, and seeing all the massive options bets that go off every single day. You can take those ideas and make them your own.
That's what I do at least.
I want to show you how I effortlessly generate trade ideas by following the smart money's moves, why it's so effective, and why I believe all traders should have this strategy in their tool kit.
How I Legally Steal The Smart Money's Trade Ideas
Every day, I'm on the hunt for large options bets. I have specific criteria that I'm focused on. For example, whether it was an opening trade, the size of the trade, how aggressive they were with their action, and the price of the options contract (I want to focus on the ones below $1).
While I can go into the details, it's just too extensive, and it would be much easier if you just claimed your complimentary copy of Dollar Option Trader here.
Basically, my scanner filters down on all the trades out there to specific setups that can signal a stock may explode higher or get flushed.
For example, on Monday, I noticed there was some rather unusual options activity in Virgin Galactic Holdings (SPCE).
Someone came in and purchased 2,035 SPCE Oct. 2 $22 calls for $0.50 a piece on Monday.
That means if the stock doesn't take off and explode above $22.50, they may be out of all that premium. Of course, they left a paper trail and I actually found that trade interesting.
There was only a few days left until the expiration date, and if I was able to get a better price, then I'd be in a position to lock in a large winner.
So on Tuesday morning, when those SPCE calls came in, I didn't just laugh and say the smart money was wrong. I actually took action.
I bought 100 SPCE October 2 $22 Calls at .37.
Shortly after… those calls exploded and I was locking in my gains.*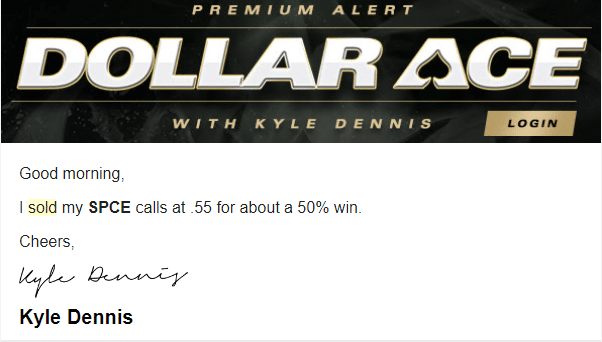 Sounds pretty simple, right?
Well, for me it is, and I want to show you how I track down these "smart money" trades and legally steal their trade ideas.
Of course, you're probably wondering what ideas I have right now…
Well, I'm keeping an eye on GIS, ADI, WFC for bullish plays and MU as a bearish one.
Traders are making five, six, and even seven-figures in the options market.*
I know how to uncover their best ideas.