Every week, I sent out my master watch list and video update to my subscribers.
Inside, they can expect detailed trade plans, and stocks to watch for a runup. It's the same watch list I use to attack the market…
And my master watch lists have played a key role in helping me lock in more than $3M in trading gains in 2020 thus far.*
There's one key factor all of these trade ideas have in common
Catalyst Events
You see, any stock on my radar has an upcoming catalyst. That way I can take full advantage of the catalyst runup.
This week, I locked in an $18K winner in a catalyst runup play and I want to show you how I spotted it.*
That way, you'll understand the importance of catalyst events and why my strategy is so powerful.
$18K In Gains Off This Catalyst Runup Play
If you don't already know, one of my bread-and-butter strategies is the catalyst runup. I identify upcoming catalyst events in specific stocks and get in on the action.
One name that has been on my radar for quite some time is Fluidigm (FLDM). It's a coronavirus stock and the company is expected to announce further news regarding its saliva-based Covid-19 test.
There hasn't been a press release regarding the test yet, but I figured it was coming soon.
Here's what I sent out on Aug. 11 at 12:18 PM ET.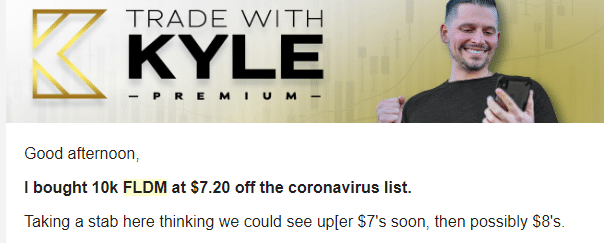 I bought shares in anticipation of a potential runup into a catalyst, and my target was the upper $7 range, and potentially $8.
With this trade, I believe traders could've looked to the $6.50 – $6.60 level for a stop-loss. After all, it was an area the stock broke out from before and actually served as a key support area.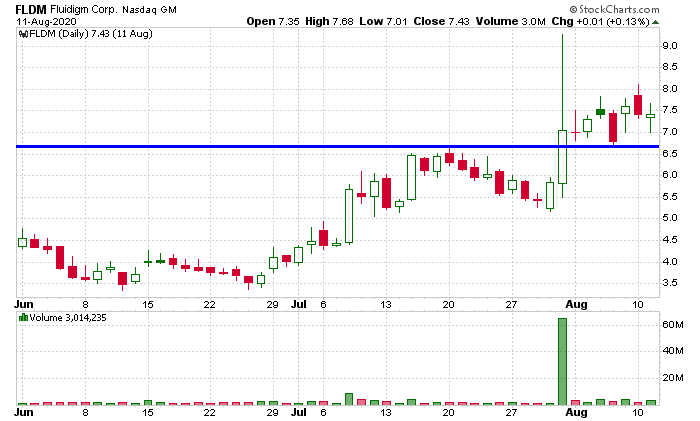 On Aug. 13 at 10:06 AM ET, I actually sent out an alert to subscribers — letting them know I was adding to the position.
I added 5k FLDM at $7.33. I think their news about the saliva covid test is coming pretty soon.
Now, on Aug. 17 at 9:55 AM, I decided to pick up more shares of FLDM.
Why?
Well, I had a high conviction this stock would move…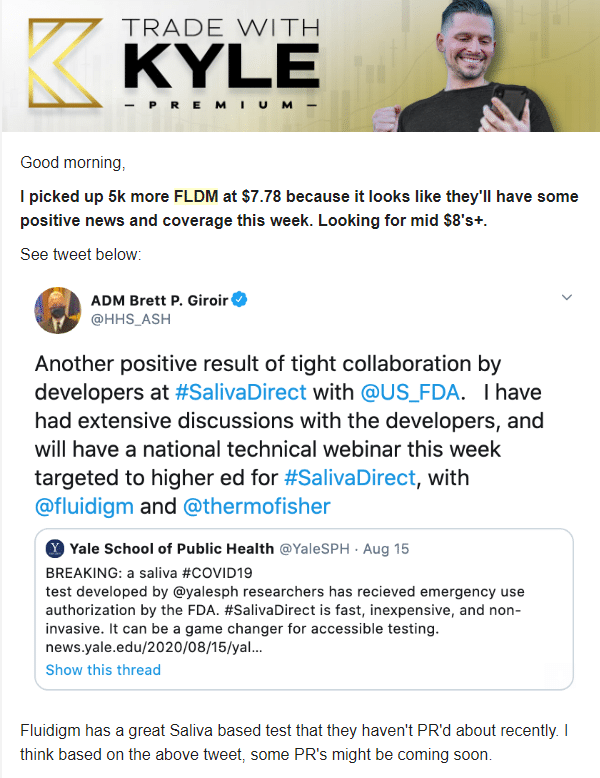 You see, all of this information is out there for the public to see, you just have to know where to look and how to turn it into trade ideas.
Here's a look at my buys…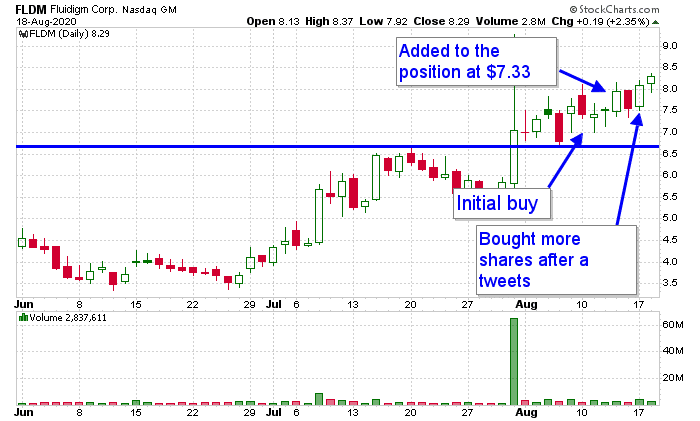 On Tuesday, FLDM shares caught a pop and I actually decided to lock in my gains. That single trade idea alone was good for $18K!*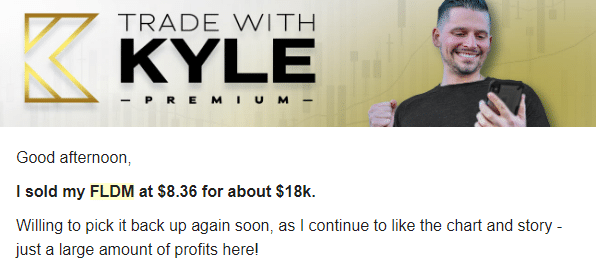 The thing is, I'll still keep this on my radar because it still has a looming catalyst.
Of course, there are other ways to make money from news catalysts.
One that I believe is easier than interpreting news on the fly and reacting to it.
It's a strategy called the catalyst runup. And over the years it's helped me make millions of dollars in trading profits.*
I want to show you exactly how it works.
If you are interested in adding another wrinkle to your game, allow me to show you the main strategy which has driven me to $3M in trading profits in 2020.*
Register here to see for yourself.
*Results presented are not typical and may vary from person to person. Please see our full disclaimer here: ragingbull.com/disclaimer