No doubt about it, Tesla Inc (TSLA) has been one of the hottest stocks on the market.
With the company's earnings announcement, there will be plenty of headlines…
And traders will be focused on it come tomorrow, as they try to figure out the news.
The thing is, I was able to lock in gains already on a "TSLA play".
More specifically, it was a stock that's in the same space as TSLA — one I believed that could run up into the announcement.
It just so happened to be my highest-conviction trade idea for the week.
I want to reveal to you how I uncovered the play and why it's important to focus on a group of stocks… rather than just single stocks.
The Importance Of Sympathy Plays
There are hot stocks in specific sectors, and sometimes, this can drag its peers with them.
Take TSLA for example, some of its peers include WKHS, FUV, SOLO, AYRO, and NKLA.
Since TSLA was set to report earnings on Wednesday, I figured many traders would pile in to try to get in front of the action.
It was a short-term catalyst, and since the electric vehicle space was still hot…
I figured one of those names would be a great play for the week.
You see when there's one hot stock in the sector with an upcoming catalyst, some traders may look to get into its peers for a sympathy play.
In other words, they may buy one of the peers in anticipation of a move higher into the catalyst.
So here's what I sent out to my subscribers on Monday.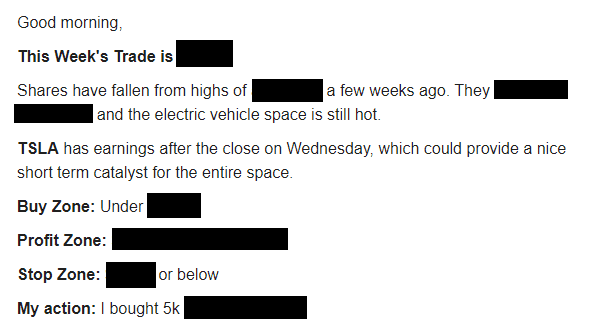 It was my best trade idea for the week…
As you can see, I had a thesis in play. First, there was company-specific news, and with the stock pulling back…
There was a key support level, and the buyers may look to step in there.
So I developed a trade plan.
I had a specific buy zone, as well as a profit zone and stop zone.
Well, that very same day…
The stock got right to my profit zone, and I locked in my gains.

That's how powerful sympathy plays can be.
Don't believe me?
Well, last week… MRNA was all over the headlines and on fire, after the company announced positive results from its clinical trials.
Heat Biologics (HTBX) was one of the names in sector, and a sympathy play.
So I got in on the action since it was a coronavirus stock…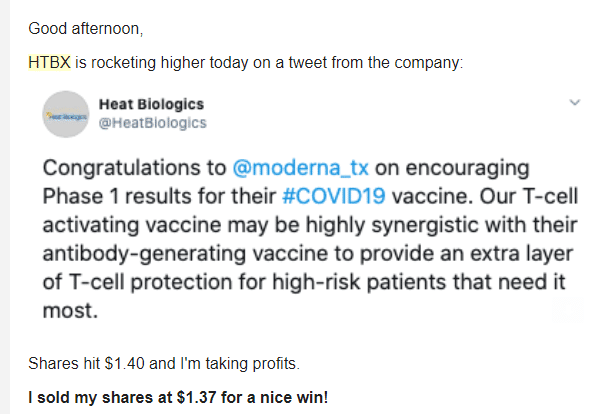 Shares popped and got right to my target.
Now, there are plenty of trade ideas such as the ones I showed you above. The key is to identify a leader in the space and any catalysts.
Thereafter, it's important to structure a trade plan.
If you're struggling with uncovering trade ideas, I believe I have the perfect solution.
It's called Fast 5 Trades.
Each week, I send out my highest-conviction trade idea with the goal to lock in gains within 5 days.
My next best trade ideas drops in a matter of days.
If you want to receive it, then make sure to join Fast 5 Trades now.
You'll have a few days to learn more about my trading style and see what it's all about.
Once you join, expect my highest-conviction trade idea on Monday.