No doubt about it, there are plenty of catalysts on the table right now. Here are just some of the catalysts I've seen that can potentially move the markets:
The upcoming election

Ongoing pandemic

Earnings season

Stimulus talks
For many traders, they get shook and scared by all this uncertainty — and many might look to lighten up into these catalysts… and that makes a lot of sense.
However, what happens when these catalysts become "long-term"… or what if you uncover a stock with a "long-term" catalyst on the table?
For me personally, I actually utilize a strategy to take advantage of "long-term" catalysts with minimal time. In other words, I identify a potential event that can cause a stock to explode higher in a few months.
I know what you're wondering… Kyle, how exactly does that strategy work?
Allow me to show you…
How I "Set It And Forget It" With Catalyst Trades
When it comes to "long-term" catalysts, what I'm looking for is a factor that can move a stock. For example, one of my hottest catalyst plays of the year was in Opko Health (OPK). Here's what I sent out about OPK to Sniper Report subscribers back in June.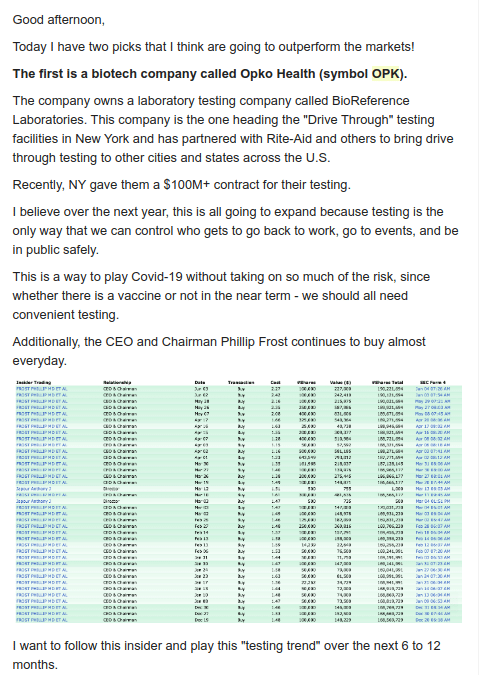 There were multiple catalysts on the table for the company. At the time, it received a $100M contract for its testing. Not only that, but if you think about it… people need to get tested in order to stop the spread of the deadly virus.
Not only that, but the CEO and Chairman Phillip Frost continued to buy shares frequently at the time. For me, those were catalysts that would take some time to develop.
Just a few weeks later, the stock started to take off.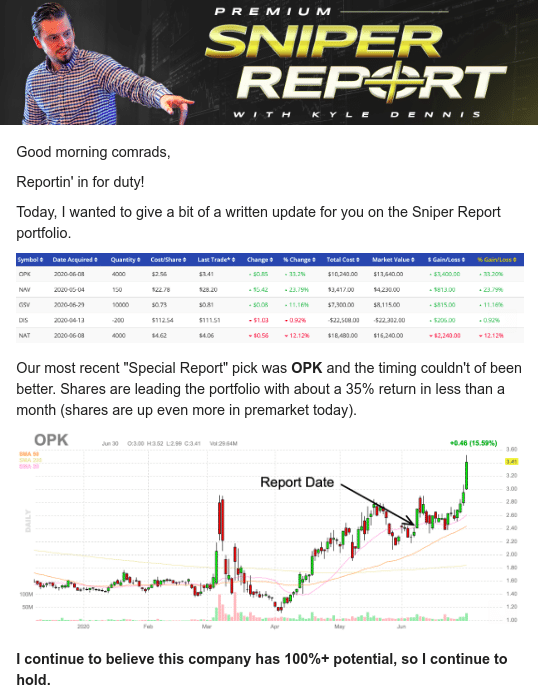 However, with these plays, I'm not really looking for a quick pop. With Sniper Report, it's more of a buy-and-hold strategy for me. On July 20, I actually locked in a 90% return in just about six weeks on half of my position.*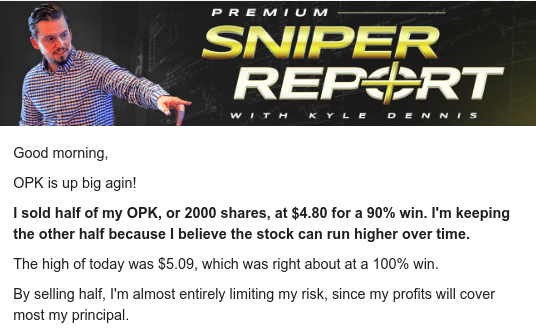 The following month, on Aug. 20, I locked in OPK for about 100%.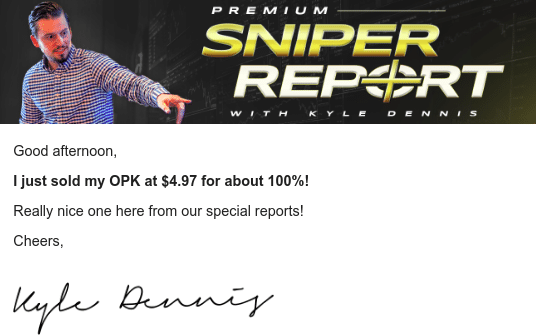 Of course, there are plenty of catalyst trading opportunities out there that don't require me to do a whole lot of work after I get in. If you want to discover how I'm able to "set it and forget it" and take advantage of all of the catalyst trading opportunities out there… then you'll have to join Sniper Report at this exclusive pricing.