Right about now, traders are trying to figure out where the money will rotate into next…
Will the big money players jump back into stay at home stocks given the uptick in cases of the deadly virus…
Will they pile into healthcare stocks…
Or just stay on the sidelines.
Listen, there are actually other factors to focus on when it comes to stocks and I want to show you the one I love to exploit every chance I get…
It's known as the catalyst runup, and I want to show you how it worked with Zoom Communications (ZM) this week.
Why Zoom Communications (ZM) Was On My Radar
Last week we got vaccine news from Pfizer (PFE)…
This week, Moderna (MRNA) released vaccine news, and while the stock rallied by nearly 10% yesterday… I didn't touch it.
Luckily, I didn't because the stock got rocked today and was down more than 5% at one point.
Instead, I focused on buying Zoom (ZM) calls yesterday instead…
You see, Zoom is one of those stocks that has been getting hit a lot lately.
It got rocked after Pfizer announced its positive vaccine news…which put pressure on stay at home stocks.
If you notice, ZM was actually on my radar. Here's what I mentioned to subscribers.
Zoom Video Communications (ZM)
Catalyst Dates: Earnings November 30 after the market closes
Options: ZM December 4 $410 Calls
With ZM selling off, I actually had to switch up my trade plan and look for calls closer to where the stock was trading, after the MRNA news dropped the stock a little.
On Monday at 9:42 AM ET, I entered a position.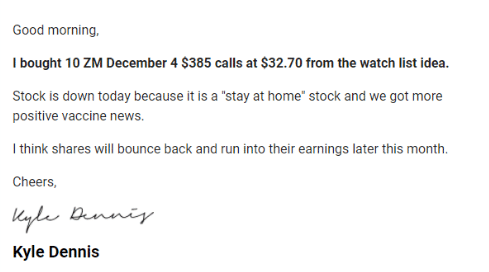 Take a look at what happened with ZM all day on Monday…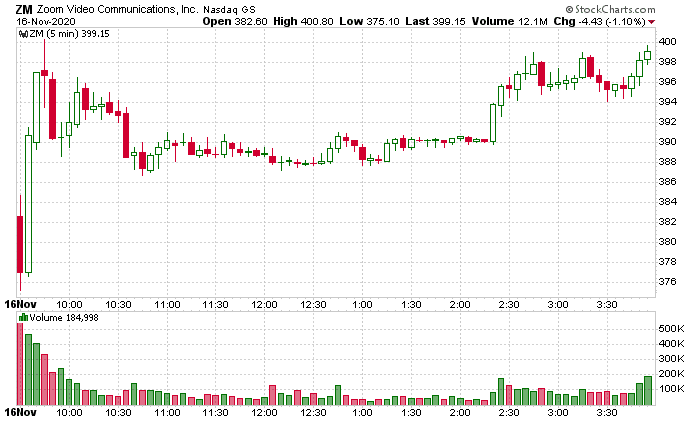 By using calls, I was able to leverage my money and gain exposure to ZM, without having to buy shares of the stock.
And by 3:34 PM that day, I was out for a profit of about $9,000.*
Listen, if you want to utilize the catalyst runup strategy to your advantage…
Then you'll want to check out this training workshop here.
You'll discover one of my best trading strategies and how I use it to time trades to near perfection.
*Results presented are not typical and may vary from person to person. Please see our full disclaimer here: ragingbull.com/disclaimer