This morning we saw a slew of macro headlines hit the wire. From the jobless claims to the Fed's unveiling of its $2.3 trillion stimulus package to support the economy. 
Of course, if you're trying to pick the overall direction of the market on any given day… It's pretty much a coin toss. It'll either finish up or down. In this volatile market environment, I've actually been able to uncover pockets of opportunity…
That allowed me to lock down $477K trading last month.

However, as a trader, I know I have to be forward-looking — and right now, I'm noticing a few key catalysts on the table that can send some specific stocks and sectors higher. 
In order to take advantage of these opportunities, I'm using my bread-and-butter strategies… and today, I want to show you how I plan on attacking the market at these levels.
Two Strategies I'm Using To Uncover Winners In This Environment
Of course, stocks have rallied over the past few sessions… and some traders may think the bottom is in, while others say the market could head much lower from here. I don't know about you, but I'm not playing into that game.
Instead, I've been looking at other areas for opportunities — ones that might not be necessarily correlated to the overall market. In other words, I'm looking for plays that may not move with the overall market.
I want to show you what I'm referring to by sharing the details of one of my recent trades.
A Triple Digit Winner In TAL
On April 2, the SPDR S&P 500 ETF (SPY) ran higher and finished higher by 2.30%. A few weeks prior to that day, I noticed interesting options orders come across my screen in TAL Education Group (TAL) — a Chinese education company.
Now, I actually spotted the drop in Luckin Coffee (LK), which has now been halted until further notice. On April 2, I actually decided to buy more TAL puts.
I owned 200 TAL April 17 $37.50 puts at an average price of 27 cents. The reason I added to my position was Muddy Waters (the one who called out the fraud in LK) was also short TAL and calling it a fraud. Muddy Waters, from what I've noticed, has been right on China names.
Here's what I sent to clients at 10:03 AM EST on April 2.
I added 100 more TAL April 17 $37.50 puts at .20. Now I have 200 at .27 average. The guy that predicted the LK fraud this morning is also short TAL, calling it a fraud. Who knows, but he has been very right on these other China names. So adding to this position looking for a doubler.
I continued to hold that position until Wednesday…
Guess what happened after the close on Tuesday.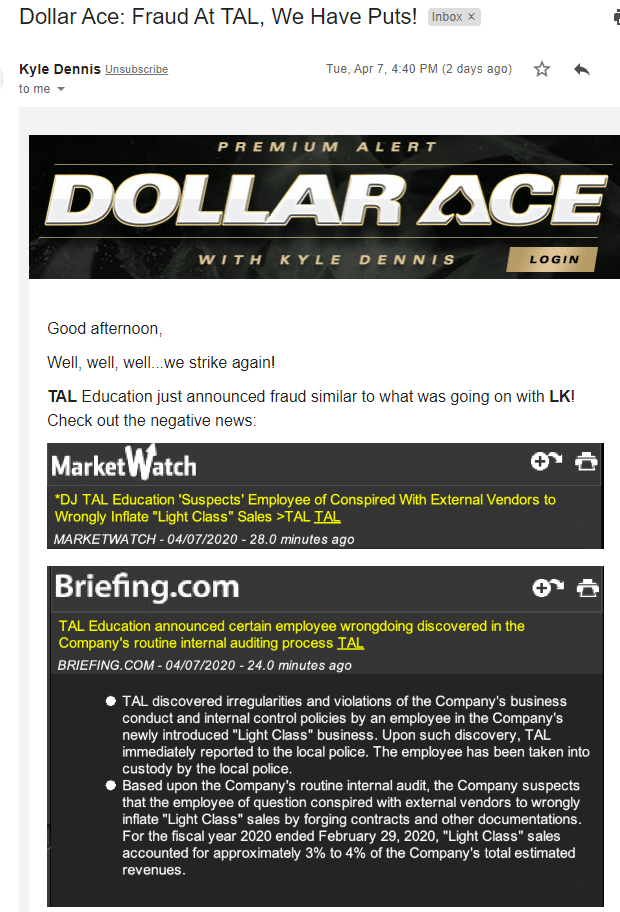 The stock dropped, and the puts exploded… I ended up selling my position for a 100% gain!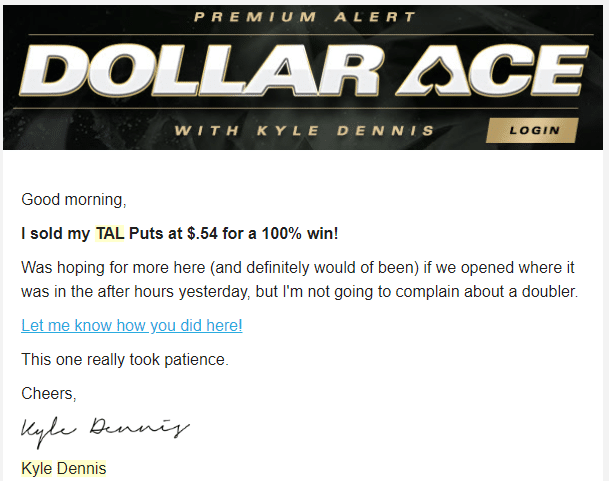 Now, that's not the only strategy I'm using to attack the market right now.
I Think Specific Stocks Can Start To Pop Soon
There are specific stocks I continue to watch during these unprecedented times, such as Amarin Corporation (AMRN). The company dropped significantly after it lost a legal battle over one of its patents.
Now, I didn't just buy the stock because it dropped significantly… I actually noticed a catalyst. 
Here's what I sent out to my clients after I spotted the news and bought shares…
I bought 10k AMRN at $5.39. Possible Baker Bros (potentially the best Bio-fund) added to their position and could file tomorrow. I would expect a pop over $6 on that.
I had high conviction in the name and decided to hold AMRN overnight. Well, after the close on Wednesday,
AMRN announced a push forward of their earnings release date and the market viewed that as a positive.
The stock jumped to $6.09! While I was wrong on the potential catalyst that could send AMRN higher, I wasn't mad because the stock moved to my favor… and I sold my stock position at $5.95. That was good for a $6K winner!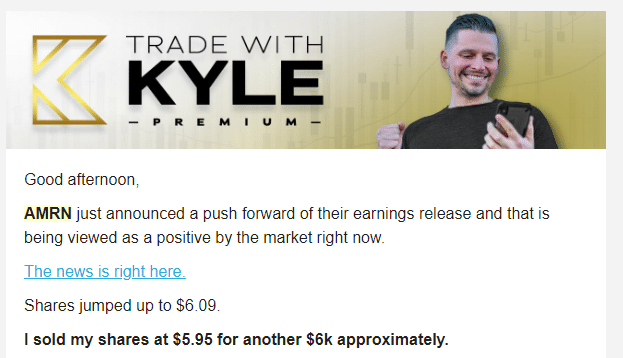 Right now, I've uncovered more catalysts and a hidden bull market. I believe there will be even more opportunities for me to take advantage of. If you want to learn more about how I plan to attack this market, check out my special training session regarding The State of the Market.
Related Articles: